Gigabyte X58A-UD9: A Massive Board for a Massive Score
What are the first things that would likely come across your mind when we tell you to think about a US$ 600+ , super high-end/ enthusiast motherboard? Incredible overclocking ability? Dozens of nifty features? Well, it could be anything, but to help you with the imagination, we have here just the sample of such motherboard, the Gigabyte X58A-UD9.  This peculiarly large motherboard has every bit of high-quality components hardwired onto its PCB to help feed your crave for more performance.
Powered by the Intel X58 chipset along with the ICH10R southbridge, the motherboard provides support for today's fastest desktop processors as well as the latest, cutting-edge hardwares. But this thing here is by no means your average X58 board. As you will soon see in our discussion, it comes equipped with more than enough muscle to push your dearest LGA 1366 processor into its absolute limit. Gentlemen, meet the Gigabyte X58A-UD9.
Gigabyte X58A-UD9
Specification
Processor Support
Intel LGA1366 Processors
Chipset
North Bridge : Intel X58
South Bridge : Intel ICH10R

2x nForce NF200

Memory
6x DIMM, DDR3-800/1066/1333/2200+ MHz
Expansion Slots
4x PCIe 2.0 x16 (Speed @x16)
3x PCIe 2.0 x16 (Speed @x8)
Support for 2-Way/3-Way/4-Way ATI CrossFireX and NVIDIA SLI Technology
Storage
South Bridge : 6x SATA 3Gb/s
Marvell 9128 chip : 2x SATA 6Gb/s
GIGABYTE SATA2 chip: 1x IDE ; 2x SATA 3Gb/s
JMicron JMB362 chip : 2x eSATA 3Gb/s
iTE IT8720 chip : 1x floppy disk drive connector
LAN
2x Realtek RTL8111E chip (10/100/1000 Mbit)
Audio
Realtek ALC889 High Definition Audio (2/4/5.1/7.1-channel )
USB
South Bridge – 12x USB 2.0 ports (8x Rear, 4x Internal)
NEC USB Controller – 2x External USB 3.0 ports
Firewire
3x IEEE 1394a ports (2x Rear, 1x Internal)
Form Factor
XL-ATX Form Factor; 34.5cm x 26.2cm
Feature
Unlocked Power
Dual Power Switching
Power Phase Boost
4 Way SLI / CrossFireX
Hybrid Silent-Pipe 2
USB 3.0 Support
3x USB Power Boost
SATA 3.0
24 Phase Power
Ultra Durable 3
Smart 6
Dynamic Energy Saver 2
Smart Dual LAN
eSATA / USB combo connectors
Precision OV
Debug LED
Real-time LED Display onboard
On/Off Charge Support
DualBIOS
There are enough features crammed onto the X58A-UD9 PCB fabric to give you enough confusion trying to find out which ones are truly useful for you (they all are, supposedly). The motherboard also supports most of today's latest hardware interfaces. You can find some of the features in Gigabytes's other boards as well, but there are some more that are exclusively reserved for this one only, such as the 24-phase power VRM and Quad-SLI/ CrossfireX capabilities. These two features alone are already more than enough to set it (far) apart from any other ordinary motherboards.
Sales Package and Contents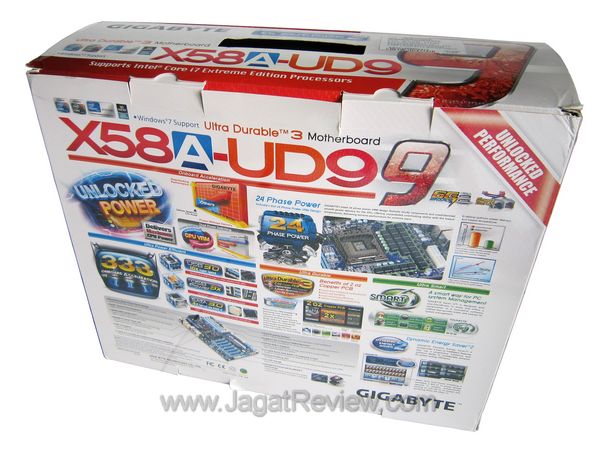 The X58A-UD9's outer package box. The extensive writings here give you enough clues as to what is contained within.

Tags:



Share This: