King of the Beast – MSI GTX480 Lightning
Just days ago MSI released the N480GTX Lighting, their latest top-of-the-line graphics card, at the MSI Master Overclocking Arena (MOA) 2010 in Taipei. MSI claims that N480GTX Lighting is highly overclockable, even under extreme conditions. What makes it so tough then? An impressive array of features that are specifically designed to enhance its overclocking potential: 16-phase VRM, new CopperMOS MOSFETs, independent memory power line, and 4 proadlizers.
It almost seem like MSI did no holding back for the N480GTX Lightning. Aside from the top-notch components, MSI puts not one, but two BIOS chips on this card, just in case something goes wrong in the firmware. There are also on-board hardware switches that could ease off the overclocking process. To deal with the heat from the overclocked GeForce GTX 480 GPU, this graphics card is outfitted with MSI's latest Twin Frozer III heatsink unit, which is far larger in term of physical dimension compared to its predecessors.
These are the pictures of MSI's N480GTX Lighting at the MOA 2010 Grand Final, Taipei: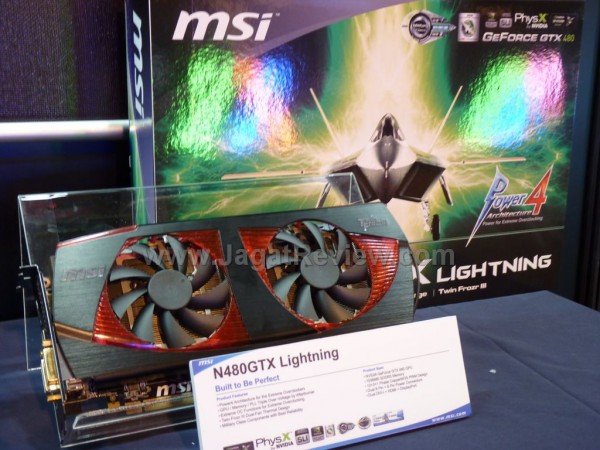 For your viewing pleasure, JagatReview team disassembled the graphics card to see what lies beneath the Twin Frozr III heatsink.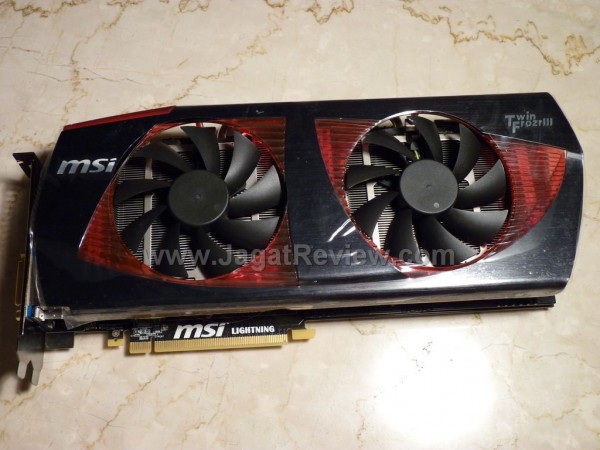 A closer look at the graphics card's power connector section reveals a third, 6-pin PCI-E connector that is specifically used to supply power to the memory chips through a dedicated line.
Display connectors include 2 DVI ports, 1 HDMI port, and 1 Display Port.
Tags:



Share This: