[PR] ATX Housing with Integrated Hard Drive Docking Station PC-Housing
ATX Housing with Integrated Hard Drive Docking Station
Sharkoon expands on their PC-housings portfolio: The ATX Case Sharkoon Bandit brings together comfortable installation options, an elaborate airflow concept, integrated card reader and as a special feature, a practical docking station for 2.5 and 3.5 inch SATA hard drives.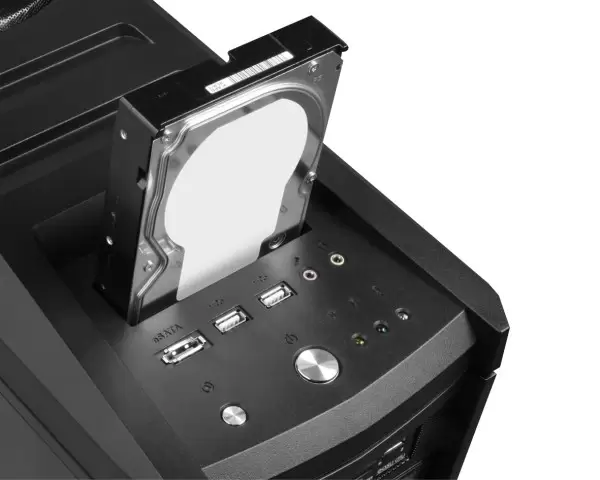 Thus, Sharkoon has integrated for the first time their highly-demanded external QuickPort docking station into a housing. SATA hard drives of both sizes can be easily plugged into the PC without any complicated assembly. Another distinctive feature on the top of the housing is the blue illuminating 180mm LED fan, which blows warm air out of the housing. Also, easily accessible on the housing surface are Power and Reset switches, audio connections, a power and hard drive LED, an eSATA and two USB ports. A card reader is installed in the highest front panel which supports SD, SDHC, MS, as well as CF I formats and contains an additional USB port.
The Sharkoon Bandit is constructed out of sturdy SECC-steel with a black finish on both the inside and outside. Behind the plastic front faceplates, which are constructed in a mesh design for optimum air intake, the housing offers space for five optical drives and three hard drives. The latter sits nicely cooled due to the preinstalled 120mm LED front fan situated in a removable hard drive cage. The optical drives can be installed tool-free by their practical quick-locking mechanisms, the CPU with the handy fitting aperture allows construction without the cumbersome task of dismounting the motherboard and the hidden cable management system routed between the motherboard bracket and the side panels ensures an uninhibited air circulation throughout the housing.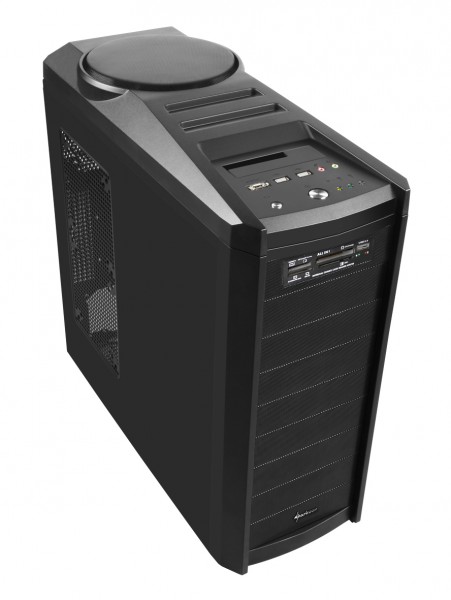 For those whom the two preinstalled fans on the top and front are not enough will find additional installation options for two 140mm or 120mm fans on the side panel and a 120mm or 80mm fan on the backside. The housing measures 200mm x 485mm x 485mm (W x H x L), the empty weight averages 6.6 kg. Sharkoon provides in shipping extensive installation accessories including three mounting frames for internal 3.5 inch drives. A detailed instruction manual is available and ready for download at www.sharkoon.com.

End customers will find the Sharkoon Bandit available immediately for the recommended retail price of 69.90 euros in authorized retailers.

For further questions, to request samples and/or photos, or other information please contact us or go to www.sharkoon.com.

Tags:



Share This: