Acer Aspire 5745DG: 3D On-the-go!
"What kind of notebook do want?" I often ask that question to my friends as we unwind in a coffee shop on the evening. Most of them answered that they require a notebook that could serve as both a workhorse and a gaming system. Ergonomic shape (large enough screen and a comfortable keyboard), and HD-video playback capability are a welcome addition. "How about 3D-effects and adequate gaming performance to top it off?" I asked. Is it possible to watch 3D movies and play 3D games while travelling around? Of course it is, using this notebook from Acer!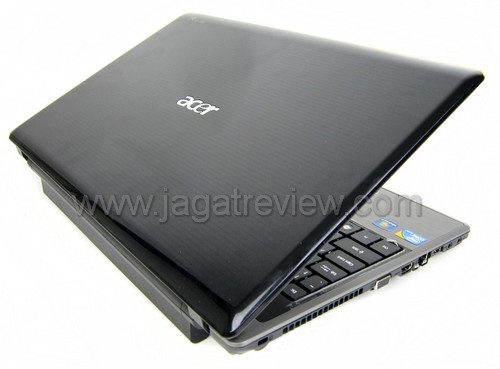 3D entertainment has arrived on notebooks. The Acer Aspire 5745DG features NVIDIA's 3D Vision technology. I have once used a previous, 3D-capable model from Acer, but it wasn't popular and, consequently, was not used by too many people either. This one would hopefully fare much better in the market.
The Acer Aspire 5745DG is an entertainment notebook. Its sleek, piano-finish glossy surface, along with thin, grey horizontal line on the back of the LCD screen adds some nice touches to the overall looks. With its 15,6", 120-Hz screen, Aspire 5745DG may seem rather large, but that cumbersome physique is well balanced by the quality of its internal components. An Intel Core i7 740M Quad Mobile with four physical cores and a total of 8 logical threads lies in the heart of this notebook, while the 640 GB hard disk will leave you with plenty of space to store various multimedia contents.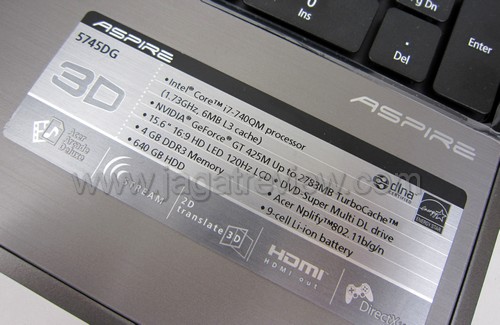 A closer look at the sticker in above picture reveals that the Aspire 5745DG comes equipped with a DirectX 11-capable GeForce GT425M graphics card. We have discussed this mobile derivative of the Fermi family of GPU in our previous article. We have also attempted to overclock it in our "GT 425M Overclocking" article. If you're curious about the graphics performance of this notebook, you can check out those two articles.

The sensation provided by NVIDIA's 3D Vision technology is similar to the experience you can expect from watching 3D movies in theaters. Everything appears more realistic, as if "jumping" right out from the screen, and Aspire 5745DG's Dolby Home Theater audio further add up to the overall excitement. Too bad the media player used by the notebook to playback 3D contents isn't compatible with certain movie codecs. You can also use 3D Vision to get stunning visual effects in games. However, when we tried to enable it in our games, the frame rate drops to nearly half the original amount. This is because the graphics card needs to process twice as much graphics data in order to produce the double layers required by the 3D effects.

Tags:



Share This: