Acer Aspire 5745DG: 3D On-the-go!
Test Results
Performance
Thanks to its Core i7 740QM, the notebook produced impressive scores in our Sysmark 2007 benchmark. With this kind of performance, you should have no problem running most productivity applications on this notebook. From simple word processing to 3D creation, all is handled well.
Battery Life
The massive 9000 mAh battery provides enough power to sustain this notebook for 288 minutes, or more than 4 hours, according to our MobileMark 2007 benchmark. This is terrific news, especially when you also put the Aspire 5745DG's technical prowess into consideration. There's plenty of time to indulge yourself in quality entertainment while on the go.
Video Transcoding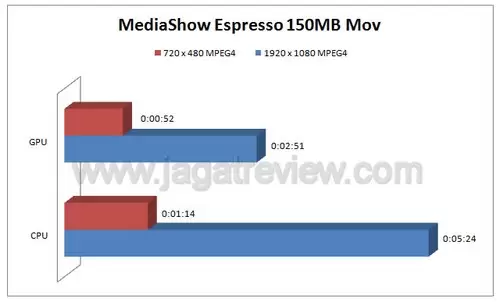 We carried out this particular test under two different conditions. First, we did the conversion process using the CPU. Then, using the CUDA support from its GeForce GT 425M, we relocated the process to the notebook's graphics card. The GPU, rather unsurprisingly, performs far better than the CPU. It seems like CUDA is running good on the Aspire 5745DG.
NVIDIA GT425M Graphics Performance
The scores here in 3D Mark Vantage are relatively good, for an entertainment notebook that is. For more test results on this notebook's graphics performance, check out our previous GeForce GT 425M article.
Conclusions
Indeed, the Acer Aspire 5745DG is an interesting mobile entertainment platform. Thanks to the notebook's complete 3D Vision support and equipments, it allows you to experience thrilling 3D movies or games practically anywhere, whether at the office, home, or during travels. Its relatively long-lasting battery is an added plus that helps extending your overall enjoyment, while the DirectX 11-capable GeForce GT 425M provides adequate graphics performance for most lightweight gaming/ video processing scenarios. If you're into mobile entertainment, the Aspire 5745DG here might be a good pick.
Pros
NVIDIA 3D Vision support
Long battery life for a notebook of its class
Cons
The media player software lacks support for certain codecs and is a bit difficult to use
Acer Aspire 5745DG, Specification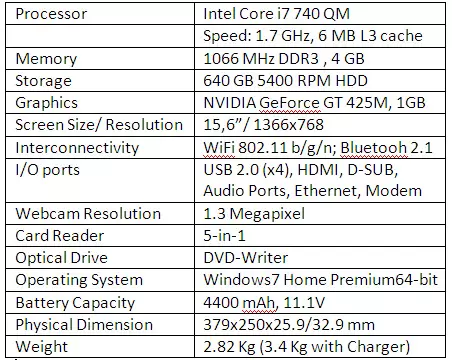 Tags:



Share This:
News | April 11, 2015 | Comments

Ingin tahu kecepatan percobaan jaringan 4G XL?
Di tengah miskinnya game-game JRPG berkualitas, tahun 2015 memang menjadi tahun penghibur yang cukup efektif. Bagaimana tidak? Tercatat lebih dari 4 game RPG racikan developer Jepang siap menemani penggemar genre
Read More »
SEGA, nama yang satu ini sempat tampil begitu luar biasa di awal-awal munculnya industri game sebagai bisnis hiburan yang baru. Bersama dengan konsol klasik racikan mereka – Sega Genesis yang
Read More »
News | February 22, 2015 | Comments

Langkah ini sudah dilakukan Samsung di salah satu pasar utama mereka, India.
News | March 2, 2015 | Comments

MWC 2015 telah dimulai, para produsen smartphone telah jauh-jauh hari mempersiapkan diri untuk event besar ini. Sementara Mozilla yang merupakan pemain baru dalam dunia smartphone mengumumkan rencana mereka untuk memproduksi
Read More »