Mobile Graphics Overclocked: NVIDIA GT 425M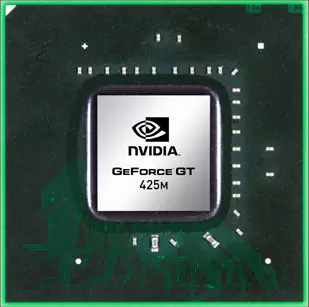 Have you read our previous article on the GeForce GT 425M? In that article, we discussed about how this particular mobile graphics chip could still run DirectX 11-based games, albeit with a little –if not severe- compromise on the image quality part. There was no problem with DirectX 9 and DirectX 10 gaming, but with the upcoming DirectX 11-enabled titles, wouldn't you expect something better?
We're not satisfied with the GT 425M's standard performance either, so we tried to improve it a bit. The easiest way of doing this is by applying some degree of overclocking, and that's precisely what we did. Before we begin describing the steps and the resulting speed increase, let's take a look at the tech specs first.
Specification
The above screenshot from GPU-Z describes the standard reference specification of GeForce GT 425M, codenamed GF108. It appears that NVIDIA designed this particular GPU from scratch.
NVIDIA GT 425M OC'd= NVIDIA GT 430?
| | | |
| --- | --- | --- |
| | NVIDIA GT 425M | NVIDIA GT 430 |
| Codename | GF108 | GF108 |
| Fabrication Process | 40 nm | 40 nm |
| Core Clock | 560 MHz | 700 MHz |
| Stream Processors | 96 | 96 |
| Shader Clock | 1120 MHz | 1400 MHz |
| Memory Type | DDR3 | DDR3 |
| Memory Size | 1024 MB | 1024 MB |
| Memory Clock (effective) | 1600 MHz | 1800 MHz |
| Memory Interface | 128-bit | 128-bit |
| DirectX Version | 11 | 11 |
| Shader Model | 5 | 5 |
Not too long ago, NVIDIA announced yet another addition to their renowned Fermi family of GPUs, the GeForce GT 430. While the GT 425M is obviously a mobile graphics solution, it shares a similar set of features with the GT 430. The only difference between these two GPUs is their rated frequencies, with the GT 425 clocked slightly lower than its desktop cousin. So, in theory, by simply raising GT 425M's clockspeed, we should be able to increase its performance to match GT 430's.

Tags:



Share This: