MSI N450GTS Cyclone 1GD5 – Good Performance, Excellent Cooler
Graphics Card
And this is the MSI N450GTS Cyclone 1GD5 with its eye-catching Cyclone heatsink.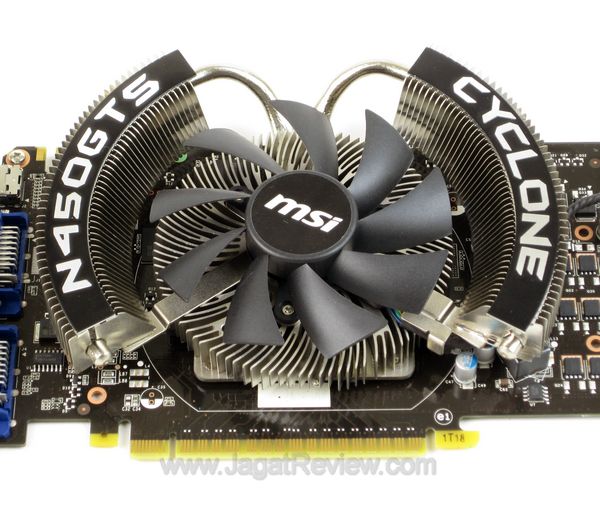 A 9 cm fan sits on top of the Cyclone heatsink. Two heatpipes transfer the heat to an additional set of heatsink, each situated on the left and right sides of the fan unit. The aluminum fins connected to these heatpipes are not directly connected with the heatsink base. Under full load conditions, we recorded a maximum temperature of 51 C. Idle temperature hovers at around 31 C.
The heatpipes are a tad larger compared to those commonly incorporated in graphics card heatsinks. These are actually MSI's so-called "Superpipes".
When looking at the PCIe X16 connector, we noticed that the golden pins are not evenly distributed across the connector. While the sight might be uncommon, you don't need to worry about this because it's perfectly normal and the graphics card would still operate at its maximum x16 PCIe speed. It's also worth noting that the reference GTS 450 also comes with similar slot design.
On top of the card, there is the SLI connector, ready to combine the graphics card with an identical pair for some multi-GPU action.

Tags:



Share This: