MSI N450GTS Cyclone 1GD5 – Good Performance, Excellent Cooler
For comparison purposes, we brought along several other cards: A reference standard GeForce GTS 450, a GeForce GTS 250, and a Radeon HD 5770. The complete list of hardwares used as our test system is as follows.
Test Platform
Processor: Intel Core i7 930 @4 GHz (200×20)
Motherboard: Gigabyte X58A-UD3R
Graphics card: MSI N450GTS Cyclone 1GD5, NVIDIA GTS 450, NVIDIA GTS 250, ATI HD 5770
Memory: 3×1GB Kingston KHX16000D3T1K3/3GX
Harddisk: Western Digital Caviar Black 500 GB (32 MB Cache)
Power Supply: Enermax Revolution 85+ 1050 Watt
Heatsink: Gelid Tranquilo
Monitor: Philips 221E
Input: Genius (Keyboard and Mouse)
OS: Windows 7 Ultimate 32-bit
Driver: NVIDIA Forceware 260.52, NVIDIA Forceware 258.96, ATI Catalyst 10.8
Test Results
Alien VS Predator
Setting : DirectX 11; Texture Quality – Very High; Shadow Quality – High; SSAO – On; AF x16; No-MSAA
This game once again puts the poor humans, the sophisticated predators, and the fierce aliens against one another. It also happens to be among the first titles with official support for DirectX 11. Here, as the graphs clearly show, MSI N450GTS Cyclone 1GD5 could not run the game with acceptable frame rate at 1920×1080. Lowering the resolution to 1360×768 significantly increases the amount of frames per second to 40 FPS.
CRYSIS
Setting : DirectX 10; Quality Preset – High; No-AA
At 1920×1080, the MSI N450GTS Cyclone 1GD5 still managed to render the graphics at a relatively fluid 31.96 FPS. That number, however, is dangerously close to the 30 FPS limit. Playing at lower resolutions should help solve this problem.
LEFT4DEAD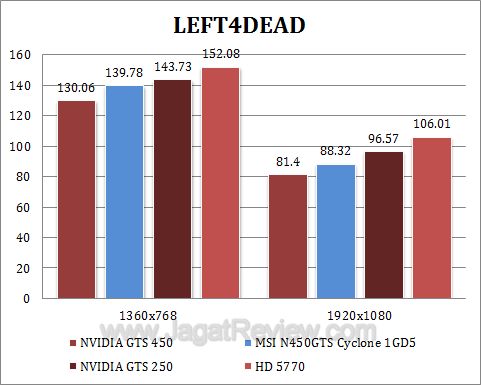 Setting : No-AA; AF-Trilinear; Maximum Quality

Despite its pre-overclocked state, the MSI N450GTS Cyclone 1GD5 falls a bit behind the GTS 250.

Tags:



Share This: