NVIDIA GT 425M – Fermi Goes Mobile
NVIDIA has released numerous GeForce 400 variants to fill in the many, different graphics segment in the desktop market. Some of them happen to be popular among users, especially the mainstream series. Now, it's time for NVIDIA to extend their reach further into the mobile market. We were provided with the opportunity to examine the GeForce GT 425M –one of their first, DirectX 11 mobile graphics chips- through the 3D Vision-enabled notebook Acer Aspire 5745DG.
Now, some people might be wondering of how powerful this mobile GPU really is. Given the nature of this 3D-oriented notebook, we couldn't help but to hope that the GT 425M would somehow allow us to enjoy 3D contents (games, among others) with reasonable performance.
NVIDIA GT 425M
Up on their official website, we found references of NVIDIA's other, DirectX 11-class graphics chips intended for the mobile platform, such as the GeForce GTX 480M, GTX 470M, GTX 460M, GT 445M, GT 435M, GT 425M, GT 420M, and GT 415M. Judging from that list, it appears that the GT 425M currently in our possession belongs to the low-end segment. Usually, graphics cards of this category are not meant for gaming purposes, since they lack the necessary processing power required to render the frames at adequate speeds. Even then, we haven't lost faith on the GT425M. Before moving on to the performance testing, let's have a look at the specification first.
Specification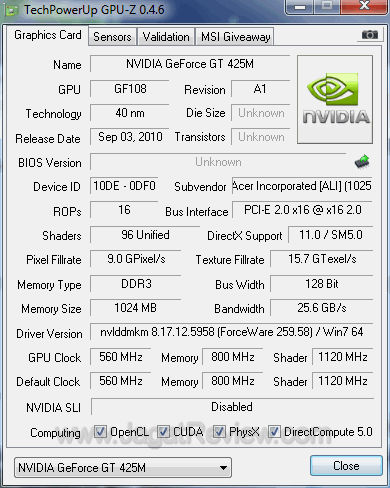 As described by GPU-Z above, this is the standard, reference specification for the GeForce GT 425M, codenamed the "GF108". It looks like NVIDIA built this GPU from scratch.
Acer Aspire 5745DG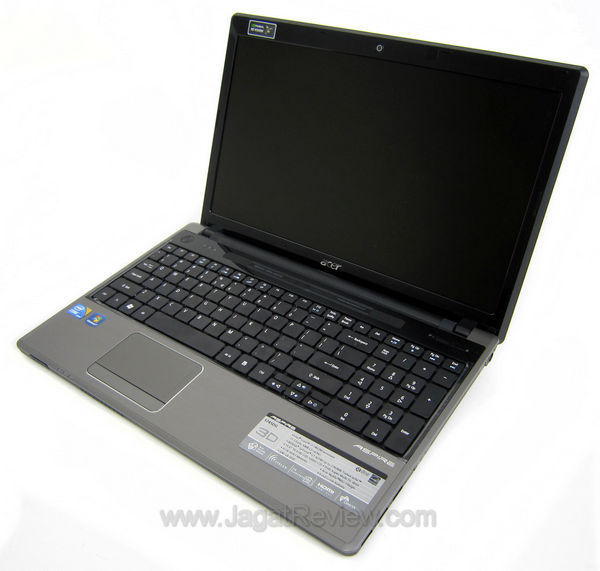 This is the notebook in which our GT 425M sample is contained, the 3D Vision-equipped Acer Aspire 5745DG. In this article, it serves as a baseline platform for the GT 425M. You can expect to find the notebook's complete review later on in our website.
Test Platform
The hardware configuration of the Acer Aspire 5745DG is as follows.
Processor : Intel Core i7 740QM @1.73 GHz

Graphics card : NVIDIA GT 425M

Memory : DDR3 4 GB

OS : Windows 7 Home Premium 64-bit

Driver : NVIDIA Forceware 259.58

*Note : With one exception for the 3D Mark Vantage benchmark runs, all of our tests were carried out using the notebook screen's native resolution of 1366×768.

Tags:



Share This: