Review GTX 580 SLI: The Ultimate Gamer's Dream!
Test Platform
We used the following hardware combination in our test.
Processor: Intel Core i7 930 @4 GHz (200×20)
Motherboard: Gigabyte X58A-UD3R
Graphics Cards: NVIDIA GTX 580 SLI, NVIDIA GTX 480, AMD HD 6870, AMD 5970
Memory: 3×1GB Kingston KHX16000D3T1K3/3GX
Storage: Western Digital Caviar Black 500 GB (32 MB Cache)
Power Supply: Enermax Revolution 85+ 1050 Watt
HSF: Gelid Tranquilo
Monitor: Philips 221E, 24 inch LCD, 1920×1200
Input Devices: Genius (Keyboard and Mouse)
OS: Windows 7 Ultimate 32-bit
Driver: NVIDIA Forceware 262.99, Catalyst 10.10c
Test Results
Alien VS Predator
Setting : 1920×1080; DirectX 11; Texture Quality – Very High; Shadow Quality – High; SSAO – On; AF x16; No-MSAA
SLI generated around 90% performance increase in Alien VS Predator. That's a good number. A single GTX 580 lags behind the HD 6870 in crossfire and the HD 5970, but plug another GTX 580 in and they will be leading the pack.
Metro 2023
Setting : DirectX 11; Advance DOF, No-Advance PhysX, MSAA x4, AF x16
Having performance issues with Metro 2033? Not anymore. With around 95% additional performance from SLI, the frame rate flew close to 60 FPS. That's roughly twice the amount of fames produced by a single GTX 580.
Batman Arkham Asylum
Setting : 1920×1080; No-AA; Maximum Quality; PhysX High
Performance scaling in Batman: Arkham Asylum is a bit disappointing: no more than 30%. We tried to put additional weight by enabling 16x Anti-aliasing and saw a minimal performance hit. Since we ran the benchmark with PhysX enabled, Radeon cards were excluded from this test.
Lost Planet 2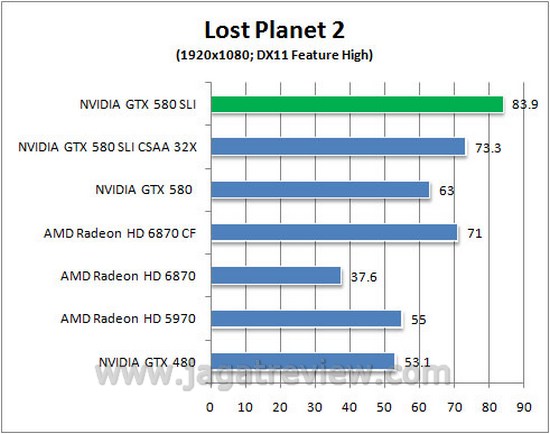 Setting : 1920×1080; DirectX 11; Motion Blur-On; Shadow Detail-High; Texture Detail-High; Rendering Level-High

Just like what we encountered in Batman: Arkham Asylum, Lost Planet 2 registered only 33% performance increase. However, when we raised the stakes by enabling 32x CSAA, the frame rate was dropped by only 10 FPS from 83,9 FPS to 73,3 FPS.

Tags:



Share This: