Review GTX 580 SLI: The Ultimate Gamer's Dream!
Resident Evil 5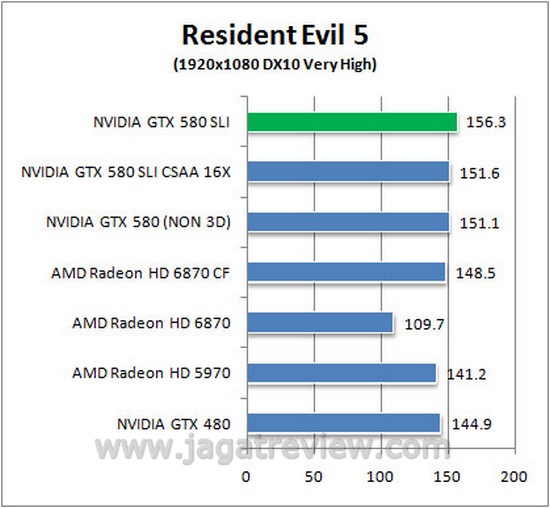 Setting : 1920×1080; Motion Blur-On; No-AA; High
Resident Evil 5 is the only game in our test that seemed to have failed to gain any benefit from SLI. It appears that it was somehow bottlenecked by the CPU.
DiRT2
Setting : 1920×1080; DirectX 11; Quality Preset – Ultra; No-AA
In DiRT2, SLI yielded a performance improvement of around 95%. When we tried to increase the challenge by enabling 8x QCSAA, the frame rate was reduced significantly from 246,5 FPS to 178 FPS.
3D Mark Vantage
Setting : P-Rating (Default), X-Rating (Default) ; PPU Disabled
We ran 3D Mark Vantage under two different preset settings: Performance and Extreme. While our CPU limitation was evident in the P-Score rating, SLI has successfully increased the GPU score by a considerable amount.
Unigine Heaven 2.1
Setting : 1920×1080; DirectX 11, AF x16, No-AA
We recorded a 90% performance increase in Unigine Heaven. Even with 8x AA, the frame rate remained at a fluid 60 FPS. It did bring the overall result down by 23 FPS though.
Power Consumption
When the SLI system was idling, we only noted a 40 watt increase in its power consumption. At 100% load however, it jumped to almost 700 watt, twice the amount of power required for a single GTX 580. We recommend at least a 1000 watt PSU for the tandem, just to be on the safe side.

Tags:



Share This: