The "Real" Mobile Sandy Bridge

Now who would've thought that the early shipments of the Sandy Bridge would be "short lived"? A defect in the memory controller section of the chipset leads to instability in SATA device operations and even performance degradation after a certain period of usage. The error was only found after the Sandy Brigde CPUs and platforms had been distributed. Worse still, some SATA ports on the corresponding Sandy Bridge computer may turn up to be unusable at all. This bug is serious enough that Intel decided to initiate a product recall, withdrawing the Sandy Bridges from circulation in markets worldwide.
Haven't heard of the Sandy Bridge? You can learn about their new architecture and features that they bring in our previous Sandy Bridge article.
After receiving the desktop variants of Sandy Bridge CPUs and platforms, we got our hands on a mobile Sandy Bridge sample in the form of an Axioo Neon HNM notebook, which arrived just four days before the recall was announced. We did not experience any difficulty during the test, so we thought it was fair enough to proceed with our standard testing procedure despite the known defect. Thie Axioo Neon HNM relies on the CPU's integrated Intel GMA HD3000 for graphics processing.
Please note that we will only be using this particular notebook as a base of reference to show you how a Sandy Bridge notebook would likely perform. A full review of the The Axioo Neon HNM will be released in the future, if there's no further change of policy. So, before moving on the tests, let's examine the hardware contents of the Axioo!
Test Platform
Axioo Neon HNM Notebook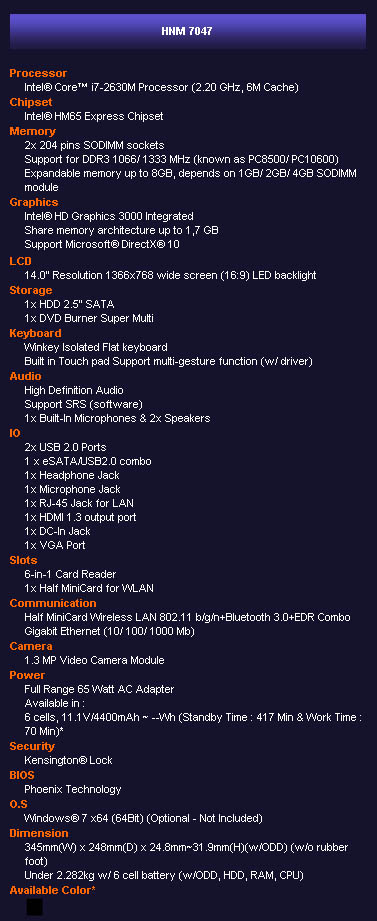 Test Results
SysMark 2007

This benchmark suite clearly shows that the Intel Core i7 2630 processor on the Axioo Neon HNM is far superior compared to the previous-generation Intel Core i7 740QM (Arrandale). The performance gap is rather wide at around 20% ahead of our older Core i7 platform, which also relies on its integrated graphics processor.
MediaShow Expresso 6
The program converts video from one format to the other (available formats include BlackBerry and iPhone-specific video, and others). Media Espresso 6.0 supports AMD (ATI) Stream and NVIDIA CUDA accelerations. The newest version also offers Intel Quick Sync acceleration. Results are measured in the amount of time needed to finish the video conversion process. Less time means better performance.

The video encoding went well, but we did notice that QuickSync acceleration was disabled in our first run, even as we had selected the "GPU hardware" encoding option. Updating the motherboard driver from version 2246 to version 2266 solved the problem and QuickSync acceleration could then be used as intended.
We were impressed by the level of acceleration provided by the Intel QuickSync technology. The difference is clearly apparent, especially in the 1080p video encoding scenario where QuickSync slashes the encoding time to almost half the original amount (when encoded without acceleration). For those who already own a Sandy Bridge system, we recommend you to download the latest driver from Intel's official website.

Tags:



Share This: