Review- Intel Core i3 2120 Processor: More Performance… for a Price
Resident Evil 5
Resident Evil 5 is a fine example of a modern game that truly benefits from the amount of available threads. The benchmark is run in both DirectX 9 and DirectX 10 modes (1024×768), while graphics settings are set to "Low".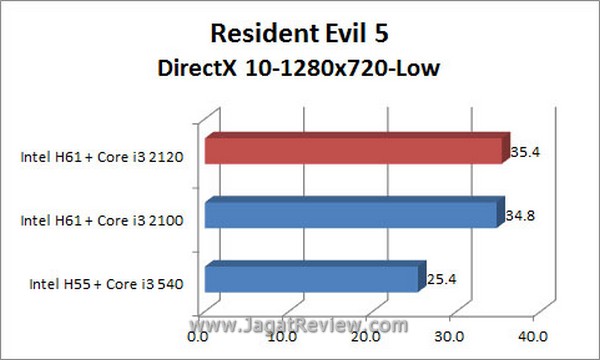 Core i3-2120 and Core i3-2100 take turns occupying the first place. Meanwhile, Core i3-540 performs better in DirectX 10 mode.
3DMark Vantage
3DMark Vantage is a popular synthetic game benchmarking software from Futuremark corp. We use the "Entry" preset to test processors and motherboards. Results are presented in three categories: the CPU score, GPU score, and E-Score which is the combined results between CPU and GPU scores. Greater figures represent better results.

Core i3-2120's CPU score is slightly higher than the Core i3-2100's. As for the GPU score, both processors are tied.
PC Mark Vantage-HDD Suite
PCMark Vantage measures overall system performance through a suite of benchmarks. We focus the test on the "HDD Suite" to see how much the processor is affecting storage performance.
HDD Suite itself uses a couple of real world scenarios to benchmark the storage transfer speed. The final results are presented in points. Higher points mean better performance.


It seems that its higher clockspeed helps the Core i3-2120 achieve better score than the others in our PCMark Vantage HDD Suite test.
Power Consumption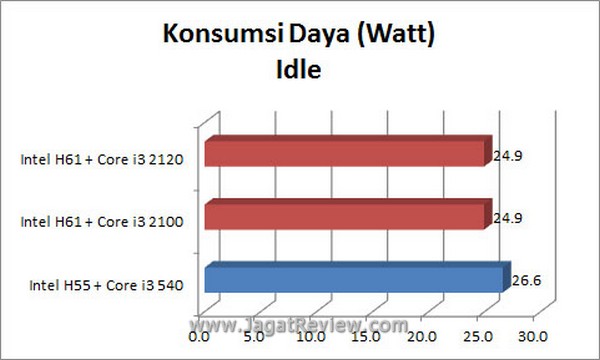 Unsurprisingly, the Core i3-2120 consumes more power compared to the the Core i3-2100, by approximately 3.2 Watt under load conditions. It's worth noting that, despite their higher performances, both Sandy Bridge CPUs consume less power than the Core i3-540, which is based on the older Clarkdale architecture

Tags:



Share This: