Review-MSI R6970 Lightning: MSI's best in Radeon Flavor
Graphics card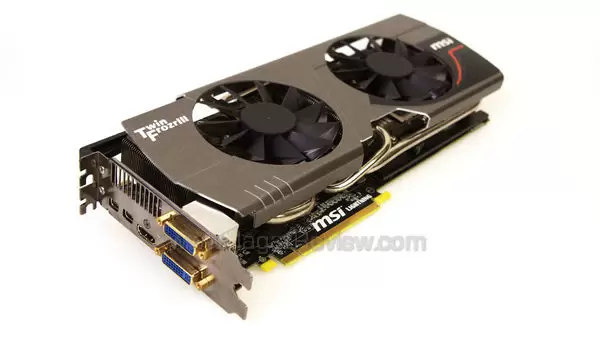 Now this is the graphics card itself, the MSI R6970 Lightning. It looks similar with another MSI graphics card that we previously tested, the R6870 HAWK. Both products use the same TwinFrozr III HSF.
The Twin Frozr III HSF has five nickel-coated copper heatpipes. Three of which are of normal size while the other two , measuring 8 mm in diameter, are slightly larger. MSI calls these larger heatpipes the "Superpipe". All these heatpipes transfer heat from the heatsink base to the aluminum fins above it. The heatsink base is also made of copper with nickel coating.
A pair of 9-cm fans dissipates heat from the aluminum fins. They have special blades called the "Propeller Blades" which, according to MSI's claim, should be able to produce 20% more airflow compared to conventional blades. The memory chips and VRM components are also equipped with their own heatsink assemblies.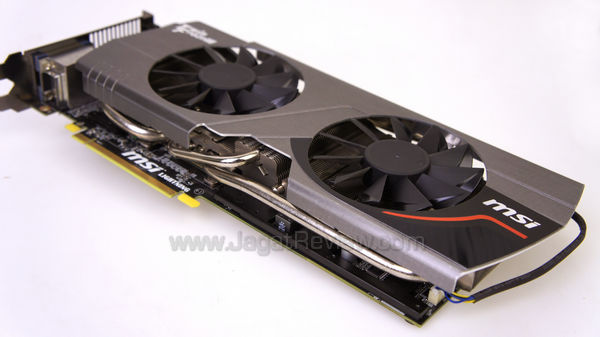 We used the Unigine Heaven 2.1 application to measure out the cooling system's performance. Here are the temperature readings:
AMD HD 6970 Reference Cooler
Full-load : 87 °C (fan speed 37%)
Idle : 45 °C (fan speed 25%)
Full-load : 62 °C (fan speed 47%-1769 rpm)
Idle : 35 °C (fan speed 30%-1149 rpm)
It seems that the TwinFrozr III does a better job suppressing the heat compared to Radeon HD6970's standard cooler. The difference is significant too, measuring more than 20 degree Celsius at max.
The MSI TwinFrozr III logo is engraved on the cooler's body. Nearby, on the top side The V-Check Point ports can be found hidden beneath the HSF.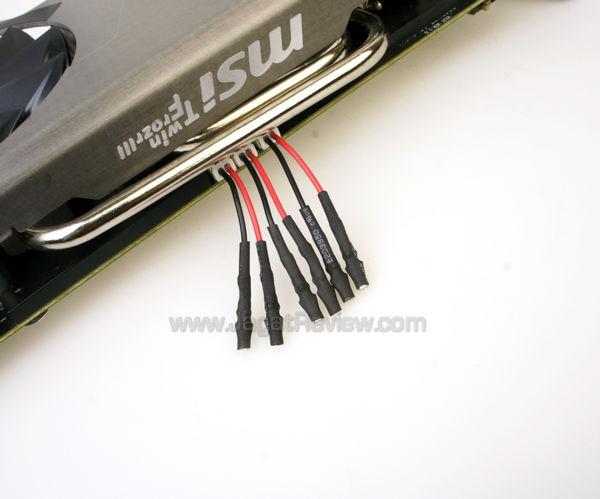 Using the provided V-Check Point cables, you can connect your multi meter to these ports to get voltage readings.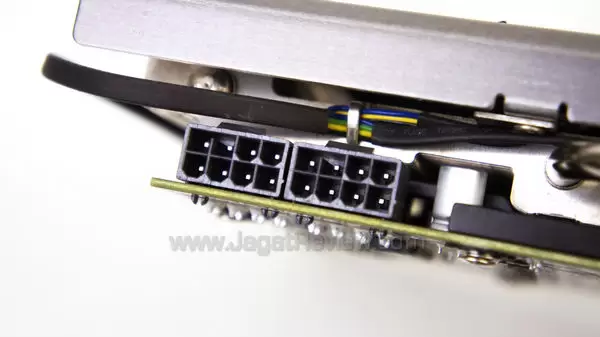 Slightly different with the Reference R6970 that draws power from one PCIe 8-pin and one PCIe 6-pin connectors, the R6970 Lightning uses a pair of PCIe 8-pin connectors instead. This will allow the card to consume enough electricity to sustain it during heavy load conditions, such as in overclocking scenarios. The GPU and memory chips on the R6970 Lightning each have a dedicated power line.

Tags:



Share This: