Review Need for Speed Shift 2 Unleashed: More Realistic, More Fun!
Need for Speed (NFS) is one of the better-known series in the computer gaming world. It consists of numerous titles; most of them have been revolving around exotic cars and fast, brutal arcade racing action, with notable exceptions being NFS Shift and Pro Street. Both introduced a new form of gameplay which, unfortunately, wasn't exactly popular with fans of the series. NFS Shift was riddled with annoying bugs and incomprehensive simulation-style adaptation that prevented this particular title from reaping a significant success. NFS Shift 2 Unleashed is released to get this series back on track.
Most titles in the Need for Speed series were developed by studios that reside under Electronic Art (EA) as publisher of the game, including the EA Seattle, EA Canada, dan EA Black Box. However, since NFS Shift and NFS Hot Pursuit (2010), the series' development has been entrusted to other studios. Shift was created by Slightly Mad Studios, and Hot Pursuit was made by another studio, Criterion Games. This, among others, resulted in a change of characteristics of the games themselves. Hot Pursuit is somewhat similar to Criterion's own Burnout series, while Shift became an awkward, half-simulation game. Slightly Mad Studios seeks to improve things a bit in Shift 2. Would it fare better than the first one?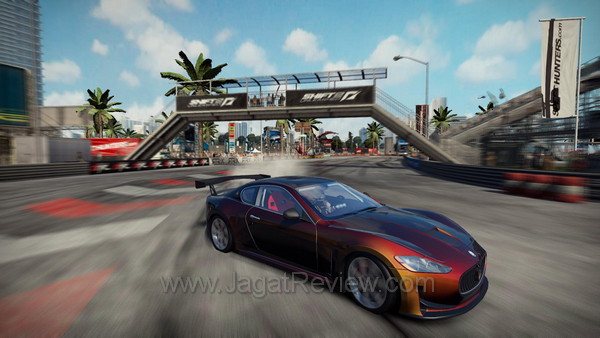 Racing for Something
NFS usually provides you with a "cause" to race for, a background story of the person whose role you assume in the game. In one title, you are a cheated racer who gets behind the wheel to deliver your revenge. In another, you play as an undercover cop who gets involved in underground racings to track illegal vehicles smuggled by a crime syndicate. Whatever the story is, it has always been one of the major attractions of the game, alongside the pretty NFS girls of course! How about Shift 2 then? This game, unfortunately, has no solid storyline to support all the racing action.
So, who are you in this game? Amidst the uncertainty, at least one thing is for sure: you assume the role of an amateur racer with minimum experience. Your goal: become the ultimate champion by winning the GT1 racing series. That's it about the story. The first NFS Shift suffers from the same lack of solid storyline, which means that the only attraction you will find is in the racing action itself. The same is true for its sequel, NFS Shift 2 Now, let's get dig deeper into the game!

Tags:



Share This: