Review (Sapphire) AMD Radeon HD 6670 1GB Graphics Card: No Power Plug Needed!

Last April, AMD introduced no less than six new variants of their Radeon HD 6000 GPU to fill the mainstream and entry level segments of the market. Radeon HD 6790 GPU was first, followed closely by the HD HD 6450, HD 6670, HD 6570, HD 6770, and HD 6750. The one under our scope here today is the HD 6670, AMD's sub-US$ 100 offering intended for budget-oriented consumers.
You can find a Radeon HD being offered for as low as US$ 99 on the internet. From that price point, it's obvious that the new GPU is meant as a direct replacement for the Radeon HD 5670. The Radeon HD 6670 is equipped with the same "Turks" GPU as the one found on the Radeon HD 6570. Being a second-generation DirectX 11-capable graphics card from AMD, is the Radeon HD 6670 any better than its predecessors? Let's begin our discussion by comparing its specification with that of the other AMD processors.
AMD Radeon HD 6670
Specification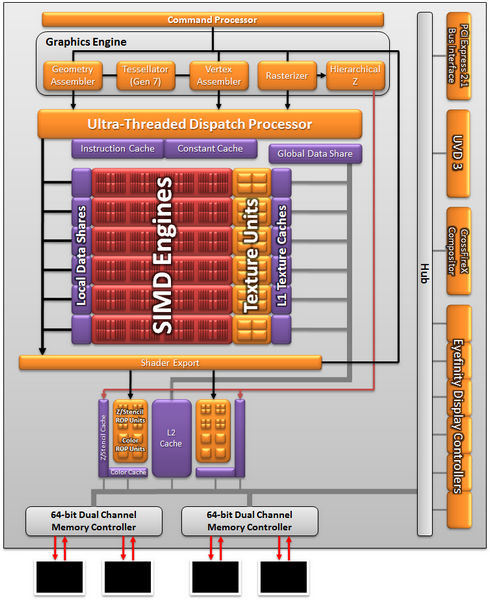 As seen in the schematics above, the Radeon HD 6670, codenamed "Turks", is armed with 8 Streaming Multiprocessor clusters, 480 Stream Processors, 20 Texture Units, and 8 ROPs. It has two, 64-bit memory controllers, resulting in a total memory bandwidth of 128-bit.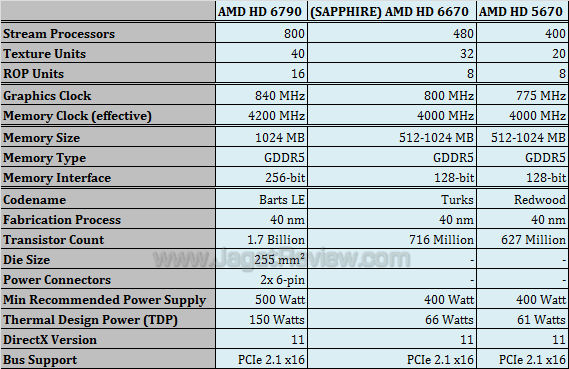 Radeon HD 6670 operates at 800 MHz (core) and 4000 MHz (memory). As for the size of the video memory, AMD gives two options to its AIB partners: 512 MB or 1 GB GDDR5. Our first HD 6670 sample, which happens to be coming from Sapphire, is equipped with 1 GB of on-board memory.
You don't need to plug a PCI-e power connector to this mainstream graphics card, so it shouldn't consume more than 75 watts of electricity (the amount provided by the PCI-Express x16 slot). Aside from that, you don't need a super-powerful PSU to sustain this card during operation. A simple 400 watt unit should suffice.
Radeon HD 6670, Features
Microsoft DirectX 11
AMD HD3D
AMD Eyefinity
AMD Accelerated Parallel Processing (APP) Technology
AMD Crossfire Technology
AMD PowerPlay Technology
Morphological Anti-Aliasing (MLAA)
Bitstreaming Audio
Universal Video Decoder 3.0
PCI Express 2.1 x16
Dual-Link DVI
HDMI 1.4a
Display Port 1.2
Tags:



Share This: