Review Sparkle Calibre X580 (NVIDIA GTX 580): Sunyi, Senyap, dan Dingin
Kemasan dan Paket Penjualan
Sebelum melihat wujud graphics card, mari melihat terlebih dahulu wujud dan desain kemasan produk ini.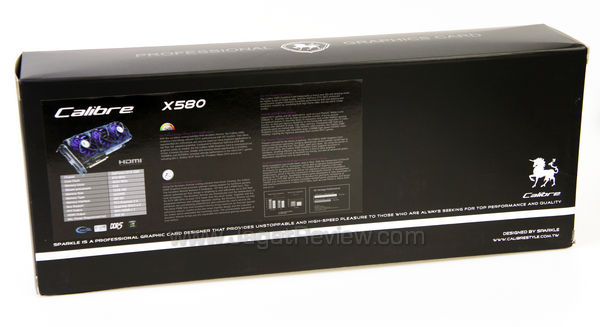 Inilah kemasan produk Sparkle Calibre X580. Di sisi depan kemasan, terlihat maskot produsen ini berupa makhluk legendaris "Unicorn" yang dicetak "emboss" dengan tinta berwarna perak. Sedangkan di sisi belakang kemasan, terdapat penjelasan mengenai spesifikasi dan feature produk.
Paket penjualan yang disertakan bersama graphics card terdiri dari:
Quick Start Guide
Membership Card
Driver Disc
Molex to 6-pin power converter
2x 6-pin to 8-pin power converter
DVI to D-Sub display converter
mini-HDMI to Full-size HDMI Cable
Satu lagi produk graphics card NVIDIA yang menyertakan kabel mini-HDMI to Full-size HDMI di dalam paket penjualan.
Graphics card
Inilah wujud graphics card Sparkle Calibre X580. Sparkle Calibre X580 menggunakan HSF 3rd party dari produsen Arctic Cooling bernama Accelero XTREME Plus.
Penggunaan HSF Accelero XTREME Plus membuat ukuran keseluruhan graphics card ini membengkak. Bahkan saat dipasang di motherboard, graphics card ini akan menutupi tiga buah slot ekspansi di motherboard Anda.
Tags:



Share This: