Review-AMD "Llano" A6-3650 and A8-3850 Performance Assessment
MediaEspresso 6.5
MediaShow Espresso 6.0 is the latest version of this popular video encoding software from Cyberlink. The program converts video from one format to the other (available formats include BlackBerry and iPhone-specific video, and others). Media Espresso 6.0 supports AMD (ATI) Stream and NVIDIA CUDA accelerations. The newest version also offers Intel Quick Sync acceleration. Results are measured in the amount of time needed to finish the video conversion process. Less time means better performance.
For CPU video transcoding, Phenom II X4 840 and Core i3-2100 take turns occupying the first spot, depending on the video format. With GPU acceleration enabled, the QuickSync feature on the Sandy Bridge processor propels it beyond the reach of the Phenom and both Llanos. The Core i3-2100 is faster by 74% and 59% compared to the A8-A3850 in MPEG-4 (720×480) and Blackberry video conversion, respectively.
Photoshop CS 5

Our Photoshop benchmark has been revised. We are now using the Photoshop Speed Test (available for download here). This benchmark simulates various operations commonly used in Photoshop, from adjusting brightness/ contrast to applying filters. We also added a PhotoMerge operation to the overall tests.

Core i3-2100 comes in first, scoring points some 16% higher than the Llano A8-A3850. This appears to be an advantage provided by Core i3's L3 cache.
WinZip15
WinZip is a well-known file compression software. The Zip files produced by this program can be password protected using the AES (Advanced Encryption Standard) encryption method. Some new processors are equipped with AES instruction to accelerate this encryption process. Results are measured in the amount of time needed to finish the test. Lower scores are better.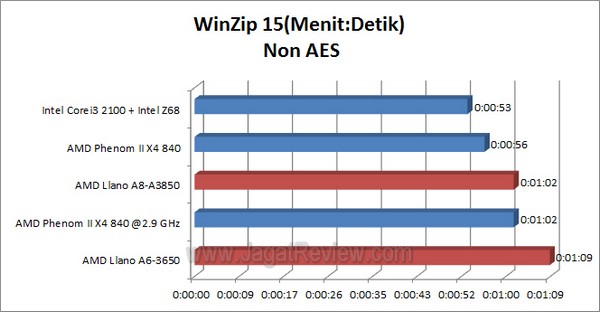 Again, the Core i3-2100 comes on top. Its L3 cache proves to be a worthy asset in accelerating it above the competition in this benchmark.

Tags:



Share This: