Review-AMD "Llano" A6-3650 and A8-3850 Performance Assessment
Left 4 Dead 2 – The Sacrifice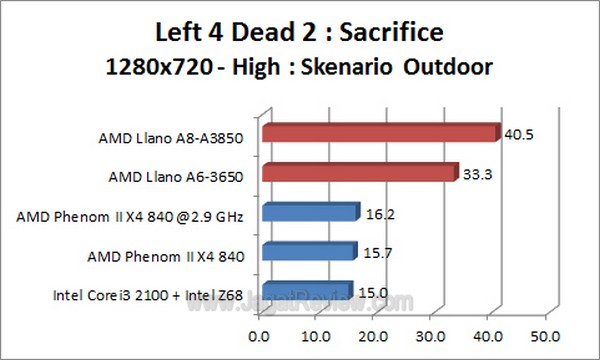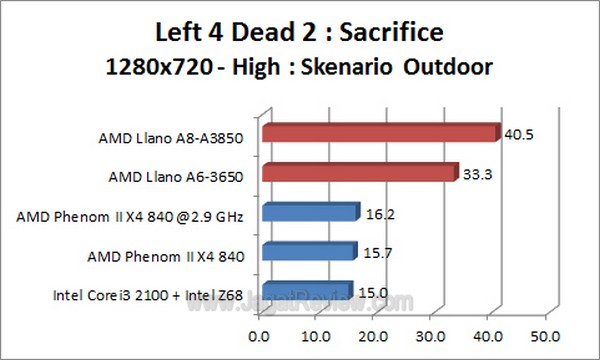 The Core i3-2100 might appear to be slightly faster in productivity applications, but in gaming, it's Llano's turn to shine. Llano A6-A3650 beats Phenom II X4 840 (2,9 GHz) by 50% at 1360×768, high graphics detail setting, in graphics-intensive outdoor scenario of our Left 4 Dead benchmark. Both Llano APUs seem to be equipped with a relatively powerful on-board graphics for their class.
Resident Evil 5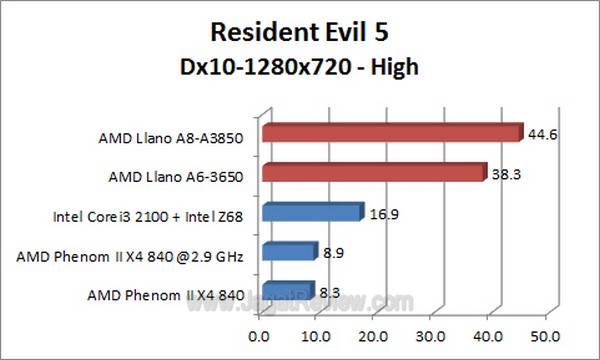 Llano produces similar results as in Left 4 Dead, leaving its nearest competitor in this benchmark, the Core i3-2100, far behind.
3DMark Vantage
Llano's fairly powerful integrated GPU helps it obtain a better overall score (P-Rating) compared to the other processors here. On the other hand, its CPU score is less impressive.
PC Mark Vantage-HDD Suite
In PCMark Vantage HDD Suite, Phenom II X4 840 manages to yield the highest scores.
Power Consumption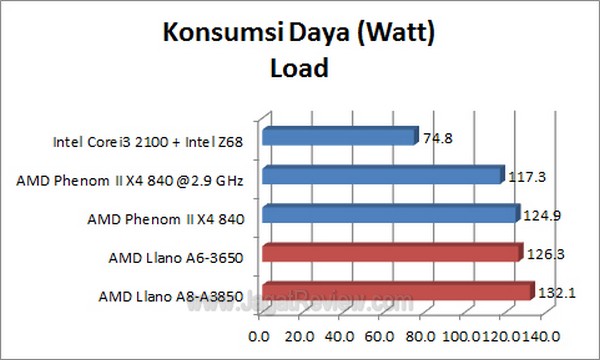 With its 65 watt TDP, Core i3-2100 consumes the least amount of power compared to the other processors in our test. The 32% frequency difference between Core i3-2100 and Phenom II X4 840 translates into a 40% gap between their power consumptions during load conditions. Llano's power consumption is also significantly higher than the Core i3-2100 at load.
While both Llano may seem like they require a large amount of electricity to operate, it's worth noting that these processors are equipped with a considerably more powerful integrated GPU compared to the Sandy Bridge CPU.

Tags:



Share This: