Review-OCZ RevoDrive: Truly an Express Drive!
Test Platform
Moving on to performance testing, the hardware used as our test platform are as follows:
Testbed

Processor

Intel Core i3 2100, 3.1 GHz

Motherboard

Intel H67, LGA 1155

Graphics Card

AMD Radeon HD 5550

Memory

Kingston DDR3 9GB

Primary Storage

Kingston SSD V+100, 64 GB

Power Supply

CoolerMaster GX 550 watt

Input Devices

Genius (Keyboard & Mouse)

Monitor

18.5" LCD, 1366×768

Operating System

Windows 7 64-bit
Additionally, we brought along two SATA 6Gbp (SATA-II) SSDs from Intel and Crucial for comparison purposes.
Test Result
HDTune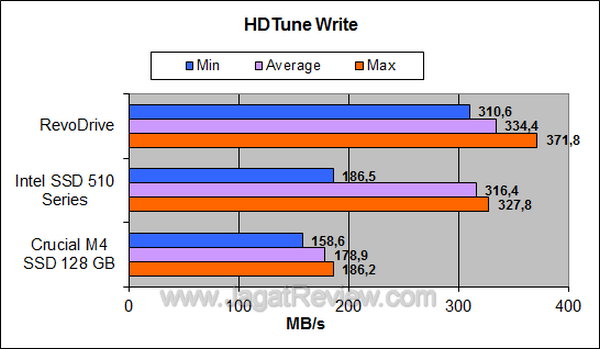 These three drives are very fast indeed, but the RevoDrive managed to come on top of the others by yielding more than 500 MB/s read speed (average) and just over 370 MB/s write speed (average), according to HDTune.
I/O Meter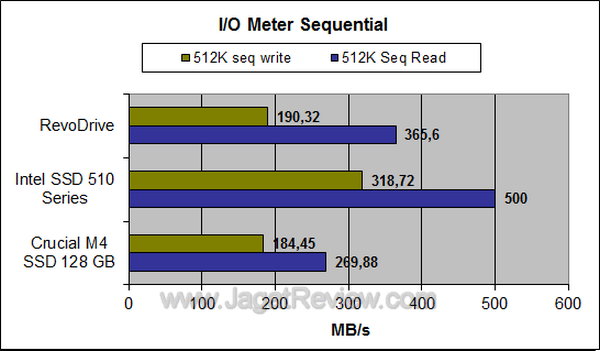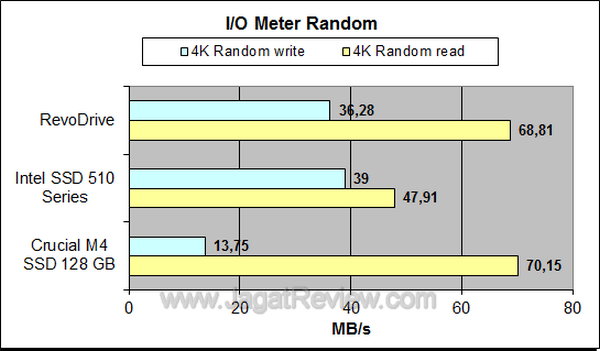 Intel SSD 510 series excelled in I/O Meter's sequential read/ write measurement, but the RevoDrive took over the lead in random read/ write testing.
Crystal Disk Mark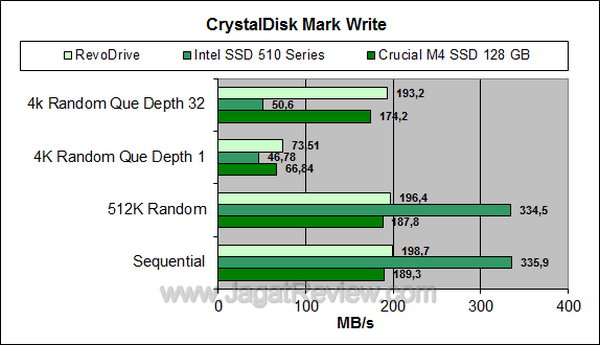 Revo Drive isn't too bright here in Crystal Disk Mark, but don't be mistaken, it is still very fast.
PCMark 7
RevoDrive scored higher points in PCMark 7 compared to one of the SATA-III SSD used for comparison.
File Transfer Test


In real world file transfer scenario, Intel Series 510 SSD came on top, followed by the RevoDrive in runner-up position.

Tags:



Share This:
News | March 25, 2015 | Comments

Rabu (25/03), BlackBerry akhirnya resmi menghadirkan koleksi smartphone terbaru di Indonesia, yaitu BlackBerry Classsic. Smartphone yang diperkenalkan oleh BlackBerry pada Desember 2014 lalu ini, menawarkan desain klasik yang disertai dengan
Read More »
Gadget | March 9, 2015 | Comments

Pasar smartphone Android lokal semakin menggeliat. Berbagai perusahaan pun semakin serius bermain di ranah ini demi menggaet lebih banyak pengguna. Salah satunya adalah Treq, merek lokal yang mungkin belum terlalu familiar
Read More »
News | January 18, 2015 | Comments

Film Superhero Marvel terbaru yang bakal dirilis pada Mei nanti, Avengers: Age of Ultron, Anda akan melihat sebuah smartphone unik berwujud transparan. Smartphone ini digunakan oleh Robert Downey JR, sebagai
Read More »
News | April 16, 2015 | Comments

Seratus juta download yang dicapai Firefox for Android tersebut terlihat di halaman Google Play.
News | January 22, 2015 | Comments

Microsoft akhirnya memberikan pengumuman besar-besaran untuk platform terbarunya Windows 10.  Kemarin, bertempat di Redmond Washington, Amerika, Microsoft akhirnya memperlihatkan secara resmi bagaimana platform tersebut memiliki segudang kecanggihan baru. Windows 10 telah
Read More »