Audio
Kwan Lan
Creative Aurvana Live! Review: Audiophile Headphones with a Steady Bass
Creative product line that usually appears on the market are the Sound Blaster with a variety of sound devices. However, not many people know about the Creative Aurvana. When the Sound Blaster is intended for computer users, then the Aurvana is a range of Creative's high-quality headphones. Similarly, the Creative Aurvana Live! These headphones are designed specifically for music lovers who wish to hear music with high quality.
Actually, class that offered by Creative Aurvana Live! headphones doesn't seem as high as other sound devices at a price of millions. However, at the same time it offers high sound quality with affordable price. By fixing the price of about a million rupiahs, this headphones is capable for providing a highly enjoyable musical experience. How about the quality when compared with regular headphones? Is it appropriate for your use? Follow along on our review!
Headphone Spec :
Before discussing more about these headphones, you should look at the specifications first. Typically of this composition you can find out their performance in general.
Driver: 40mm Neodymium magnet with composite bio-cellulose diaphgram

Frequency Response: 10 Hz – 30 KHz

Impedance: 32ohms

Sensitivity (1KHz): 103dB/mW

Cable Length: 1.2m Oxygen-free copper cable

Input Plug: 3.5mm gold plated stereo mini plug with 6.3mm (1/4

″

) stereo adapter

Weight: 210g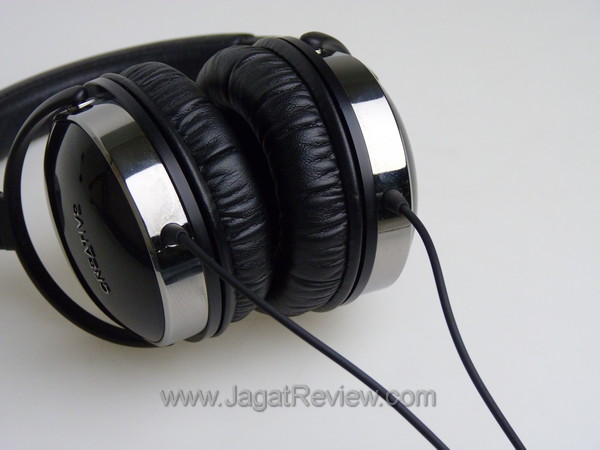 The use of 40mm drivers with Neodymium material is a sure sign for an audiophile headphone. It is increasingly clear with a limit frequency of 10 Hz for low sound to 30 KHz for high sound. So, you can listen to music with upper and lower limits steadily. More and more steady with the use of materials that minimize the electrical resistance wires. Although it doesn't use the air insulation and cable wrapping material that reduces vibration as the cable micro worth tens of millions. The use of gold-plated mini-plug which is also an attempt to reduce the electrical resistance can usually eliminate a number of detailed sound. However, one of the most interesting is the presence of 3.5mm to 6.3mm adapter. So, you can use these headphones on an amplifier.
Music on Creative Aurvana Live!
Listening to music comfortably with headphones is depending on the type of music used to be heard. There are groups like the beat of loud music and be able to increase the adrenaline. On the other hand, there are also music lovers who prefer the detail and clarity of sound. When viewed from the driver design that sealed, these headphones are supposed to be on the side of music with deep bass. Will this affect the quality of the details?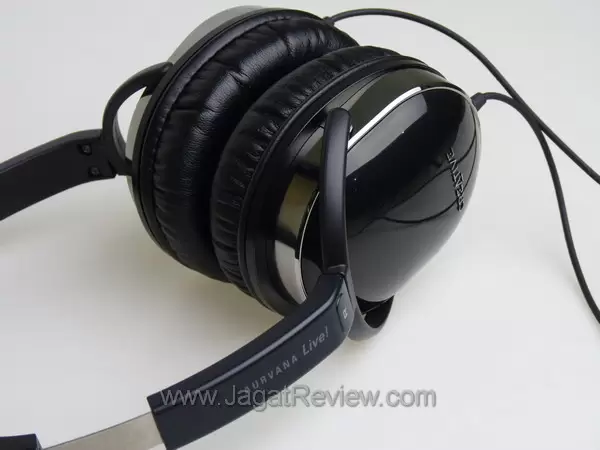 The depth of the bass on these headphones are indeed reliable. Although it isn't the same class as the subwoofer, but the bass was enough to increase the energy in your head. Moreover, the beat of the bass does not have too much on headphones. Therefore, it can damage your eardrums! In fact, the use of these headphones Sensitivity 103dB achieved should also be wary of. The Specification make the sound becomes better, but not good enough when played in a long time.
Does the deep bass immolate the detail? Apparently not! Sound Details that brought by these headphones are quite high with a large sound stage. You can listen to a variety of instruments and at the same time may well determine the current location on the tape. This factor is also very useful when you use these headphones to play the shooting game. You can hear a variety of background noises that are usually submerged beneath the hustle and bustle of instrument sounds.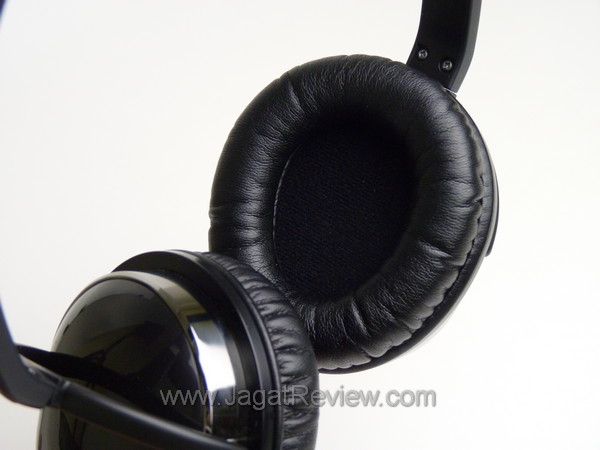 What about the quality of Midrange and Treble? Can these headphones be classified into audiophile headphones class? Admittedly the high sound is so loud and exciting. The treble doesn't shrill excessively like usually occur in low-quality drivers. However, these headphones are still inadequate to achieve midrange which had high purity. Clarity of its sound was already good, but not the level that makes you feel like listening to music directly without the mediation of headphones.
Supporting Tools
Certainly, good headphones is not only depends on the quality of its sound alone. Comfort when using it also became a benchmark for headphones quality. The shape of these headphones admittedly quite comfortable to use. Plus, it weighs only 210g. Of course it makes the load on your neck to be reduced while enjoying favorite songs. Its shape is not very "wow". However, it is also not too simple. The use of leather pads and headband in earpad make these headphones seem luxurious.
Another very valuable elements are the presence of extra long 1.5m cable, 6.3mm plug adapter, and a bag to carry these headphones. Unfortunately, these headphones have a weakness. Earpad which is in relatively small size has the potential to make your comfort disturbed. If you want to listen to music with a maximum performance, of course you will close the loopholes that make the sound from the outside in. 'right? Well, with this earpad's awkward size makes you uncomfortable when your ears are in it and when earpad placed in the ear leaf. The use for 3 to 5 hours is going to hurt your ear. The cause is the headband that normally suppress earpad inward. You're lucky if you have ears that are not so big.
Conclusion
Creative Aurvana Live! has a reliable sound quality. Besides having a deep bass, he also can produce a sound with high detail. Likewise with a naturally produced high voice. Coupled with the support of additional cables, adapters to convert 3.5mm to 6.3mm plug (for amplifiers), and the bag to take out the house, these headphones are particularly suitable to accompany the time to enjoy favorite music. However, the relatively small size its earpad can cause discomfort when used for a long time.