Review EVGA P67 FTW (For The Win): Motherboard Intel Mainstream Untuk Pengguna Enthusiast
Di tengah hiruk-pikuk keramaian motherboard yang datang ke lab pengujian JagatReview, sebuah motherboard yang datang dari produsen EVGA berhasil menarik perhatian kami. Motherboard bernama EVGA P67 FTW ini dipersejatai chipset Intel P67 (B3) di mana tentu saja prosesor Intel Sandy Bridge akan menjadi otak utama motherboard ini. Motherboard EVGA seri FTW yang merupakan singkatan dari kata "For The Win" memang dirancang untuk pengguna Enthusiast seperti kalangan overclocker atau gamer kelas berat.
Seperti yang kami perkirakan, EVGA P67 FTW dilengkapi berbagai feature dan juga komponen kelas atas. Tidak hanya itu, EVGA P67 FTW juga dilengkapi slot ekspansi PCIe x16 dengan jumlah mencapai enam buah yang tampaknya dapat digunakan untuk menjalankan konfigurasi multi-GPU dengan jumlah graphics card lebih dari dua buah. Bagaimana menurut Anda? Menarik bukan? Tanpa perlu lebih panjang lagi mari kita simak review EVGA P67 FTW.
Chipset Intel P67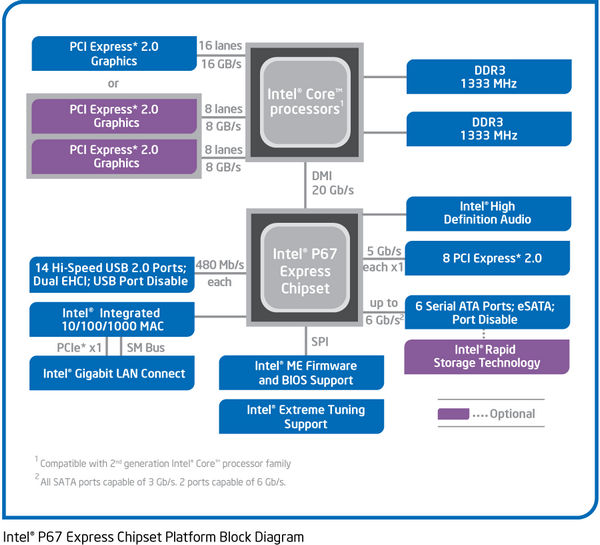 Platform Pengujian EVGA P67 FTW (For The Win)
Processor : Intel Core i7 2600K
Motherboard : EVGA P67 FTW
Graphics Card : NVIDIA GTX 560 Ti
Memory : 2x 2GB Kingston HyperX blu.
Storage : Kingston SSDNow V+ Series 64 GB
Power Supply : Coolermaster Silent Pro Gold 800 Watt
CPU Heatsink : Coolermaster Hyper 212 Plus
Monitor : LCD Monitor 1920×1080
Input : Genius (Keyboard and Mouse)
OS : Windows 7 Ultimate 64-bit SP1
Driver : Intel Chipset Driver 9.2.0.1030; Forceware 275.33
Spesifikasi
Performance
Based on Intel P67 (B3) chipset
Supports Intel Socket LGA1155 Processors
Memory
4x 240-pin DIMM sockets
Dual Channel DDR3
Maximum of 16GB of DDR3 800/1066/1333/1600/1866/2133MHz+
Expansion Slot
3x PCI Express 2.0 x16 (Run @x16/x8)
2x PCI Express 2.0 x16 (Run @x8)
1x PCI Express 2.0 x1 (Run @x1)
1x PCI Express 2.0 x16 (Run @x1)
Multi-GPU Support : 3-way SLI and CrossfireX
Storage I/O
4x SATA II 3Gbps (P67)
2x SATA III 6Gbps (P67)
2x eSATA II 3Gbps (Marvell 88SE6121)
RAID Support : RAID 0, 1, 0+1, 5, 10, JBOD
Integrated Peripherals
8-channel High Definition (Realtek ALC889)
2x Gigabit LAN Port (10/100/1000)
Multi I/O
10 x USB2.0 ports (6 external + 4 internal headers)(P67)
4 x USB3.0 ports (2 external + 2 internal headers)(VLI VL800-Q8)
Audio connector (Line-in, Line-out, MIC)
FireWire 1394A (1 external)
Form Factor
EATX Form Factor
Length: 12in – 304.8mm
Width: 10.375in – 263.5mm
BIOS
Feature
12 Phase PWM
100% Solid State Capacitors
Bonus Storage
PCI-E Disable Jumper
Onboard Clear CMOS, Power, and Reset Buttons
Onboard CPU Temperature Monitor
More Gold Content
Triple BIOS Support
Passive chipset heatsink
EVGA E-LEET Tuning Utility
EVGA EZ Voltage read points
EVGA ECP V4 Support
EVGA Vdroop Control
EVGA Dummy OC
EVGA Double Play Heat Sink
Kemasan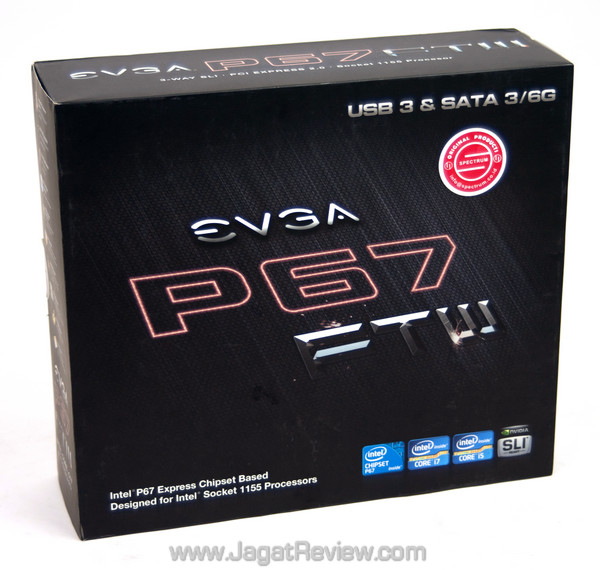 Kesan produk yang elegan sekaligus eksklusif begitu terasa saat pertama kali melihat kemasan produk EVGA P67 FTW.
Kemasan produk EVGA P67 FTW terbagi atas dua bagian. Bagian pertama merupakan kemasan luar sedangkan bagian kedua merupakan kotak karton hitam yang menampung motherboard beserta paket penjualan.
Paket Penjualan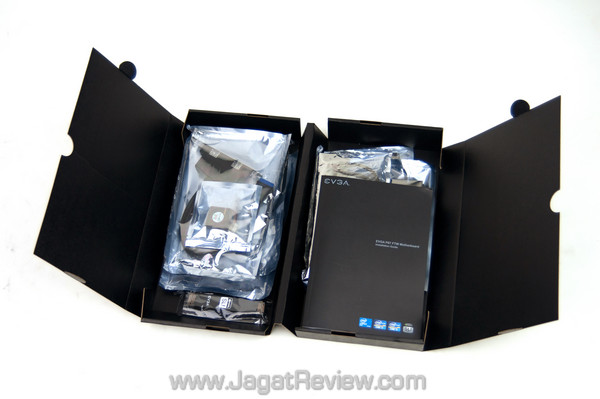 Paket penjualan EVGA P67 FTW diletakkan di dalam kotak karton yang berbeda dengan motherboard.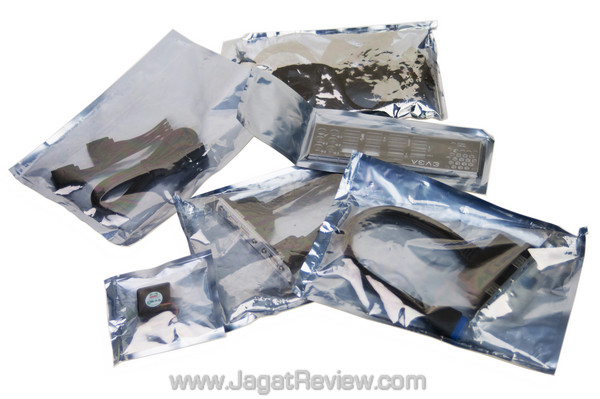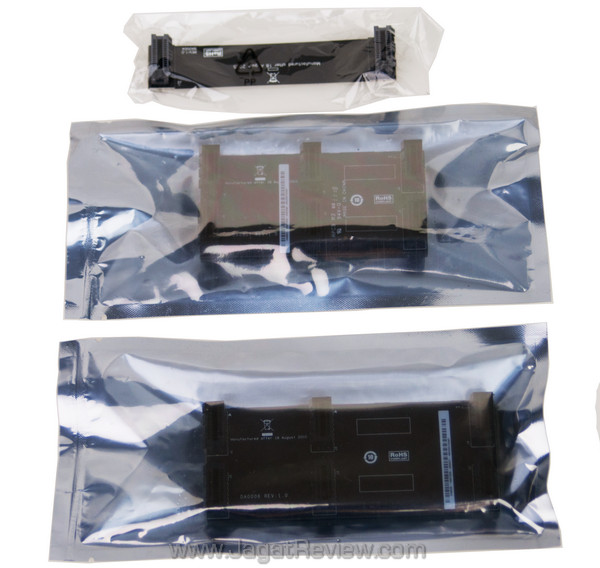 Paket penjualan yang disertakan bersama motherboard terdiri dari :
Motherboard Installation Guide
Motherboard Visual Guide
Driver Disc
Backpanel I/O Shield
2x SATA 3Gbps Cables
2x SATA 6Gbps Cables
2x SATA Power Adapters
2 ports USB 2.0/Firewire Bracket
2 ports USB 3.0 Bracket
I/O Fan
2-way SLI Bridge
2x 3-way SLI Bridge
Tags:



Share This: