Review-OCZ Agility 3 SSD: SandForce 2 Goes Mainstream
File Transfer Test
That's it for the synthetic benchmarks, let us move on to real-world file transfer test! Six gigabytes worth of small files from the SSD to the test platform's primary storage drive and vice versa. Then, we repeated the procedure using 6 GB of large files. Results are presented in seconds. During some attempts, the Agility 3 finishes the test in 2 minutes, which is unusually slow for a SandForce 2-controlled SSD. Perhaps performance was reduced because the SandForce controller had to access compressed files stored in Agility 3's slower ONFi 1.0 NAND flash.
TRIM Test
TRIM is supposed to restore drive performance by clearing junk data accumulated in an SSD's NAND memory chips. How good is the implementation on Agility 3?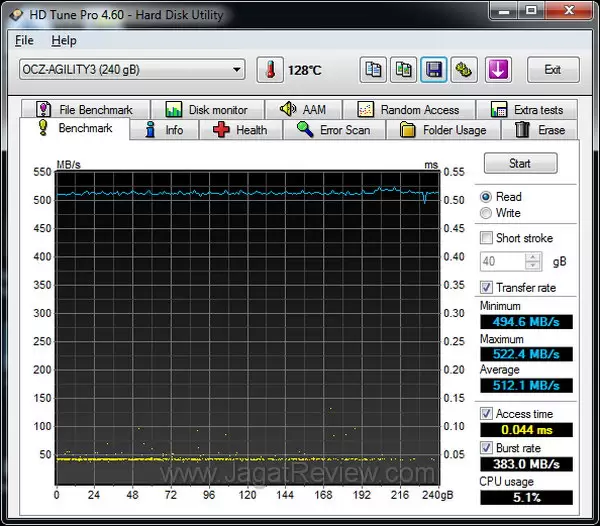 The above screenshot shows Agility 3's performance at its best, freshly wiped with Secure Erase.
Then, we filled the SSD with around 48 gigabytes of data by directly overwriting files previously contained in it. As this picture shows, performance was dramatically reduced afterwards, halving Agility 3's speed from 500 MB/s to just around 200 MB/s (see the drop on left side of the blue graph).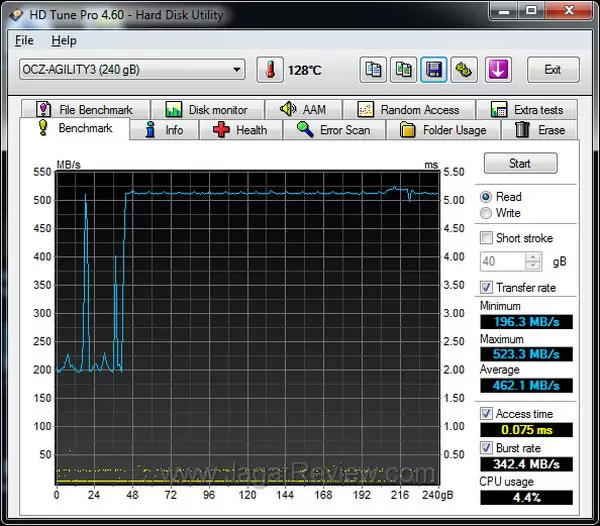 Microsoft's specification states that TRIM should be triggered whenever Windows calls for "Delete", "Empty Recycle Bin", dan "Format" operations. However, that seems to be not the case here. We were surprised to see Agility 3 failing to fully recover its performance. We repeated this test for three more times, only to see the same result. By formatting the drive, we managed to restore Agility 3's performance, although not quite to its original 500 MB/s transfer rate.

Tags:



Share This:
News | March 1, 2015 | Comments

Melalui EE, operator terbesar di Inggris, teknologi tersebut tak lama lagi akan digelar perdana di area Stadion Wemble, London.
News | March 28, 2015 | Comments

Setelah itu, hanya tinggal menunggu waktu, perangkat yang menggunakan layar transparan ini, tersedia di pasaran.
Ubisoft sempat mengumumkan bahwa The Division akan meluncur tahun 2015 ini. Namun informasi ini sendiri disambut skeptis.
Pada pengujian software 3DMark API Overhead Feature Test yang sudah kami bahas sebelumnya, kami melihat adanya peningkatan luar biasa akan jumlah draw call yang bisa ditangani oleh API-API next-gen seperti
Read More »
News | January 22, 2015 | Comments

Bagi Anda para pengguna perangkat mobile, WhatsApp mungkin menjadi salah satu alternatif aplikasi chatting yang akan Anda gunakan untuk berkomunikasi dengan teman atau keluarga. Sebelumnya, WhatsApp tidak pernah memberikan akses untuk
Read More »