Review ZOTAC A75-ITX WiFi: Motherboard AMD LLANO dalam Ukuran Mini-ITX
Seiring waktu, populasi motherboard dengan faktor bentuk mini-ITX semakin bertambah. Kemampuan dan feature yang tidak kalah dengan motherboard ATX/micro-ATX membuat semakin banyak pengguna yang melirik motherboard mini-ITX. Terlebih lagi, ukuran motherboard yang hanya sebesar 17×17 cm memberikan kemungkinan bagi pengguna maupun produsen PC bermerek untuk menciptakan komputer desktop berukuran kecil yang dapat ditempatkan di ruang sempit ataupun disembunyikan.
Umumnya, motherboard mini-ITX telah dilengkapi graphics card terintegrasi (onboard) sehingga pengguna tidak perlu menambahkan graphics card add-on. Alhasil, motherboard mini-ITX dapat dengan mudah ditempatkan di dalam casing komputer berukuran kecil. Tentu saja pilihan untuk menggunakan graphics card add-on tetap ada mengingat motherboard mini-ITX biasanya juga dilengkapi slot ekspansi PCI Express.
Salah satu platform yang dilengkapi graphics card terintegrasi (onboard) yang kami tunggu kehadiran motherboard mini-ITX-nya adalah platform AMD Llano. Tentu Anda sudah melihat kemampuan APU AMD Llano terutama kemampuan unit komputasi grafisnya. Motherboard mini-ITX tentu menjadi komponen menarik untuk mengemas semua kemampuan APU AMD Llano dalam kemasan yang lebih kecil. Kali ini, kami akan me-review salah satu motherboard mini-ITX yang diperuntukkan bagi APU AMD Llano. Bagaimana kinerja dan feature apa saja yang disematkan ke dalam motherboard bernama ZOTAC A75-ITX WiFi ini?
Chipset AMD A75
ZOTAC A75-ITX WiFi
Platform Pengujian
Processor: AMD A8-3850 @2.9 GHz
Motherboard: ZOTAC A75-ITX WiFi
Graphics Card: On CPU (AMD HD 6550D)
Memory: 2x 2 GB Kingston HyperX blu.
Storage: Kingston SSDNow V+ Series 64 GB
Power Supply: Coolermaster Silent Pro Gold 800 Watt
CPU Heatsink: Coolermaster Hyper 212 Plus
Monitor: LCD Monitor 1920×1080
Input: Genius (keyboard and mouse)
OS: Windows 7 Ultimate 64-bit SP1
Driver: Catalyst 11.9
Spesifikasi
Form Factor: Mini-ITX
Chipset: AMD Hudson D3 (A75)
CPU Socket: AMD FM1
Memory Size: Up to 8GB
Memory Slots: 2 x 240-pin SO-DIMM
Memory Type: DDR3 1866
Storage: 4 x SATA 6.0 Gb/s RAID 0, 1, 0+1
Video Ports: 1 x HDMI, 1 x DVI
USB: 8 x USB 3.0 ports (6 on back panel, 2 via header); 2 x USB 2.0 ports (2 via header)
Expansion Slots: 1 x PCI Express 2.0 x16; 1 x Mini PCI Express (occupied by WiFi module)
Onboard Audio: 1 x HD Audio Port (7.1-channel); 1 x Digital Optical S/PDIF output; 1 x Front panel audio header
Onboard LAN: 2 x 10/100/1000Mbps Ethernet ports
Onboard WLAN:  802.11n (300 Mb/s) WiFi
Dimensions: 6.7in x 6.7in – 170mm x 170mm
Kemasan
Kemasan produk ZOTAC A75-ITX WiFi terlihat begitu mungil namun tetap memberikan kesan elegan.
Paket Penjualan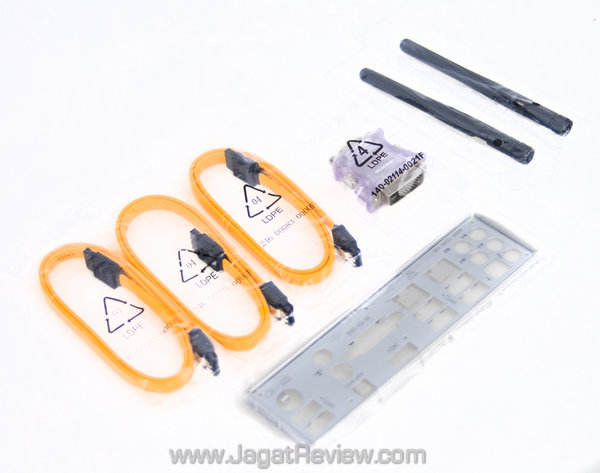 Paket penjualan yang disertakan bersama motherboard terdiri dari:
User's Manual
Multi-language Quick Installatiopn Guide
Driver Disc
Backpanel I/O Shield
3x SATA cables
DVI to D-Sub display converter
2x WiFi antenna
Tags:



Share This: