Motherboard
Oik Yusuf Araya
Comments
Review-Motherboard Gigabyte G1.Sniper2: Platform Sandy Bridge Bersenjata Lengkap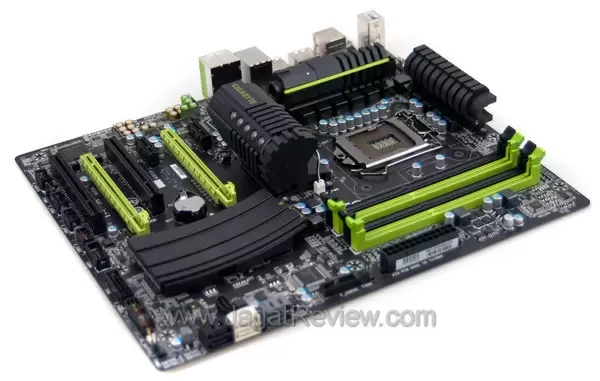 Setelah G1.Assassin diikuti oleh kedatangan G1.Assassin2, Jagat Review kembali menerima versi lanjutan dari motherboard  gaming Gigabyte, yaitu G1.Sniper2 yang, dari namanya, merupakan penerus G1.Sniper. Berbeda dari pendahunya tersebut, G1.Sniper2 memiliki chipset Z68 yang dimaksudkan sebagai pasangan prosesor Sandy Bridge LGA 1155 keluaran Intel (G1.Assassin2 adalah motherboard X79 untuk CPU Sandy Bridge Extreme). Untuk informasi lebih detail tentang chipset yang digunakan sebagai basis platform socket LGA1155 pada G1.Sniper2, Anda dapat membaca ulasan Z68 di Jagat Review.
Sebagai anggota seri motherboard gaming  G1.Killer, tentu G1.Sniper2 dipersenjatai dengan berbagai macam fitur andalan Gigabyte, seperti Dual BIOS dan material (komponen) konstruksi berkualitas tinggi Ultra Durable 3. Di samping itu, terdapat beberapa kelengkapan tambahan ekslusif yang hanya dapat ditemui di seri motherboard G1.Killer, yaitu chip audio Creative Soundblaster X-Fi terintegrasi dan LAN Controller Bigfoot Networks Killer E2100. Tentu saja, kemampuan-kemampuan "bawaan" dari chipset Z68 juga dapat ditemui di motherboard ini, termasuk Intel Smart Response Technology, LucidLogix Virtu GPU Virtualization, serta tak lupa dukungan interface PCI Express generasi ke tiga. Menarik bukan? Inilah spesifikasi lengkap dari Gigabyte G1.Sniper2:
Spesifikasi
CPU

Support for Intel® Core™ i7 processors/Intel® Core™ i5 processors/ Intel® Core™ i3 processors/Intel® Pentium® processors/Intel® Celeron® processors in the LGA1155 package
L3 cache varies with CPU

(Please refer "CPU Support List" for more information.)

Chipset

Intel® Z68 Express Chipset

Memory

4 x 1.5V DDR3 DIMM sockets supporting up to 32 GB of system memory
* Due to Windows 32-bit operating system limitation, when more than 4 GB of physical memory is installed, the actual memory size displayed will be less than 4 GB.
Dual channel memory architecture
Support for DDR3 2133/1866/1600/1333/1066 MHz memory modules
Support for non-ECC memory modules
Support for Extreme Memory Profile (XMP) memory modules

(Please refer "Memory Support List" for more information.)

Onboard Graphics
Integrated Graphics Processor:

1 x HDMI port, supporting a maximum resolution of 1920×1200

Audio

1 x Creative CA20K2 chip
Support for Dolby® Digital Live and DTS™ Connect
Support for X-Fi Xtreme Fidelity® and EAX® Advanced HD™ 5.0 technologies
High Definition Audio
2/4/5.1/7.1-channel
Support for S/PDIF Out

LAN

1 x Bigfoot Killer E2100 chip (10/100/1000 Mbit)

Expansion Slots

1 x PCI Express x16 slot, running at x16 (PCIEX16)
* For optimum performance, if only one PCI Express graphics card is to be installed, be sure to install it in the PCIEX16 slot.
1 x PCI Express x16 slot, running at x8 (PCIEX8)
* The PCIEX8 slot shares bandwidth with the PCIEX16 slot. When the PCIEX8 slot is populated, the PCIEX16 slot will operate at up to x8 mode.

(All PCI Express x16 slots conform to PCI Express 3.0 standard.)
* To support PCI Express 3.0, you must install an Intel 22nm CPU.

2 x PCI Express x1 slots
(All PCI Express slots conform to PCI Express 2.0 standard.)
2 x PCI slots

Multi-Graphics Technology

Support for AMD CrossFireX™/NVIDIA SLI technology
* The PCIEX16 slot operates at up to x8 mode when AMD CrossFireX™/NVIDIA SLI is enabled.

Storage Interface
1 x Marvell 88SE9172 chip:

2 x SATA 6Gb/s connector (GSATA3_6, GSATA3_7) supporting up to 2 SATA 6Gb/s devices
Support for RAID 0 and RAID 1

Chipset:

2 x SATA 6Gb/s connectors (SATA3_0, SATA3_1) supporting up to 2 SATA 6Gb/s devices
3 x SATA 3Gb/s connectors (SATA2_2~SATA2_4) supporting up to 3 SATA 3Gb/s devices
1 x eSATA 3Gb/s connector (eSATA/USB Combo connector) on the back panel supporting up to 1 SATA 3Gb/s device
Support for RAID 0, RAID 1, RAID 5, and RAID 10
* When a RAID set is built across the SATA 6Gb/s and SATA 3Gb/s channels, the system performance of the RAID set may vary depending on the devices being connected.

USB
Chipset:

Up to 14 USB 2.0/1.1 ports (8 ports on the back panel, including 1 eSATA/USB Combo connector, 6 ports available through the internal USB headers)

2 x Etron EJ168 chips:

Up to 4 USB 3.0/2.0 ports (2 ports on the back panel, 2 ports available through the internal USB header)

Internal I/O Connectors

1 x 24-pin ATX main power connector
1 x 8-pin ATX 12V power connector
4 x SATA 6Gb/s connectors
3 x SATA 3Gb/s connectors
1 x CPU fan header
4 x system fan headers
1 x front panel header
1 x front panel audio header
1 x S/PDIF Out header
3 x USB 2.0/1.1 headers
1 x USB 3.0/2.0 header
1 x serial port header
1 x Trusted Platform Module (TPM) header
1 x clearing CMOS jumper
1 x heatsink LED power connector
1 x CPU overclocking button header

Back Panel Connectors

7 x USB 2.0/1.1 ports
1 x PS/2 keyboard/mouse port
1 x CPU overclocking button
1 x optical S/PDIF Out connector
1 x eSATA/USB Combo connector
1 x HDMI port
2 x USB 3.0/2.0 ports
1 x RJ-45 port
5 x audio jacks (Center/Subwoofer Speaker Out, Rear Speaker Out, Side Speaker Out, Line In/Mic In, Line Out)

I/O Controller

iTE IT8728 chip

H/W Monitoring

System voltage detection
CPU/System temperature detection
CPU/System fan speed detection
CPU overheating warning
CPU/System fan fail warning
CPU/System fan speed control
* Whether the CPU/system fan speed control function is supported will depend on the CPU/system cooler you install.

BIOS

2 x 32 Mbit flash
Use of licensed AWARD BIOS
Support for DualBIOS™
PnP 1.0a, DMI 2.0, SM BIOS 2.4, ACPI 1.0b

Unique Features

Support for @BIOS
Support for Q-Flash
Support for Xpress BIOS Rescue
Support for Download Center
Support for Xpress Install
Support for Xpress Recovery2
Support for EasyTune
* Available functions in EasyTune may differ by motherboard model.
Support for Dynamic Energy Saver™ 2
Support for Smart 6™
Support for Auto Green
Support for eXtreme Hard Drive (X.H.D)
Support for ON/OFF Charge
Support for Cloud OC
Support for 3TB+ Unlock
Support for TouchBIOS
Support for Q-Share

Bundle Software

Norton Internet Security (OEM version)
Intel® Smart Response Technology
LucidLogix Virtu
* Make sure the monitor cable has been connected to the integrated graphics port on the back panel.

Operating System

Support for Microsoft® Windows 7/Vista/XP

Form Factor

ATX Form Factor; 30.5cm x 26.4cm

Remark

Due to different Linux support condition provided by chipset vendors, please download Linux driver from chipset vendors' website or 3rd party website.
Most hardware/software vendors may no longer offer drivers to support Win9X/ME/2000/XP SP1/SP2. If drivers are available from the vendors, we will update them on the GIGABYTE website.