Review-ASRock P67 Fatal1ty Performance: Solusi Motherboard Ekonomis ala Fatal1ty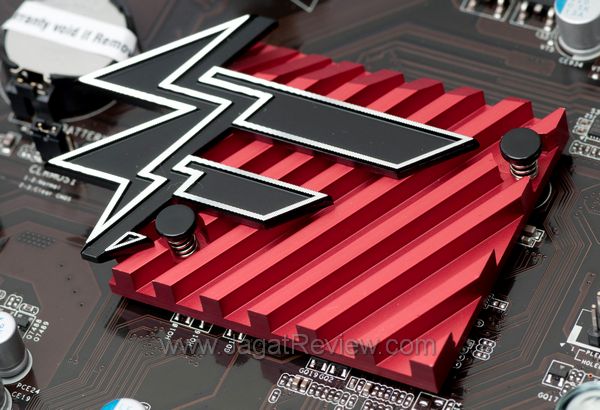 Beberapa waktu lalu, Jagat Review menerima ASRock P67 Fatal1ty Professional, motherboard khusus gamer yang dilengkapi dengan berbagai macam feature menarik. Produk tersebut cukup menggiurkan, namun harganya mungkin masih terasa mahal bagi beberapa orang, terutama yang tidak terlalu membutuhkan beberapa fungsionalitas tertentu, seperti SLI/ Crossfire misalnya. Nah, ASRock juga memiliki versi lebih terjangkau dari motherboard ini, yaitu P67 Fatal1ty dengan akhiran "Performance".
Sesuai namanya, ASRock P67 Fatal1ty Performance dikembangkan melalui kerjasama dengan Jonnathan "Fatal1ty" Wendell, gamer professional yang kini bermitra dengan produsen motherboard bersangkutan. Meski tidak selengkap seri "Professional", motherboard dengan chipset Intel P67 ini tetap datang dengan beragam fungsionalitas ekstra yang menjadi keunggulan seri Fatal1ty.
Spesifikasi
General
CPU
– Supports 2nd Generation Intel® Core™ i7 / i5 / i3 in LGA1155 Package
– Advanced V8 Power Phase Design
– Supports Intel® Turbo Boost 2.0 Technology
– Supports Intel® K-Series unlocked CPU
– Supports Hyper-Threading Technology
Chipset
– Intel® P67
Memory
– Dual Channel DDR3 memory technology
– 4 x DDR3 DIMM slots
– Supports DDR3 2133(OC)/1866(OC)/1600/1333/1066 non-ECC, un-buffered memory
– Max. capacity of system memory: 32GB*
– Supports Intel® Extreme Memory Profile (XMP)

*Due to the operating system limitation, the actual memory size may be less than 4GB for the reservation for system usage under Windows® 32-bit OS. For Windows® 64-bit OS with 64-bit CPU, there is no such limitation.

BIOS
– 64Mb AMI UEFI Legal BIOS with GUI support
– Supports "Plug and Play"
– ACPI 1.1 Compliance Wake Up Events
– Supports jumperfree
– SMBIOS 2.3.1 Support
– DRAM, PCH, CPU PLL, VTT, VCCSA Voltage Multi-adjustment
Audio, Video and Networking
Graphics
– n/a
Audio
– 7.1 CH HD Audio with Content Protection (Realtek ALC892 Audio Codec)
– Premium Blu-ray audio support
LAN
– PCIE x1 Gigabit LAN 10/100/1000 Mb/s
– Realtek RTL8111E
– Supports Wake-On-LAN
– Supports LAN Cable Detection
– Supports Energy Efficient Ethernet 802.3az
– Supports PXE
Expansion / Connectivity
Slots
– 1 x PCI Express 2.0 x16 slot
– 3 x PCI Express 2.0 x1 slots
– 3 x PCI slots
SATA3
– 2 x SATA3 6.0 Gb/s connectors, support RAID (RAID 0, RAID 1, RAID 10, RAID 5 and Intel® Rapid Storage), NCQ, AHCI and "Hot Plug" functions (SATA3_1 connector is shared with eSATA3 port)
USB 3.0
– 2 x USB 3.0 ports by Etron EJ168A, support USB 1.0/2.0/3.0 up to 5Gb/s
Connector
– 4 x SATA2 3.0 Gb/s connectors, support RAID (RAID 0, RAID 1, RAID 10, RAID 5 and Intel® Rapid Storage), NCQ, AHCI and Hot Plug functions
– 2 x SATA3 6.0 Gb/s connectors
– 1 x ATA133 IDE connector (supports 2 x IDE devices)
– 1 x Floppy connector
– 1 x IR header
– 1 x COM port header
– 1 x HDMI_SPDIF header
– 1 x Power LED header
– CPU/Chassis/Power FAN connector
– 24 pin ATX power connector
– 8 pin 12V power connector
– Front panel audio connector
– 3 x USB 2.0 headers (support 6 USB 2.0 ports)
– 1 x Dr. Debug with LED
Rear Panel I/O
I/O Panel
– 1 x PS/2 Mouse Port
– 1 x PS/2 Keyboard Port
– 1 x Coaxial SPDIF Out Port
– 1 x Optical SPDIF Out Port
– 5 x Ready-to-Use USB 2.0 Ports
– 1 x Fatal1ty Mouse Port (USB 2.0)
– 1 x eSATA3 Connector
– 2 x Ready-to-Use USB 3.0 Ports
– 1 x RJ-45 LAN Port with LED (ACT/LINK LED and SPEED LED)
– 1 x Clear CMOS Switch with LED
– HD Audio Jack: Side Speaker / Rear Speaker / Central / Bass / Line in / Front Speaker / Microphone
Other Features / Miscellaneous
Unique Feature
– F-Stream
– ASRock Instant Boot
– ASRock Instant Flash
– ASRock APP Charger
– ASRock SmartView
– ASRock XFast USB
– ASRock On/Off Play Technology
– Hybrid Booster:
– CPU Frequency Stepless Control
– ASRock U-COP
– Boot Failure Guard (B.F.G.)
– Combo Cooler Option (C.C.O.)
– Good Night LED
Smart Switch
– 1 x Power Switch with LED
– 1 x Reset Switch with LED
– 1 x Clear CMOS Switch with LED
Support CD
– Drivers, Utilities, AntiVirus Software (Trial Version), ASRock Software Suite (CyberLink DVD Suite – OEM and Trial;
Creative Sound Blaster X-Fi MB – Trial)
Accessories
– Quick Installation Guide, Support CD, I/O Shield
– Floppy/ATA 133 Cables
– 4 x SATA Data Cables (optional)
– 1 x 3.5mm Audio Cable (optional)
Hardware Monitor
– CPU Temperature Sensing
– Chassis Temperature Sensing
– CPU/Chassis/Power Fan Tachometer
– CPU/Chassis Quiet Fan (Allow Chassis Fan Speed Auto-Adjust by CPU Temperature)
– CPU/Chassis Fan Multi-Speed Control
– Voltage Monitoring: +12V, +5V, +3.3V, CPU Vcore
Form Factor
– ATX Form Factor: 12.0-in x 9.6-in, 30.5 cm x 24.4 cm
– All Solid Capacitor design (100% Japan-made high-quality Conductive Polymer Capacitors)
OS
– Microsoft® Windows® 7 / 7 64-bit / Vista™ / Vista™ 64-bit / XP / XP 64-bit compliant
Certifications
– FCC, CE, WHQL
– ErP/EuP Ready (ErP/EuP ready power supply is required)
Kemasan dan Paket Penjualan
ASRock P67 Fatal1ty Performance memiliki desain kemasan yang terlihat sangat mirip dengan "kakak" nya, P67 Fatal1ty seri Professional. Box motherboard ini berwarna merah gelap, dengan foto Jonnathan Wendell berukuran besar yang tercetak di sisi kiri. Bedanya dengan seri Professional, kemasan P67 Fatal1ty Performance hanya berbentuk kotak biasa tanpa jendela transparan yang tampak elegan. Seperti motherboard lain pada umumnya, di bagian belakang tertulis penjelasan-penjelasan singkat mengenai feature produk.
Tak lupa, ASRock turut menyertakan aksesoris-aksesoris tambahan yang terbilang cukup berlimpah untuk motherboard sekelas Fatal1ty Performance. Anda dapat menemukan empat buah kabel SATA, sebuah konektor audio 3,5 mm, backpanel bracket, dan CD berisi bundel software utility. Untuk gamer yang masih menggunakan hardware lawas, ASRock juga menyediakan kabel floppy berikut kabel IDE/ ATA 133. Sayangnya, tak ada bracket frontpanel USB 3.0 seperti yang terdapat pada seri Fatal1ty Professional. Namun, hal tersebut dapat dimengerti. Untuk harga yang lebih terjangkau tentu ada yang harus dikorbankan, bukan?
Tags:



Share This: