Oscar Menjadi Milik The Artist dan Hugo!
Ajang penghargaan tertinggi Hollywood usai digelar tadi malam (26/3). Banyak muka baru yang bermunculan dan juga kembalinya beberapa aktor/aktris peraih Oscar bertahun-tahun yang lalu. Salah satunya adalah Meryl Streep.
Aktris yang masih terlihat cantik di umurnya yang ke-62 ini berhasil mengalahkan Glenn Close (Albert Nobbs), Viola Davis (The Help), Rooney Mara (The Girl with the Dragon Tatoo), dan Michelle Williams (My Week with Marlyn) untuk kategori Best Actress berkat penampilannya di film The Iron Lady. Ini adalah kemenangan ketiganya sebagai Best Actress yang sebelumnya juga pernah ia dapatkan di tahun 1979 dan 1982. Akting Meryl Streep di The Iron Lady memang tidak bisa diremehkan. Ia berhasil memerankan tokoh besar Inggris, Margaret Thatcher, dengan sangat brilian.
Selain berhasil membuat pemeran utamanya memenangi Oscar, The Iron Lady juga berhasil memboyong Oscar untuk kategori Best Make Up. Well, tidak mengherankan karena film ini memang menggunakan teknik make up yang outstanding (perhatikan kembali perubahan umur—yang disesuaikan dengan perubahan penampilan fisik—yang dialami karakter utama tanpa perlu mengganti pemerannya; mengandalkan keterampilan tangan para penata rias, Mark Coulier dan J. Roy Helland.
Aktor Prancis Jean Durjadin yang tampil gemilang—memadukan ekspresi, gestur, dan tarian—di The Artist mendapatkan apresiasi tertinggi dari penampilannya tersebut. Ia berhasil meraih Oscar untuk kategori Best Actor, mengalahkan George Clooney (The Descendants), Gary Oldman (Tinker Tailor Soldier Spy), Brad Pitt (Moneyball), Demian Bichir (A Better Life). Jean naik ke panggung bersama anjing kesayangan George Valentin (karakter yang diperankannya di film ini), Oogie, yang terlihat "tampan" menggunakan dasi kupu-kupu mungil di lehernya.
Malam itu adalah milik The Artist. Selain kategori Best Actor, film ini juga meraih empat piala Oscar, yaitu untuk kategori Best Picture, Best Costume Design, Best Original Score, dan Best Director (Michel Hazanavicius). Bravo!
Selain The Artist, Hugo juga berhasil memboyong lima piala, yaitu untuk kategori Best Cinematography, Best Art Direction, Best Sound Editing, Best Sound Mixing, dan Best Visual Effect. Kita berbicara mengenai film yang digarap si jenius Martin Scorsese. No wonder!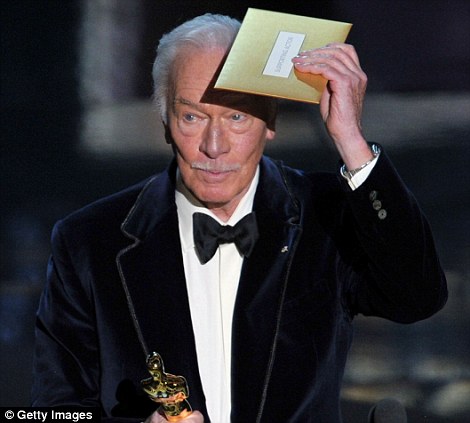 Untuk kategori Best Supporting Actor, ada Christopher Plummer dalam film Beginners yang berhasil mengalahkan Kenneth Branagh (My Week with Marlyn), Jonah Hill (Moneyball), Nick Nolte (Warrior), dan Max von Sydow (Extremely Loud and Incredibly Close). Plummer merupakan aktor penerima Oscar tertua (82 tahun). Untuk Best Supporting Actress, Octavia Spencer (The Help) berhasil merebut piala ini dari Berenice Bejo (The Artist), Jessica Chastain (The Help), Melissa McCarthy (Bridesmaids), dan Janet McTeer (Albert Nobbs). Aktris yang malam itu tampil dengan gaun putih berkilau memberikan pidato kemenangannya dengan haru biru.
Academy Awards ke-84 berhasil mendapatkan pemenang dari tiap kategori. Semua insan yang meraih piala terbukti memiliki kualitas yang tidak main-main. Bagaimana cara membuktikannya? Silakan tonton sendiri film-film mereka!

Best Picture: Thomas Langmann (The Artist)
Best Actor: Jean Dujardin (The Artist)
Best Actress: Meryl Streep (The Iron Lady)
Supporting Actress: Octavia Spencer (The Help)
Supporting Actor: Christopher Plummer (Beginners)
Directing: Michel Hazanavicius (The Artist)
Cinematography: Robert Richardson (Hugo)
Art Direction: Dante Ferretti dan Francesca Lo Schiavo (Hugo)
Costume Design: Mark Bridges (The Artist)
Makeup: Mark Coulier dan J. Roy Helland (The Iron Lady)
Foreign Language Film: A Separation (Iran)
Film Editing: Angus Wall dan Kirk Baxter (The Girl With the Dragon Tattoo)
Sound Editing: Philip Stockton dan Eugene Gearty (Hugo)
Sound Mixing: Tom Fleischman dan John Midgley (Hugo)
Documentary Feature: Undefeated
Animated Feature Film: Rango
Visual Effects: Rob Legato, Joss Williams, Ben Grossmann Alex Henning (Hugo)
Original Score: The Artist
Original Song: "Man or Muppet"  from The Muppets
Adapted Screenplay: Alexander Payne, Nat Faxon and Jim Rash (The Descendants)
Original Screenplay: Woody Allen (Midnight in Paris)
Live Action Short Film: The Shore
Documentary (short subject): Saving Face
Animated Short Film: The Fantastic Flying Books of Mr. Morris Lessmore

Tags:



Share This: