[PR] MSI's All New R7000 Power Edition series Graphics Cards
Thermal innovation redefines performance.
(Taipei – Taiwan) Leading international graphics card maker MSI today officially released three R7000 Power Edition graphics cards: the R7850 Power Edition 2GD5/OC, R7770 Power Edition 1GD5/OC and R7750 Power Edition 1GD5/OC. The MSI Power Edition cards all support MSI's exclusive Triple Overvoltage function and improved PWM to boost over clocking potential up to 45%1. The R7850 Power Edition 2GD5/OC is equipped with MSI's new Twin Frozr IV Thermal Design recently exclusive to the R7970 Lightning. The dual 8cm Propeller Blade technology fans create powerful airflow and rapid heat dissipation to reduce GPU temperature by up to 22℃2. The R7770 Power Edition 1GD5/OC and R7750 Power Edition 1GD5/OC feature the all new MSI TransThermal thermal design. The MSI TransThermal thermal design allows customization of their graphics cards fan setup: Single fan, Dual fan and Stacked fan setup3. MSI's TransThermal comes with both Dust Removal and Propeller Blade technologies. Fans can also The MSI R7000 Power Edition series graphics cards' exceptional overclocking performance, all-new cooling module design and the latest Military Class III components make it the best choice for gamers.
R7850 Power Edition 2GD5/OC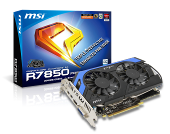 R7770 Power Edition 1GD5/OC
R7750 Power Edition 1GD5/OC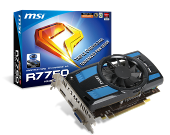 Power Edition architecture boosts overclocking potential

The Power Edition architecture on MSI's latest R7000 series graphics cards enables Triple Overvoltage inside MSI Afterburner. The GPU/Memory/VDDCI voltages can be adjusted to extract every ounce of performance from the graphics card and gives up to 45% overclocking potential. The enhanced PWM provides more power than the reference design to improve power delivery and stability under the high loads experienced during overclocking.

Dust Removal Fan Technology for Optimal Cooling

The MSI R7850 Power Edition 2GD5/OC graphics card features the latest Twin Frozr IV cooling design. Cooling performance is greatly improved by the large-area nickel-plated copper base and Propeller Blade dual 8cm fans. Dust Removal technology runs the fans in reverse for 30 seconds after every boot to remove dust from the heat sink to maintain optimal cooling of the graphics card.

TransThermal – Exclusive customizable fan design

In an industry first, the MSI R7770 Power Edition 1GD5/OC and R7750 Power Edition 1GD5/OC graphics cards feature the MSI TransThermal thermal design that allows the cooling module to be customized to your taste. In addition to the integrated Propeller Blade and Dust Removal technologies, a special mechanism allows gamers to install another fan on the TransThermal cooler. The upgrade converts the original cooling module to a Double Airflow mode for increased airflow and lower temperatures; the cover of the cooling module on the R7770 Power Edition 1GD5/OC can even be adjusted so the add-on fan can be installed in parallel with the existing module. This expands the cooling coverage of the Dual Fan mode, lowering temperatures on the entire card.

Premium Military Class III Components

MSI has long been an industry leader in setting the standards for product quality and stability. The MSI R7000 Power Edition graphics cards use Military Class III components that have been certified by an independent laboratory to confirm they meet MIL-STD-810G military specifications. The Tantalum Core Hi-c CAP with 8 times the life of conventional capacitors and the SFC that delivers 30% more current and Solid CAP with up to 10 years of service life all combine to deliver maximum stability for MSI graphics cards.

1.      Achieved at maximum overvoltage with R7850 Power Edition 2GD5/OC. Overclocking abilities vary per card

2.      Measured difference between R7850 Power Edition 2GD5/OC and reference board under full load. Results may vary depending on platform and settings.

3.      The type of setups supported by the Trans Thermal cooling model will vary depending on the product model. For further details, please visit:http://event.msi.com/vga/power_edition

For more product information on the R7850 Power Edition 2GD5/OC, please visit http://www.msi.com/product/vga/R7850-Power-Edition-2GD5-OC.html

For more product information on the R7770 Power Edition 1GD5/OC, please visit http://www.msi.com/product/vga/R7770-Power-Edition-1GD5-OC.html

For more product information on the R7750 Power Edition 1GD5/OC, please visit http://www.msi.com/product/vga/R77750-Power-Edition-1GD5-OC.html

Tags:



Share This: