[PR] One-for-all various Applications: AirLive 5 Mega-Pixel Day & Night Network Camera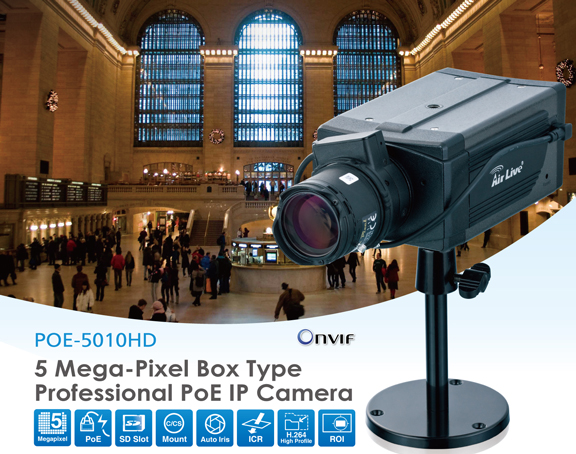 AirLive, one of the most advanced worldwide brands for networking and communication equipment, introduced the first one-for-all various applications 5 Megapixel box type IP Camera AirLive POE-5010HD. It supports up to 2592*1920 recording image.
With it DC IRIS, IR-CUT Removable (ICR) and option LED IR enclosure, AirLive OD-5010HD delivers vibrant color images without color distortion in the daytime and clear-record video at the night time.
This One-for-all various applications provide option lens and accessories to allow AirLive OD-5010HD flexible to adopt for allocations:
More Details & Clear View:
Choose high mega-pixel lens to provide secure Networking Surveillance Solutions to ATM and Cashier (Bank, Shopping Mall, Retail Shop, and Train Station)
Adopted to various Weathers:
With the IP66 enclosure, Auto Fans, Auto Heat, and additional IR LED, POE-5010HD can also be used in all area to avoid the weather issue.

This camera is also equipped with SD/SDHC slot for local storage as well as DI/DO connector for integrating external sensors or alarms. Thus, this camera can be used in many different locations with different conditions. Therefore it is the best choice for either small or large IP surveillance systems.

The camera connected to external microphone and speaker can perform two-way audio function.

The AirLive POE-5010HD supports ONVIF standard which means that it is compatible with other products supporting this standard.

More information about this product: http://www.airlive.com/product/POE-5010HD

Tags:



Share This:
News | February 19, 2015 | Comments

Perseteruan BlackBerry dan perusahaan pembesut keyboard untuk smartphone Typo, masih berlanjut. Setelah dituntut BlackBerry karena dinilai menjiplak desain keyboard BlackBerry pada produk Typo pertama tahun lalu, BlackBerry kembali menuntut desain
Read More »
News | February 9, 2015 | Comments

LinkedIn mengumumkan laporan pendapatan terakhirnya untuk kuartal empat 2014. Selain mengumumkan jumlah pendapatan, LinkedIn juga mengumumkan jumlah anggota terbarunya. Secara keseluruhan, untuk kuartal ini meskipun tidak banyak, namun jejaring sosial
Read More »
Apa yang sebenarnya diiinginkan Capcom dengan franchise survival horror andalannya – Resident Evil? Pertanyaan yang menghantui banyak penggemar seri lawasnya ini seolah tidak pernah terjawab
Desktop | April 16, 2015 | Comments

PC desktop irit daya generasi dua kembali hadir dengan sejumlah peningkatan.
News | February 21, 2015 | Comments

Apple telah meluncurkan program perbaikan gratis bagi pemilik laptop MacBook Pro.