Gigabyte GA-Z77X-D3H: Motherboard Mainstream Murah Dengan mSATA
Kelas motherboard D3H dari Gigabyte terkenal sebagai kelas motherboard mainstream. Umumnya motherboard kelas ini tak banyak menawarkan fitur yang menarik. Inilah yang membuat Gigabyte GA-Z77X-D3H berbeda dari pesaingnya. Motherboard ini disertai fitur mSATA yang jarang hadir dalam kelas mainstream.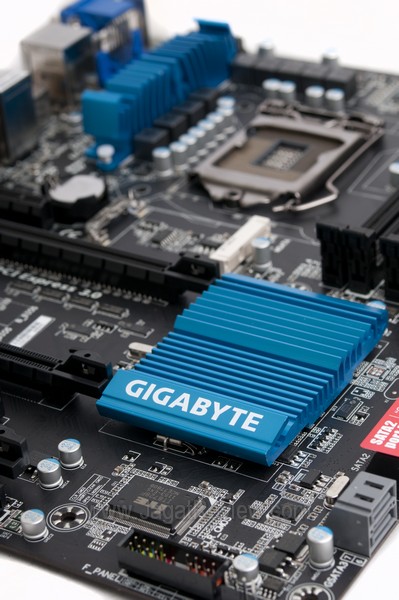 Solusi mSATA yang dihadirkan pada motherboard ini bukan merupakan solusi baru. Kami pernah melihatnya pada  Gigabyte Z68XP-UD3-iSSD. Pada produk sebelumnya, dia dipaketkan dengan sebuah SSD mSATA dari Intel. Mungkin karena dirasa harga jualnya yang menjadi cukup tinggi maka Gigabyte tidak melanjutkan line up produk tersebut. Kali ini Gigabyte mencoba kembali dengan menggunakan chipset Z77 yang juga memiliki kemampuan SSD caching. Tapi kali ini paket penjualan tidak disertai dengan SSD Intel mSATA sehingga pengguna dapat menggunakan produk pilihan sendiri atau paling tidak memiliki opsi ini untuk digunakan kemudian hari.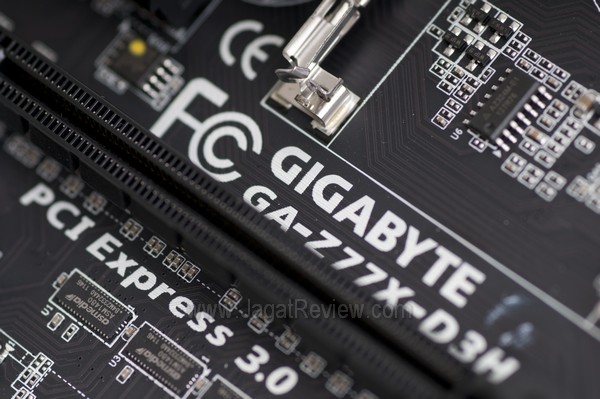 Chipset Z77
Spesifikasi
CPU

Support for Intel® Core™ i7 processors/Intel® Core™ i5 processors/ Intel® Core™ i3 processors/Intel® Pentium® processors/Intel® Celeron® processors in the LGA1155 package
L3 cache varies with CPU

(Some Intel® Core™ processors require a graphic card, please refer "CPU support List" for more information.)

Chipset

Intel® Z77 Express Chipset

Memory

4 x 1.5V DDR3 DIMM sockets supporting up to 32 GB of system memory
* Due to Windows 32-bit operating system limitation, when more than 4 GB of physical memory is installed, the actual memory size displayed will be less than 4 GB.
Dual channel memory architecture
Support for DDR3 2400(OC)/1600/1333/1066 MHz memory modules
Support for non-ECC memory modules
Support for Extreme Memory Profile (XMP) memory modules

(Please refer "Memory Support List" for more information.)

Onboard Graphics
Chipset:

1 x D-Sub port
1 x DVI-D port, supporting a maximum resolution of 1920×1200
* The DVI-D port does not support D-Sub connection by adapter.
1 x HDMI port, supporting a maximum resolution of 1920×1200

Audio

VIA VT2021 codec
High Definition Audio
2/4/5.1/7.1-channel
Support for S/PDIF Out

LAN

1 x Atheros GbE LAN chip (10/100/1000 Mbit)

Expansion Slots

1 x PCI Express x16 slot, running at x16 (PCIEX16)
* For optimum performance, if only one PCI Express graphics card is to be installed, be sure to install it in the PCIEX16 slot.

1 x PCI Express x16 slot, running at x8 (PCIEX8)
* The PCIEX8 slot shares bandwidth with the PCIEX16 slot. When the PCIEX8 slot is populated, the PCIEX16 slot will operate at up to x8 mode.
(The PCIEX16 and PCIEX8 slots conform to PCI Express 3.0 standard.)
* PCIE Gen.3 is dependent on CPU and expansion card compatibility.

1 x PCI Express x16 slot, running at x4 (PCIEX4)
* The PCIEX4 slot shares bandwidth with the PCIEX1_1/2/3 slots. The PCIEX1_1/2/3 slots slots will become unavailable when a PCIe x4 expansion card is installed.

3 x PCI Express x1 slots
(PCIEX4 and PCIEX1 slots conform to PCI Express 2.0 standard.)

1 x PCI slots

Multi-Graphics Technology

Support for 2-Way AMD CrossFireX™/NVIDIA SLI technology (PCIEX16 and PCIEX8)

Storage Interface
Chipset:

2 x SATA 6Gb/s connectors (SATA3 0/SATA3 1) supporting up to 2 SATA 6Gb/s devices
4 x SATA 3Gb/s connectors (SATA2 2~SATA2 5) supporting up to 4 SATA 3Gb/s devices
1 x mSATA connector
* The SATA2 5 connector will become unavailable when the mSATA connector is installed with a solid state drive.
Support for RAID 0, RAID 1, RAID 5, and RAID 10
* When a RAID set is built across the SATA 6Gb/s and SATA 3Gb/s channels, the system performance of the RAID set may vary depending on the devices being connected.

1 x Marvell 88SE9172 chip:

2 x SATA 6Gb/s connectors (GSATA3 6/GSATA3 7) supporting up to 2 SATA 6Gb/s devices
Support for RAID 0 and RAID 1

USB
Chipset:

Up to 4 USB 3.0/2.0 ports (2 ports on the back panel, 2 ports available through the internal USB headers)
* In Windows XP, the Intel USB 3.0 ports can support up to USB 2.0 transfer speed.
Up to 6 USB 2.0/1.1 ports (2 ports on the back panel, 4 ports available through the internal USB headers)

VIA VL800 chip:

Up to 4 USB 3.0/2.0 ports on the back panel
* Due to a Windows 7 limitation, please connect your USB device(s) to the USB 2.0/1.1 port(s) before the VIA USB 3.0 controller driver is installed.

Internal I/O Connectors

1 x 24-pin ATX main power connector
1 x 4-pin ATX 12V power connector
4 x SATA 6Gb/s connectors
4 x SATA 3Gb/s connectors
1 x mSATA connector
1 x CPU fan header
3 x system fan headers
1 x front panel header
1 x front panel audio header
1 x S/PDIF Out header
1 x USB 3.0/2.0 header
2 x USB 2.0/1.1 headers
1 x serial port header
1 x Clear CMOS jumper
1 x Trusted Platform Module (TPM) header

Back Panel Connectors

1 x PS/2 keyboard/mouse port
1 x D-Sub port
1 x DVI-D port
1 x HDMI port
6 x USB 3.0/2.0 ports
2 x USB 2.0/1.1 ports
1 x RJ-45 port
1 x optical S/PDIF Out connector
5 x audio jacks (Center/Subwoofer Speaker Out, Rear Speaker Out, Side Speaker Out, Line In/Mic In, Line Out)

I/O Controller

iTE I/O Controller Chip

H/W Monitoring

System voltage detection
CPU/System temperature detection
CPU/System fan speed detection
CPU overheating warning
CPU/System fan fail warning
CPU/System fan speed control
* Whether the CPU/system fan speed control function is supported will depend on the CPU/system cooler you install.

BIOS

2 x 64 Mbit flash
Use of licensed AMI EFI BIOS
Support for DualBIOS™
PnP 1.0a, DMI 2.0, SM BIOS 2.6, ACPI 2.0a

Unique Features

Support for @BIOS
Support for Q-Flash
Support for Xpress Install
Support for Xpress Recovery2
Support for EasyTune
* Available functions in EasyTune may differ by motherboard model.
Support for eXtreme Hard Drive (X.H.D)
Support for Auto Green
Support for ON/OFF Charge
Support for Q-Share
Support for 3D Power
Support for EZ Setup
Support for LAN Optimizer (Intelligent optimization network management tool)

Bundle Software

Norton Internet Security (OEM version)
Intel® Smart Response Technology
Intel® Rapid Start Technology
LucidLogix Virtu MVP
* Make sure the monitor cable has been connected to the integrated graphics port on the back panel.

Operating System

Support for Microsoft® Windows 7/XP

Form Factor

ATX Form Factor; 30.5cm x 24.4cm

Remark

Due to different Linux support condition provided by chipset vendors, please download Linux driver from chipset vendors' website or 3rd party website.
Most hardware/software vendors may no longer offer drivers to support Win9X/ME/2000/XP SP1/SP2. If drivers are available from the vendors, we will update them on the GIGABYTE website
Platform Pengujian
Prosesor: Intel Core i7 3770K                                                                                                                       
Motherboard: Gigabyte Z77X-D3H
Graphic Card : NVIDIA GTX 560 Ti                                                                          
Memory: 2 Keping dari KHX1600C9D3K4/16GX                                               
Hard Drive: Kingston HyperX SSD 120 GB                                                               
Power Supply: Corsair Professional Series™ Gold AX850 — 80 PLUS® Gold Certified Fully-Modular Power Supply
Cooling : Corsair Hydro Series™ H80 High Performance Liquid CPU Cooler
Monitor: Philips 221E
Input: Genius (keyboard dan mouse)
OS: Windows 7 Ultimate 64-bit SP1
Tags:



Share This:
Entah harus disikapi dengan rasa tertarik yang tinggi atau justru mengkhawatirkan, industri game tampaknya punya tren untuk cenderung menawarkan konsep yang sudah berada di luar nalar. Dimulai dari Goat Simulator
Read More »
News | February 25, 2015 | Comments

Hari ini Oppo baru saja mengumumkan satu produk kelas menengah terbarunya yaitu Oppo Mirror 3. Perangkat yang juga telah tersedia mulai hari ini dipasaran, dihadirkan dengan harga Rp. 3.199.000,-. "OPPO berkomitmen
Read More »
Bulan Februari 2015 akhirnya tiba! Game-game menarik apa saja yang pantas untuk diantisipasi bulan ini?
News | March 25, 2015 | Comments

Ada smartphone baru dari Xiaomi!
News | March 19, 2015 | Comments

Cougar, yang merupakan pabrikan hardware asal Jerman, baru-baru ini merilis varian casing terbaru mereka yang dirancang khusus sebagai casing gaming. Uniknya, casing yang diberi nama Cougar QBX ini memiliki ukuran
Read More »