Review Motherboard ECS Z77H2-A2X: The Golden Board
Apa yang bisa Anda dapatkan ketika menggabungkan warna hitam dan emas ke dalam sebuah motherboard? Jawabannya adalah sebuah produk dari ECS yang bernama Z77H2-A2X atau lebih dikenal dengan nickname nya "The Golden Board". Penasaran mengenai motherboard tersebut? Silahkan simak review kami berikut ini!
Sebelumnya ECS telah mempunyai kelas motherboard yang dinamakan Black Series. Kelas motherboard ini merupakan kelas premium dalam line-up motherboard ECS. Anggota terbaru dari kelas ini adalah Z77H2-A2X. Walau menyandang nama Black Series tetapi motherboard ini memiliki satu ciri yang membuatnya berbeda dengan board lainnya, motheboard ini didominasi oleh warna EMAS!
Sekilas melihat board ini mengingatkan saya pada beberapa film James Bond yang menggunakan kata emas dalam judulnya, beberapa antara lain adalah The Man With The Golden Gun dan Goldfinger. Apabila tokoh-tokoh dalam film itu nyata, mungkin inilah motherboard yang mereka pilih sebagai "senjata" mereka.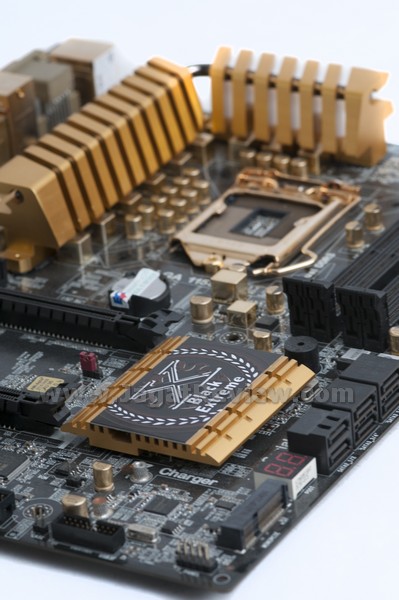 Emas mengesankan sesuatu yang elegan dan kuat. Apakah performa motherboard ini akan sesuai dengan warna yang diusungnya? Mari kita simak bersama review lengkap di bawah ini!
 Chipset Z77
Spesifikasi
CPU
º LGA1155 socket for new 3rd Generation Intel® Core™ i7 series processor/Intel® Core™ i5 series processor/Intel® Core™ i3 series processor/Intel® Pentium® processors/Intel® Celeron® Processors
º DMI 5.0GT/s
º TDP: 125W
º Note: Please go to ECS website for the latest CPU support list.
CHIPSET
º Intel® Z77 Express Chipset
GRAPHICS
º Integrated DirectX 11 graphics processor
MEMORY
º Dual-channel DDR3 memory architecture
º 4 x 240-pin DDR3 DIMM socket support up to 32 GB
º Support DDR3 up to 2800(OC)/2600(OC)/2400(OC)/2133(OC)/1800(OC)/1600 DDR3 SDRAM
º Note: Please go to ECS website for the latest Memory support list.
º Note2: DDR3_1 with DDR3_3 are the same channel, DDR3_2 with DDR3_4 are the same channel by Intel Specifications
Due to the operating system limitation, the actual memory size may be less than 4GB for the reservation for system usage under Windows® 32-bit OS.
For Windows® 64-bit OS with 64-bit CPU, there is no such limitation
EXPANSION SLOT
º 2 x PCI Express Gen 3.0 x16 slots
º 2 x PCI Express x1 slots
º 2 x PCI slots
º 1 x Mini PCI Express x1 slot
• Supports Mini SATA
• Supports Mini PCI Express
º (When using two VGA cards, the bandwidth is x8 badnwidth; when using one VGA card, the bandwidth is x16.)
STORAGE
º Support by Intel® Z77
• 2 x Serial ATA 3.0Gb/s devices (SATA2 1/ 2)
• 2 x Serial ATA 6.0Gb/s devices (SATA3 3/ 4)
º Support by ASMEDIA ASM1061
• 2 x Serial ATA 6.0Gb/s devices (SATA3 5/ 6)
AUDIO
º Realtek ALC892 8-Ch High Definition audio CODEC
º Compliant with HD audio specification
LAN
º RealTek RTL 8111E Gigabit Lan
REAR PANEL I/O
º 4 x USB 3.0 ports
º 4 x USB 2.0 Ports
º 1 x D-sub(VGA)
º 1 x HDMI Port
º 1 x DVI Port
º 1 x RJ45 LAN connector
º 1 x Audio port (Line-in,4x Line-out, SPDIF out)
º 1 x Wireless LAN Dongle
º 1 x Bluetooth Dongle
º 1 x eSATA 3Gb/s port
INTERNAL I/O CONNECTORS & HEADERS
º 1 x 24-pin ATX Power Supply connector
º 1 x 8-pin ATX Power Supply Connector
º 1 x 4pin CPU_FAN connectors
º 1 x 3-pin SYS_FAN connector
º 1 x 3-pin PWR_FAN connector
º 1 x USB 2.0 header support additional 2 USB ports with EZ charger technology
º 1 x USB 3.0 header supports additional 2 USB 3.0 Ports
º 2 x Serial ATA 3Gb/s connectors (SATA2 1/ 2)
º 4 x Serial ATA 6Gb/s connectors (SATA3 3/ 4/ 5/ 6)
º 1 x COM header
º 1 x Clear CMOS header
º 1 x Case Open header
º 1 x Buzzer
º 1 x SPDIF out header
º 1 x Front panel audio header
º 1 x debug post LED
º 1 x Power on button
º 1 x Reset button
SYSTEM BIOS
º AMI BIOS with 64Mb SPI Flash ROM
º Support ECS M.I.B X Utility
º Supports Plug and Play
º Supports ACPI & DMI
º Supports Plug and Play, STR (S3) / STD (S4) , Hardware monitor
º Audio, LAN, can be disabled in BIOS
º F7 hot key for boot up devices option
º Support over-clocking
º Supports Dual Display (Intel has Three Display)
º Support GUI UEFI BIOS
º Supports Multi-language BIOS Utility
º Supports eBLU
º Support eOC
º Supports eDLU
º Supports eSF
º Support EZ Charger
FORM FACTOR
º ATX Size 305mm*244mm
Platform Pengujian Z77H2-A2X
Prosesor: Intel Core i7 3770K 
Motherboard: ECS Z77H2-A2X
Graphic Card : NVIDIA GTX 560 Ti                                                                          
Memory: 2 Keping dari KHX1600C9D3K4/16GX                                               
Hard Drive: Kingston HyperX SSD 120 GB                                                               
Power Supply: Corsair Professional Series™ Gold AX850 — 80 PLUS® Gold Certified Fully-Modular Power Supply
Cooling : Corsair Hydro Series™ H80 High Performance Liquid CPU Cooler
Monitor: Monitor LCD 21 Inch dengan Resolusi 1920×1080
Input: Keyboard + USB
Media Penyimpan : DataTraveler HyperX 3.0 64 GB                                    
OS: Windows 7 Ultimate 64-bit SP1
Tags:



Share This: