Motherboard
Bhisma Sidarto
Comments
Review Motherboard ASUS P8Z77-V: Pemotongan Fitur Dengan Harga Lebih Terjangkau
Pada kesempatan terdahulu kami telah diberi kesempatan mereview motherboard ASUS P8Z77-V Pro, kali ini kami kedatangan "adik" dari varian tersebut yaitu ASUS P8Z77-V. Pertanyaan pertama yang muncul pastilah perbedaan apa yang terdapat antara keduanya? Lalu bagaimana performa motherboard ini jika dibandingkan dengan "kakak"nya? Untuk menjawab pertanyaan tersebut silahkan simak review kami berikut ini!
ASUS merupakan salah satu produsen yang percaya bahwa setiap pengguna memiliki kebutuhan yang berbeda. Maka dari itu varian dari produk mereka umumnya sangat beragam. Untuk motherboard yang menggunakan chipset Z77 saja terdapat kurang 15 varian dan itu belum termasuk kelas Republic Of Gamer (ROG). Masalah timbul ketika banyaknya varian ini menimbulkan kebingungan dari segi pengguna kala mencari motherboard yang cocok dengan kebutuhan mereka. Pada saat inilah kita harus teliti memperhatikan sebuah produk bukan hanya dari segi performa, tetapi juga dari sisi fitur dan paket penjualan.
ASUS P8Z77-V merupakan varian dasar dari line-up produk motherboard yang diusung brand yang berbasis di Taiwan. Sebagian besar motherboard lainnya di lini Z77 menambah atau mengurangi dari produk ini, baik dari segi fitur maupun paket penjualan.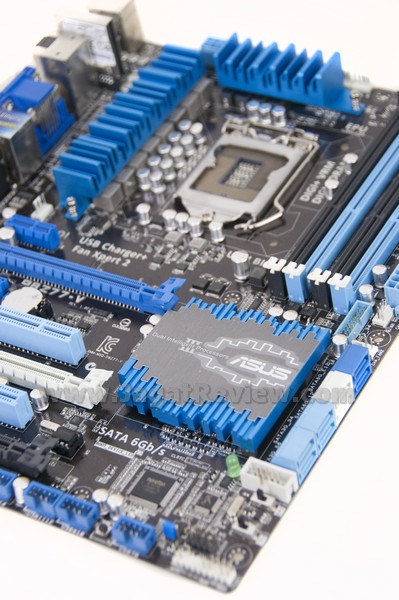 Board ini dimasukkan ASUS ke jajaran kelas mainstream. Sebetulnya ASUS sendiri tidak punya nama resmi untuk line-up motherboard ini, kami menyebutnya mainstream karena kelas ini berada di luar kelas ROG dan TUF. Kelas ini mendapatkan berbagai keuntungan karena banyak mewarisi fitur dari kelas ROG dan TUF. Walau begitu ada fitur-fitur tertentu yang hanya hadir pada kelas motheboard ini. Ini membuat ASUS P8Z77-V menjadi salah satu motheboard yang patut ditunggu.
Lalu bagaimana jika bandingkan dengan P8Z77-V Pro yang telah  kami review? Mari cermati tabel dibawah ini!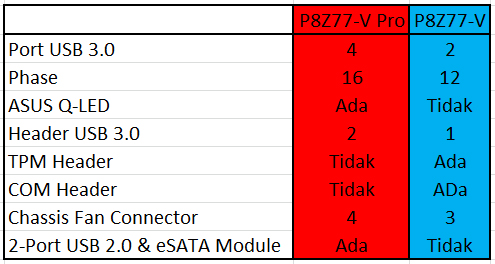 Jika diperhatikan terlihat beberapa perbedaan minor dari fitur dan paket penjualan. Menurut kami perbedaan yang cukup berarti terlihat jumlah phase yang terdapat pada P8Z77-V. Jika dibandingkan dengan versi Pro nya yang menggunakan 16 phase, versi "standard" ini hanya memiliki 12 phase. Phase yang lebih banyak membuat kerja masing-masing phase menjadi lebih ringan karena beban yang terima terdistribusikan ke jumlah phase yang lebih banyak. Secara keseluruhan sebuah motherboard yang menggunakan phase lebih banyak akan bekerja lebih ringan jika dibandingkan dengan yang memiliki phase lebih sedikit. Apakah motherboard yang memiliki phase lebih sedikit menjadi lebih jelek? Tergantung pekerjaan yang Anda bebankan pada system Anda. Jika pekerjaan yang Anda lakukan tidak terlalu berat, maka perbedaannya dapat diabaikan, tetapi jika beban yang dikerjakan cukup berat seperti kegiatan overclocking maka disarankan menggunakan motherboard yang mempunyai phase lebih banyak.
Penasaran dengan performa motherboard ini? Silahkan simak ulasan lengkap kami dalam review di bawah ini.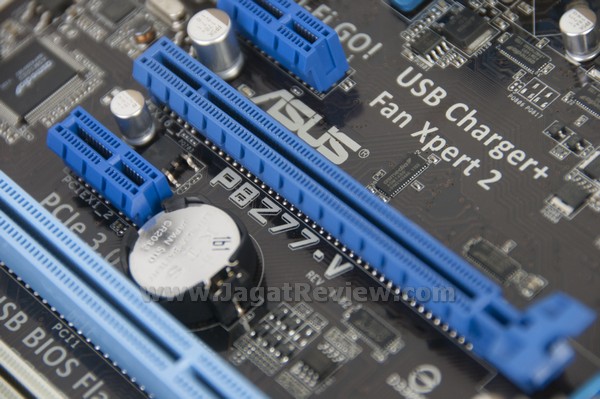 Chipset Z77
Spesifikasi
CPU
Intel® Socket 1155 for 3rd/2nd Generation Core™ i7/Core™ i5/Core™ i3/Pentium®/Celeron® Processors
Supports Intel® 22 nm CPU
Supports Intel® 32 nm CPU
Supports Intel® Turbo Boost Technology 2.0
* The Intel® Turbo Boost Technology 2.0 support depends on the CPU types.
Chipset
Intel® Z77
Memory
4 x DIMM, Max. 32GB, DDR3 2600(O.C.)/2400(O.C.)/2200(O.C.)/2133(O.C.)/2000(O.C.)/1866(O.C.)/1800(O.C.)/1600/1333 MHz Non-ECC, Un-buffered Memory
Dual Channel Memory Architecture
Supports Intel® Extreme Memory Profile (XMP)
* Hyper DIMM support is subject to the physical characteristics of individual CPUs.
* Refer to www.asus.com or user manual for the Memory QVL (Qualified Vendors Lists).
Graphic
Integrated Graphics Processor
Multi-VGA output support : HDMI/DVI/RGB/DisplayPort ports
- Supports HDMI with max. resolution 1920 x 1200 @ 60 Hz
- Supports DVI with max. resolution 1920 x 1200 @ 60 Hz
- Supports RGB with max. resolution 2048 x 1536 @ 75 Hz
- Supports DisplayPort with max. resolution 2560 x 1600 @ 60 Hz
Supports Intel® HD Graphics, InTru™ 3D, Quick Sync Video, Clear Video HD Technology, Insider™
Multi-GPU Support
Supports NVIDIA® Quad-GPU SLI™ Technology *1
Supports AMD Quad-GPU CrossFireX™ Technology
Supports AMD 3-Way CrossFireX™ Technology
Supports LucidLogix® Virtu™ MVP Technology *2
Expansion Slots
2 x PCIe 3.0/2.0 x16 (x16 or dual x8) *3
1 x PCIe 2.0 x16 (x4 mode, black)
2 x PCIe 2.0 x1 *4
2 x PCI
Storage
Intel® Z77 chipset : 
2 x SATA 6Gb/s port(s), gray
4 x SATA 3Gb/s port(s), blue
Support Raid 0, 1, 5, 10
Supports Intel® Smart Response Technology, Intel® Rapid Start Technology, Intel® Smart Connect Technology *5
ASMedia® PCIe SATA controller : *6
2 x SATA 6Gb/s port(s), navy blue
LAN
Intel® 82579V, 1 x Gigabit LAN Controller(s)
Intel® LAN- Dual interconnect between the Integrated LAN controller and Physical Layer (PHY)
Wireless Data Network
Wi-Fi 802.11 b/g/n
Supports single band frequency 2.4GHz
Audio
Realtek® ALC892 8-Channel High Definition Audio CODEC
- Supports : Jack-detection, Multi-streaming, Front Panel Jack-retasking
Audio Feature :
- Absolute Pitch 192kHz/ 24-bit True BD Lossless Sound
- DTS Ultra PC II
- DTS Connect
- Optical S/PDIF out port(s) at back panel
USB Ports
ASMedia® USB 3.0 controller : *7
2 x USB 3.0 port(s) (2 at back panel, blue)
Intel® Z77 chipset : *7
4 x USB 3.0 port(s) (2 at back panel, blue, 2 at mid-board)
Intel® Z77 chipset :
10 x USB 2.0 port(s) (2 at back panel, black, 8 at mid-board)
Overclocking Features
Overclocking Protection :
- ASUS C.P.R.(CPU Parameter Recall)
Special Features
ASUS Dual Intelligent Processors 3 – SMART DIGI+ Power Control :
SMART DIGI+ :
- Smart DIGI+ Key- quickly delivers higher VRM frequency, voltage and current for superior CPU/iGPU/DRAM overclocking performance with one switch.
- Smart CPU Power Level (Intel® VRD 12.5 Future Power Design)- provides the best digital power saving conditions.
ASUS TPU :
- Auto Tuning
- TurboV
- GPU Boost
- TPU switch
ASUS EPU :
- EPU
- EPU switch
ASUS Digital Power Design :
- Industry leading Digital 12 Phase Power Design
(8 -phase for CPU, 4 -phase for iGPU)
- Industry leading Digital 2 Phase DRAM Power Design
- CPU Power Utility
- DRAM Power Utility
ASUS Wi-Fi GO!
- Wi-Fi GO! Function: DLNA Media Hub, Smart Motion Control, Remote Desktop, Remote Keyboard & Mouse, File Transfer, Capture & Send *8
- Wi-Fi GO! Remote for portable Smartphone/Tablet, supporting iOS & Android systems
- Wi-Fi Engine for network sharing and connection: Client Mode, AP Mode
ASUS Exclusive Features :
- USB BIOS Flashback
- MemOK!
- AI Suite II
- Ai Charger+
- USB Charger+
- Anti-Surge
- ASUS UEFI BIOS EZ Mode featuring friendly graphics user interface
- Network iControl
- USB 3.0 Boost
- Disk Unlocker
ASUS Quiet Thermal Solution :
- Stylish Fanless Design Heat-sink solution
- ASUS Fan Xpert 2
ASUS EZ DIY :
- ASUS O.C. Tuner
- ASUS CrashFree BIOS 3
- ASUS EZ Flash 2
ASUS Q-Design :
- ASUS Q-LED (CPU, DRAM, VGA, Boot Device LED)
- ASUS Q-Slot
- ASUS Q-DIMM
- ASUS Q-Connector
Back I/O Ports
1 x PS/2 keyboard/mouse combo port(s)
1 x DVI-D
1 x D-Sub
1 x DisplayPort
1 x HDMI
1 x LAN (RJ45) port(s)
4 x USB 3.0
2 x USB 2.0
1 x Optical S/PDIF out
6 x Audio jack(s)
1 x WLAN connector(s) for ASUS wireless module
Internal I/O Ports
1 x USB 3.0 connector(s) support(s) additional 2 USB 3.0 port(s) (19-pin)
4 x USB 2.0 connector(s) support(s) additional 8 USB 2.0 port(s)
1 x TPM connector(s)
1 x COM port(s) connector(s)
4 x SATA 6Gb/s connector(s)
4 x SATA 3Gb/s connector(s)
1 x CPU Fan connector(s)
3 x Chassis Fan connector(s)
1 x Optional Fan connector(s)
1 x S/PDIF out header(s)
1 x 24-pin EATX Power connector(s)
1 x 8-pin ATX 12V Power connector(s)
1 x Front panel audio connector(s) (AAFP)
1 x System panel(s)
1 x MemOK! button(s)
1 x TPU switch(es)
1 x EPU switch(es)
1 x Clear CMOS jumper(s)
1 x USB BIOS Flashback button(s)
Accessories
User's manual
I/O Shield
2 x SATA 3Gb/s cable(s)
2 x SATA 6Gb/s cable(s)
1 x SLI bridge(s)
1 x Q-connector(s) (2 in 1)
1 x ASUS Wi-Fi GO! card(s)
1 x Wi-Fi Ring Moving Antenna(s)
BIOS
64 Mb Flash ROM, UEFI AMI BIOS, PnP, DMI2.0, WfM2.0, SM BIOS 2.5, ACPI 2.0a, Multi-language BIOS,
ASUS EZ Flash 2, ASUS CrashFree BIOS 3, F12 PrintScreen, F3 Shortcut Function and ASUS DRAM SPD (Serial Presence Detect) memory information
Manageability
WfM 2.0, DMI 2.0, WOL by PME, PXE, WOR by PME
Support Disc
Drivers
ASUS Utilities
ASUS Update
Anti-virus software (OEM version)
Form Factor
ATX Form Factor
12 inch x 9.6 inch ( 30.5 cm x 24.4 cm )
Note
*1: With 2 PCIex16 graphics card.
*2: LucidLogix Virtu MVP supports Windows 7 operating systems.
*3: PCIe 3.0 speed is supported by Intel® 3rd generation Core™ processors.
*4: The PCIe x1_2 shares bandwidth with SATA6G_E12. SATA6G_E12 is enabled by default for system resource optimization.
*5: Supports on Intel® Core™ processor family with Windows 7 operating systems.
*6: These SATA ports are for data hard drivers only. ATAPI devices are not supported.
*7-1: Supports ASUS USB 3.0 Boost UASP Mode.
*7-2: The USB 3.0 ports only support Windows® 7 or later versions.
*8: Available with V1.01.00 or later.
*9: Due to Intel® chipset limitation, P8Z77, P8H77 and P8B75 series motherboards do not support Windows® Vista operating system.
Platform Pengujian ASUS P8Z77-V
Prosesor: Intel Core i7 3770K                                                                                                                         
Motherboard: ASUS P8Z77-V
Graphic Card : NVIDIA GTX 560 Ti                                                                          
Memory: 2 Keping dari KHX1600C9D3K4/16GX                                               
Hard Drive: Kingston HyperX SSD 120 GB                                                               
Power Supply: Corsair Professional Series™ Gold AX850 — 80 PLUS® Gold Certified Fully-Modular Power Supply
Cooling : Corsair Hydro Series™ H80 High Performance Liquid CPU Cooler
Monitor: Monitor 21.5″ dengan resolusi 1920×1080
Input: Genius (keyboard dan mouse)
OS: Windows 7 Ultimate 64-bit SP1