Game The Dark Knight Rises Android Kini Hanya 2000 Rupiah!
Sale Google Play Store hari kelima menampilkan game-game cantik Horn dan The Dark Knight Rises, berikut belasan app lain, dengan harga 2000-an rupiah saja (25 sen). Harga khusus ini ditawarkan untuk merayakan 25 miliar app terdownload dari Google Play Store. Sejak hari pertama sale, sudah ada puluhan app dengan harga asli $1 – $7 yang dijual dengan harga 25 sen saja.
Sale hari kelima ini mencakup app:
The Dark Knight Rises
Horn
Smart Tools
Nova Launcher Prime
Scramble With Friends
Kids Numbers and Math
Gravity Guy
Air Control
Air Control HD
SketchBook Pro
SPY Mouse
Guns'n'Glory WW2 Premium
Great Big War Game
Haunted House HD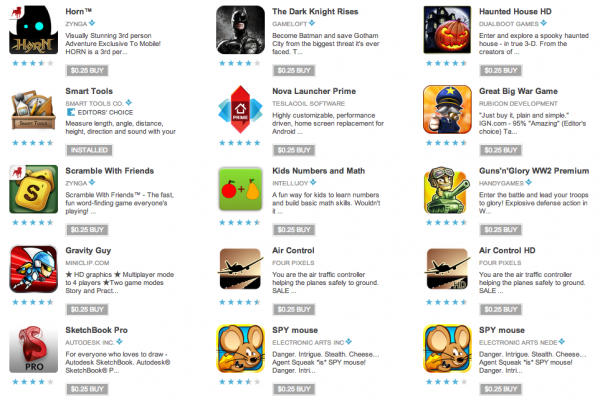 Di antara sale sebelumnya, sale hari kelima ini menampilkan paling banyak game premium. Klik di sini untuk melihat sale hari pertama, kedua, ketiga, dan keempat.