[PR] AirLive introduced the high-end 2Mpix outdoor PTZ network camera FE-200CU
Taipei, Taiwan: AirLive, one of the most advanced worldwide brands for networking and communication equipments, introduced a new IP camera FE-200CU (fisheye lens) with extra wide angle view.
This camera AirLive FE-200CU has a wide-angle lens (fisheye lens), allowing panoramic viewing angle of 360° (ceiling mounted), but where it really shines is wall mount with 180° viewing angle, which makes it ideal for installation in large spaces such as halls, large offices, public garages, etc. One AirLive FE-200CU can replace three conventional IP Cameras. It is intended for indoor use and ready to mount on the wall as well as on the ceiling, which makes its use very flexible.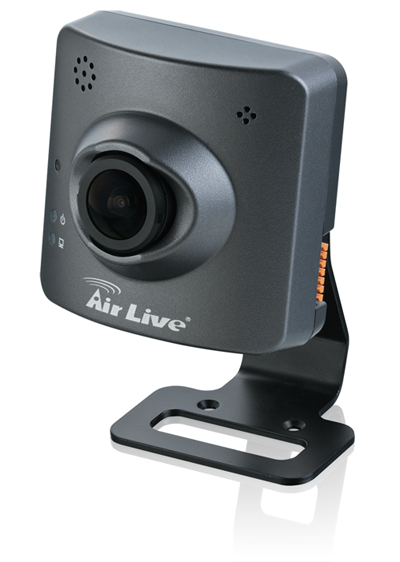 AirLive FE-200CU, Fisheye IP Camera provides images with a maximum resolution of 2Mpix. Resolution 1600×1200 pixels is valuable tool for seeing both " local detail" and "global context" simultaneously. AirLive FE-200CU is able to transform Fisheye view to Normal View itself. It supports various view options upon the mounting method.  For each normal view, it has e-PTZ function to adjust all view angles by a mouse-click. AirLive FE-200CU equips with ICR will will adjust the  IR filter for adapting the lighting conditions of surrounding area.

In order to be more convenience,AirLive FE-200CU also power supply through ethernet cable (according to standard PoE 802.3af), eliminating the need of electrical connection to be present at the installation site,the MicroSD card slot for backing up video data, and equipped with a microphone and speaker with the possibility of two-way communication.

AirLive supports Free bundled software Airlive CamPro Express 64, that lets user to view and record multiple live images at the same time. In addition, AirLive support another advance Campro Professional 64 whichallowsremote management and individual setup of each camera connected to the system, as well as the ability to track and store the image data from up to 64 connected devices simultaneously. It also has functions to protect cameras against attacks or misuses, the operator will be notified when tampering with the camera, change its direction, its position or trying to cover the lensAirLive FE-200CUhelps installation of a quality camera system a bit easier with itsuser-friendly. interface With its attractive price and easy assembly and wiring is also possible to build a highly advanced surveillance systems in a very short time.

For more product information visit: http://www.airlive.com/product/FE-200CU

Tags:



Share This: