NVIDIA Merilis GeForce Experience Open Beta: Pengalaman Bermain Maksimal dengan VGA GeForce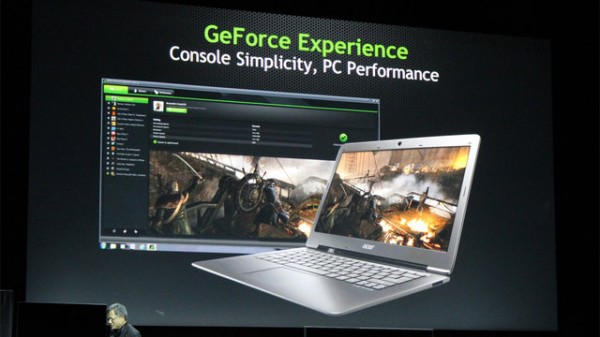 Setelah sempat diperkenalkan beberapa waktu lalu, akhirnya NVIDIA merilis juga aplikasi eksklusif "GeForce Experience" yang disebutkan dapat meng-optimalkan kinerja graphics card NVIDIA berbasis GeForce mereka pada berbagai game yang sudah didukung. Aplikasi ini didesain untuk membuat sistem gaming (PC/notebook) menjadi semakin mudah untuk para user layaknya memainkan game di console, cukup dengan mengaplikasikan GeForce Experience ini dengan "satu klik", NVIDIA akan mendeteksi hardware GeForce dan spesifikasi sistem yang digunakan lalu secara automatis aplikasi ini akan melakukan tweak setting paling disarankan dan juga paling maksimal untuk game yang akan dimainkan pada sistem tersebut.
Berikut list beberapa game yang sudah didukung GeForce Experience versi 1.0.1.0, terdapat juga penambahan feature dan perbaikan dari versi sebelumnya yang sudah diperkenalkan.
Release Highlights
Added support for ten new games:Added optimal playable settings for 2560 x 1440 displays

Far Cry 3
Mechwarrior Online
Hawken
Hitman Absolution
Left 4 Dead 2
Deus Ex Human Revolution
Fable III
The Secret World
Football Manager 2013
Fallout New Vegas

Core 2 Duo and Quad CPUs are now supported in 21 games. More to come.
Improved game detection
Improved translations for Chinese, Danish, and UK English.
Improved performance for client startup, billboard display, game scan, and communication with NVIDIA servers.
Various bug fixes and improvements.
Aplikasi GeForce Experience ini sedang memasuki tahap open beta, bagi Anda yang penasaran ingin mencoba seperti apa setting optimal PC/Notebook dengan GPU GeForce yang Anda miliki dirumah, langsung saja unduh aplikasi eksklusif NVIDIA ini pada link berikut.

Tags:



Share This: