[PR] Silicon Power Presents SD 3.0 Superior UHS-1 Flash Cards – A Must-Have for a Professional Photographer like You
Taipei, Taiwan – January 7, 2013 –SP/Silicon Power, the world's leading provider of memory storage solutions today announces a powerful new series of professional flash cards – the Superior UHS-1 series. Built-in a powerful performance solution, this Superior UHS-1 series brings out remarkable transmission rate reaching at 90 MB per second, which allows you to capture more pictures with less lag time. The Superior UHS-1 series offers a versatile usage, ranging from SDHC, SDXC to microSDHC, ready for all types of devices such as DSLR, Smartphones, tablets and camcorders. With the combination of the large capacity up to 64GB, the Superior UHS-1 series is the ideal gadget for high-speed consecutive picture taking, extended length of Full-HD videos and images, as well as massive storage for all your cherish memories.
SP Superior UHS-1 series is compliant with the SDA Memory Card Standard Version3.0.1 and the Ultra High Speed Class 1 specification (UHS-1). The Superior UHS-1 series is the ideal selection for all professional photographers, offering an extreme photographic experience in high-speed photo shooting in high-resolution and video capturing in Full HD quality.
Silicon Power Superior UHS-1 series comes in SDHC, SDXC and microSDHC, satisfying wider usages in all professional photographic devices. Available in 16 GB, 32 GB, and 64 GB, the Superior UHS-1 series avoids the situation where you could have limited storage capacity while capturing precious moments. SP's Superior UHS-1 series comes with a Lifetime warranty; for more UHS-1 series information, please visit the SP/Silicon Power website: www.silicon-power.com
Superior UHS-1 SD Features
– Capture high-quality images and extended lengths of stunning 1080p full-HD video
with any SD UHS-1 compatible DSLR, camera, HD camcorder, 3D camera
– Powerful Transfer speeds, reducing lag time while photo-shooting:
Superior series: up to 85/40 MB/s in reading and writing (SDXC UHS-1);*
up to 90/45 MB/s reading and writing (SDHC UHS-1) *
– Class 10 video recording performance **
– Getting 10 more photos in consecutive shooting in JPEG by a UHS-1 supported device ***
* Transfer rates may vary, depending on system platform / software / interface and SD card capacity.
** These capacities only come in a UHS-1, meaning they have a data transfer rate of 12MB/s
***The result may vary, due to the differences of devices and conditions. 
Superior UHS-1 SD Specification
– Form factor: SDHC (16/32 GB) & SDXC (64 GB)
– Card dimension:24 mmx32 mmx2.1 mm
– Operating temperature: 0ºC to 70 ºC
– Storage temperature: -40ºC to 85ºC
– Compatible with SDHC / SDXC UHS-1 enabled host devices.
– Lifetime Warranty
* Compatible with SDHC/SDXC enabled host devices; not compatible with SD devices and SD readers.
* Some of the listed capacity on a Flash storage device is used for formatting and other functions and thus is not available for data storage. As such, the actual available capacity for data storage is less than what is listed on the products.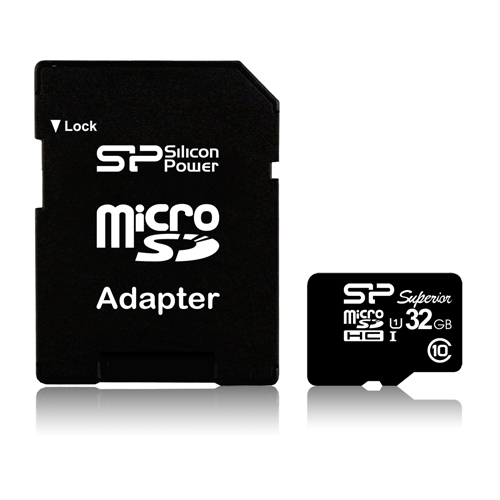 Superior UHS-1 microSD Features

– Storing and playing high-quality images and improving the quality of 1080p full-HD video with any microSD UHS-1 compatible Android and other Smartphones, tablets

– Powerful Transfer speeds, delivering faster reading and writing time:

Superior series: up to 90/45 MB/s reading and writing (microSDHC UHS-1) *

– Class 10 video recording performance **

* Transfer rates may vary, depending on system platform / software / interface and microSD card capacity.

* These capacities only come in a UHS-1, meaning they have a data transfer rate of 12MB/s

Superior UHS-1 microSD Specification

– Form factor: microSDHC (16/32 GB)

– Card dimension:15 mmx11 mmx1 mm

– Operating temperature: 0ºC to 70 ºC

– Storage temperature: -40ºC to 85ºC

– Compatible with microSDHC UHS-1 enabled host devices.

– Combined with a SDHC adapter can be used as standard SDHC memory card

–  Lifetime Warranty

* Compatible with microSDHC enabled host devices; not compatible with SD devices and SD readers.
* Some of the listed capacity on a Flash storage device is used for formatting and other functions and thus is not available for data storage. As such, the actual available capacity for data storage is less than what is listed on the products.

Tags:



Share This: