Graphics Card,News Gatot Tri Yuwono Comments
NVIDIA Luncurkan Promo "Free 2 Play Bundle" Untuk Pemilik VGA Kepler
Tidak hanya AMD yang menghadirkan program game gratis (Never Settle Bundle Reloaded), NVIDIA juga memiliki program serupa tetapi dengan mekanisme berbeda. Jika AMD memilih judul game kelas atas seperti Crysis 3, Bioshock Infinite, Tomb Raider, maka NVIDIA memilih 3 judul game MMO (Massively Multiplayer Online) dengan status free to play. Judul game yang dipilih NVIDIA adalah Hawken, World Of Tanks, dan juga Planetside 2.
Tiga game tersebut sebenarnya merupakan game gratis yang dapat dimainkan tanpa perlu membeli game tersebut. Akan tetapi game tersebut memiliki mata uang tersendiri yang dapat digunakan untuk membeli item atau keperluan lainnya. Nilai mata uang di dalam game inilah yang ditawarkan oleh NVIDIA. Dengan membeli graphics card NVIDIA minimal GeForce GTX 650 maka pemilik graphics card akan mendapatkan sejumlah mata uang game tersebut. Semakin tinggi kelas graphics card yang dimiliki maka semakin besar nilai mata uang game yang di dapatkan.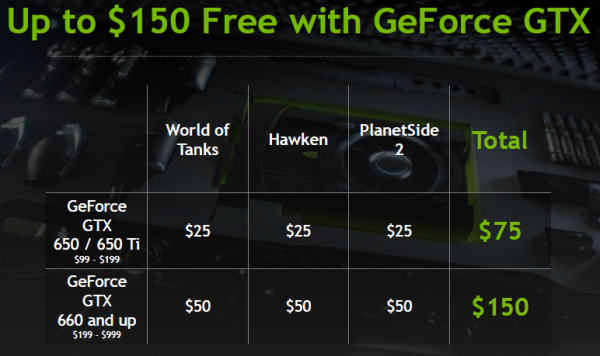 Untuk pemilik graphics card GeForce GTX 650 dan GTX 650 Ti, nilai mata uang game yang akan didapatkan adalah sebesar $25 untuk setiap judul game. Sedangkan pemilik graphics card GTX 660 dan seri di atasnya akan mendapatkan nilai mata uang game sebesar $50 untuk setiap judul game. Tentu saja nilai mata uang ini akan semakin tinggi jika graphics card NVIDIA yang Anda miliki lebih dari satu seperti untuk konfigurasi SLI.

Jika Anda termasuk pemain 3 game online di atas, penawaran ini tentu saja sangat sayang untuk dilewatkan. Terlebih dengan nilai bonus hingga mencapai $150 untuk setiap graphics card NVIDIA GTX 600 yang dimiliki.