[PR] SP/Silicon Power Introduces the All New Slim S50 SSD
Taipei, Taiwan – February 05, 2013 –SP/Silicon Power, the world's leading provider of memory storage solutions today unveils a new addition of its Slim series7mm2.5"SSD. The Slim S50 features the latest controller technology to provide a brand new experience in excellent performance and cost effectiveness for computer enthusiasts.
To deliver enhanced performance stability, S50 is equipped with an all new controller that is unlike any other solutions in the market. Coupled with the latest firmware and advanced controller circuit design, the S50 enables stable IOPS performance under extended period.
The new Slim S50 provides remarkable performance with the SATA III 6Gbps interface. Its read and write speeds are twice the speed under the SATA II interface and over four times faster than that of a traditional hard drive. Featuring advanced high speed NAND flash, S50 delivers high data transfer rate up to 530MB/s in read speed and 200MB/s in write speed.
SP S50 is more reliable and durable than tradition hard drives. Weighing only 63 grams with a mere7mmthickness, the S50 is one of the lightest of its kind and is the ideal solution for users looking to upgrade their ultra slim notebook and desktop. The S50 SSD is available in 32GB, 64GB, 128GB and 256GB, and is backed by a three year warranty.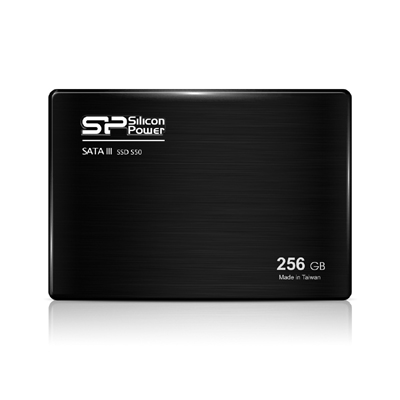 Slim S50 Product Feature

-7mmslim design suitable for Ultrabooks and Ultra-slim notebooks

-SATA III 6Gbps backwards compatible with SATA II 3Gbps

-Super-high transfer rate:   530MB/s max. Read speed

200MB/s max. Write speed

– Supports TRIM command and Garbage Collection technology

– NCQ and RAID ready

– Sustain IOPS performance over other competing solutions on NTFS file system

– Implemented with ECC technology to guarantee data transmission reliability

– Built-in with SMART monitoring system

– Low power consumption

– Shockproof & Anti-Vibration

– Noiseless operation, no latency delay and no seek error

– 3 year warranty

Slim S50 Product Specification

– Capacity: 32GB/64GB/128GB/256GB

– Dimensions:100mmx69.85mmx7mm

– Weight:63g

– Ultra Slim7mmdepth

– Vibration Resistance Test:20G

– Shock Resistance Test:1500GMax

– Color: Black

*Transfer rates may vary, depending on system platform.

Tags:



Share This:
News | February 26, 2015 | Comments

Beberapa waktu lalu, Biostar yang merupakan pabrikan hardware PC terkemuka, meluncurkan varian produk hardware terbaru mereka, yaitu motherboard Gaming Z97X. Mereka juga merilis VGA dari seri Gaming, di antaranya dengan
Read More »
Mengejutkan memang, setidaknya bagi kami, bahwa terlepas dari tema yang secara konsisten hadir, Dying Light membuktikan bahwa masih banyak hal baru yang sebenarnya bisa digali dari Zombie. Namun ada satu
Read More »
Audio | January 7, 2015 | Comments

Tidak banyak perangkat suara handsfree yang mampu menampilkan kualitas suara tinggi, apalagi bila ditimpali dengan harganya yang murah.
News | January 2, 2015 | Comments

Serangan hacker terhadap Sony Pictures, selain membuat bocornya berbagai data penting, juga disebut melumpuhkan sistem komunikasi utama perusahaan tersebut. Hal tersebut tidak lain disebabkan rusaknya sistem email milik perusahaan tersebut.
Read More »
News | February 9, 2015 | Comments

LinkedIn mengumumkan laporan pendapatan terakhirnya untuk kuartal empat 2014. Selain mengumumkan jumlah pendapatan, LinkedIn juga mengumumkan jumlah anggota terbarunya. Secara keseluruhan, untuk kuartal ini meskipun tidak banyak, namun jejaring sosial
Read More »