AMD Mantle Sudah Tersedia
Hari yang ditunggu-tunggu akhirnya tiba. DICE akhirnya merilis patch Battlefield 4 untuk mengaktifkan API AMD Mantle. Dukungan API Mantle memang telah ditunggu-tunggu kehadirannya sejak bulan Desember 2013 lalu. API Mantle akan membuat game Battlefield 4 berjalan lebih optimal pada graphics card AMD dengan arsitektur GCN (Graphics Core Next). Graphics card AMD GCN sendiri meliputi lini Radeon HD 7000 Series serta Radeon R9/R7 200 Series. Berikut daftar sejumlah update Battlefield 4 yang diberikan DICE pada patch terbarunya.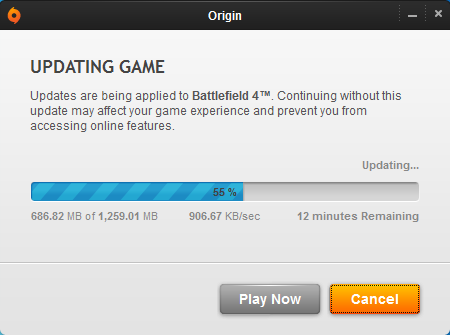 Jan 30 PC Game Update Notes
Mantle Support
The new Mantle renderer has been added in Battlefield 4. Most players can expect a performance increase by using this new low-level graphics API. Check out this news post [battlelog.battlefield.com] for the full details on Mantle, what the requirements are to run it, and how to enable it.
CPU/GPU performance and monitoring
-Tweaked and improved CPU multi-core utilization to try and avoid stuttering and low framerate due to stalls that happened on some CPU and OS configurations.
-Users can now configure and control themselves how many CPU cores should be used in the game with the new "Thread.MaxProcessorCount" settings in User.cfg.
-"Render.DrawScreenInfo 1" now also shows information about which CPU and GPU is in the system, how many GPUs & CPU cores are used and which renderer (DirectX 11 or Mantle) is active
-Added new "PerfOverlay.FrameFileLogEnable" command that records frame times on CPU & GPU and logs out to a .csv file
-AMD Catalyst driver 13.12 (or later) is now recommended instead of 13.9
-Enabled tile-based compute shader lighting optimization on Nvidia for improved GPU performance (already active on AMD GPUs)
-Improved performance with rendering and spotlights for all GPUs, primarily in in-door environments
DMR Balance Tweaks
-Increased the damage of all DMRs across all ranges. Specifically, damage has been increased at long ranges to allow three-hit kills against unarmored opponents. Additionally, reduced the penalty to accuracy for sustained DMR fire, allowing more rapid follow up shots in combat. The amount of the damage increase varies from weapon to weapon, according to its intended range, rate of fire, and damage. We will continue to monitor the effectiveness of DMRs in combat, and determine if additional action is needed to make DMRs a viable mid to long range weapon.
Other Items
-Greatly reduced the risk of crosshairs disappearing, which would also result in hit markers disappearing
-Added a headshot icon on the killcard. This should help identify instances where players are correctly killed by one shot
-Fixed an issue in Squad Deathmatch where the "Win/Lose" text was overlapping
-Fixed an issue with players using an exploit for the SOFLAM
-Fixed an issue with players using an exploit for the MAV
-Fixed the gameplay code to properly track the FOV (Field of View) changes in the options menu
-Fixed an issue where chat would break when entering "false" or "true" in the chat window
-Fixed an out-of-helicopter glitch in Air Superiority where players could spawn on the ground and play as infantry
-Fixed the misaligned crosshairs on the T90 MBT
-Added setting to tweak joystick dead zone
-Various minor crash fixes
Untuk mengaktifkan API Mantle pada Battlefield 4 dibutuhkan persyaratan:
AMD Catalyst 14.1 Beta drivers. (Sayang sekali hingga berita ini diumumkan, driver ini belum di-publish oleh AMD)
AMD Radeon GPU with Graphics Core Next (Note: AMD Catalyst™ 14.1 initially supports the AMD Radeon™ R9 290X, R9 290, R7 260X and "Kaveri" APU (learn more))
64-bit Windows (7, 8 or 8.1)
Berdasarkan pengujian internal oleh AMD, penggunaan API Mantle membuat performa Battlefield 4 meningkat hingga 58%. Berikut hasil pengujiannya.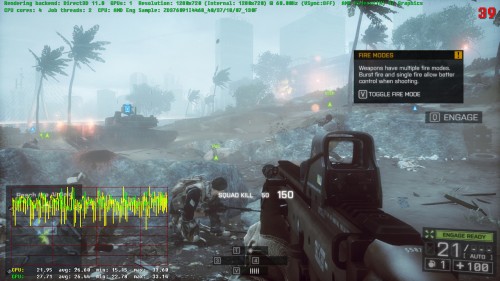 Test case 1: Low-end single-player
CPU/GPU: AMD A10-7850K ('Kaveri' APU), 4 cores @ 3.7 GHz
Settings: 720p MEDIUM settings.
OS: Windows 7 64-bit
Level: Singapore "Beach"
This area is heavy on the CPU as it is quite a lot of action going on, but the game is primarily GPU-bound both on DX and with Mantle but thanks to GPU optimizations with Mantle we get a good performance improvement.
Result: 26.6 ms/f -> 23.3 ms/f = 14% faster
Test case 2: Standard 64-player multiplayer
CPU: AMD FX-8350, 8 cores @ 4 GHz
GPU: AMD Radeon 7970 3 GB (AMD will add support for the AMD Radeon™ HD 7970 in a later stage of Mantle's release schedule, learn more)
Settings: 1080p ULTRA 1x MSAA
OS: Windows 8 64-bit
Level: Siege of Shanghai
Level was tested with 64 "pseudo players" that we have for our own internal testing that simulates heavy game workload that we have in multiplayer in order to get more deterministic results compared to full real multiplayer. 64 players on the large Battlefield levels is really demanding of the CPU so this test case is primarily CPU-bound.
Result: 18.87 ms/f -> 15.08 ms/f = 25.1% faster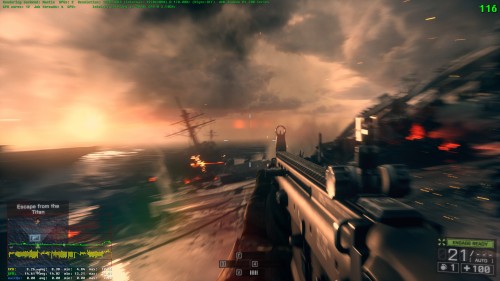 Test case 3: High-end single-player with multiple GPUs
CPU: Intel Core i7-3970x Extreme, 12 logical cores @ 3.5 GHz
GPU: 2x AMD Radeon R9 290x 4 GB
Settings: 1080p ULTRA 4x MSAA
OS: Windows 8 64-bit
Level: South China Sea "Broken Flight Deck"
This single-player scene is heavy on both the CPU and GPU with lots of action going on. Test was done on the highest end Intel CPU on Windows 8, which is the fastest option before Mantle thanks to DirectX 11.1. Still this CPU is not fast enough to keep the 2 290x GPUs fed at 1080p on Ultra settings so we get a significant CPU performance bottleneck which results in major performance improvement when enabling Mantle.
Result: 13.24 ms/f -> = 8.38 ms/f = 58% faster.
Tunggu Pengujian Lengkapnya!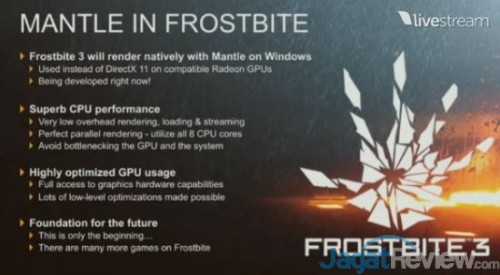 Sejauh ini, peningkatan performa dari pengaplikasian API Mantle ini paling terasa saat si pengguna menggunakan prosesor yang relatif 'lemah'(namun memiliki jumlah thread yang banyak) dan dikombinasikan dengan GPU high-end, sehingga bisa dibilang API Mantle menghilangkan 'CPU Bottleneck' yang kerap terjadi dalam game. Anda yang ingin mengetahui mengenai API Mantle dari AMD bisa membaca ulasan kami yang terdahulu disini.

Update Terakhir: Saat ini, Tim Jagat Review sudah selesai men-download update game di BF4, namun kami masih menunggu keberadaan AMD Catalyst 14.1 Beta yang akan hadir dalam waktu dekat. Simak pengujian berbagai kombinasi CPu dan GPU pada BF4 dengan API Mantle, hanya di JagatReview!

Tags:



Share This: