Review ASUS GTX 780 Ti DirectCU II OC: VGA Gaming Kencang dengan Kebebasan Modifikasi Penampilan
Inovasi tertinggi graphics card Kepler dari NVIDIA akhirnya bergulir dengan digunakannya kemampuan penuh chip GPU GK110. GeForce GTX 780 Ti menjadi satu-satunya graphics card gaming NVIDIA yang menggunakan kemampuan penuh chip GPU GK110 dengan 15 SMX. GeForce GTX 780 Ti sekaligus menjadi jawaban NVIDIA atas kembalinya AMD ke ajang adu cepat graphics card single-GPU dengan Radeon R9 290X mereka.
Tidak lama sejak diluncurkan perdana pada awal November 2013 lalu, hanya dalam waktu beberapa minggu saja, sejumlah produsen graphics card telah menyiapkan GeForce GTX 780 Ti non-reference kreasi terbaik mereka. ASUS merupakan salah satunya yang belum lama ini menelurkan produk seri DirectCU II generasi terbaru mereka berbasiskan graphics card gaming terbaik dari NVIDIA saat ini. Ingin tahu performa gaming GeForce GTX 780 Ti terkencang milik ASUS saat ini? Inilah ulasan lengkapnya.
Platform Pengujian ASUS GTX 780 Ti DirectCU II OC
Prosesor: Intel Core i7 3960X @4.5 GHz
Motherboard: Intel X79 with LGA2011
Graphics Card:  AMD R9/R7 200/HD 7000/HD 6000/HD 5000 Series; NVIDIA GTX 500/600/700 Series & GTX TITAN
Memory: 4x 2GB Kingston HyperX blu. (@1600 MHz; 1.65 V)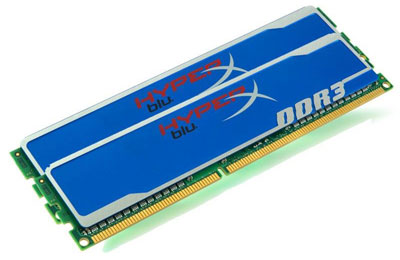 Storage: Kingston HyperX 3K SSD
Power Supply: Corsair AX1200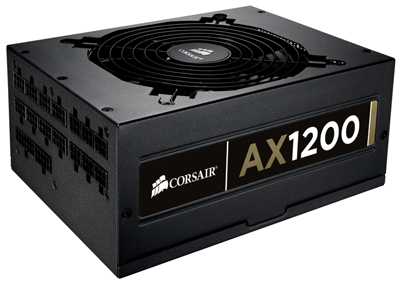 CPU Heatsink: Corsair H100 (Fan Speed Low)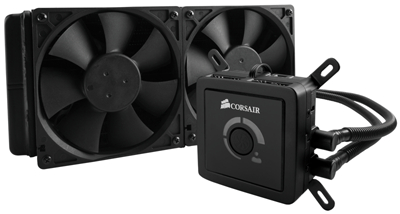 Casing: Corsair 500R (All Included Fan On)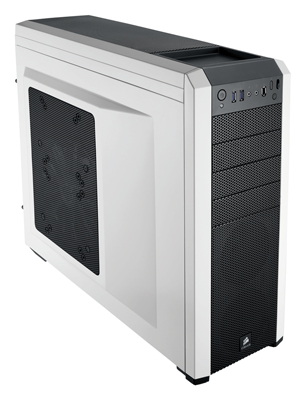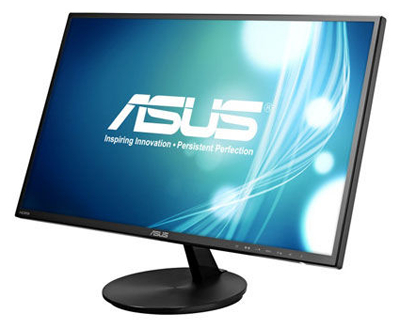 Input: Generic Keyboard and Mouse
OS: Windows 7 Ultimate 64-bit SP1
Driver : Catalyst 13.11 Beta v9.2|13.11 Beta|13.10 Beta 2|13.6 Beta 2|13.1|12.2|12.3|12.8; Forceware 331.82 (GTX 780 Ti)|331.58|326.80|326.4|320.49|320.39|314.07|306.23|304.79 Beta
(*) Seluruh graphics card diuji pada setting default yang disediakan driver tersebut, pada versi tersebut.
Spesifikasi

GeForce GTX 780 Ti versi overclock perdana dari ASUS ini datang dengan base clock GPU sebesar 954 MHz (79 MHz lebih tinggi) dan boost clock GPU sebesar 1020 MHz (92 MHz lebih tinggi). Sementara itu, nilai maksimal boost clock GPU yang tercatat pada pengujian kami adalah 1097 MHz atau terjadi kenaikan sekitar 14,9% dari nilai base clock. Cukup disayangkan, ASUS tidak melakukan perubahan 1 MHz pun pada clock memori graphics card ini.
GeForce GTX 700 Series Feature
Microsoft DirectX 11.1
NVIDIA GPU Boost 2.0
NVIDIA GPU Boost 2.0: Display Overclocking
NVIDIA Adaptive VSync
NVIDIA G-SYNC
NVIDIA Surround Up to Four Monitors
NVIDIA 3DVision
NVIDIA 3DVision Surround
NVIDIA 4-way SLI
NVIDIA PhysX
NVIDIA CUDA
NVIDIA TXAA
NVIDIA FXAA
PCI Express 3.0 x16
Dual-link DVI
HDMI 1.4a
Display Port 1.2
Kemasan Produk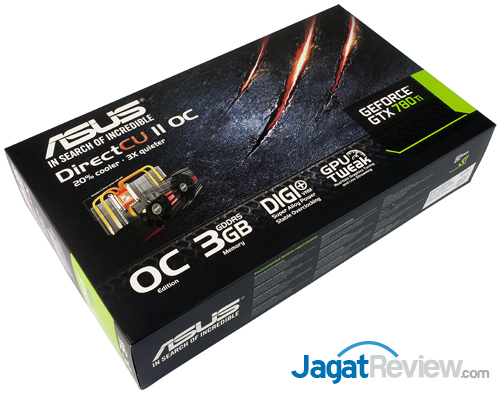 Perlengkapan
Bersama unit graphics card, ASUS menyertakan perlengkapan sebagai berikut:
Speed Setup
DVD driver & utility
6-pin to 8-pin PCIe power cable converter
Red & Gold sticker to put on graphics card body
Tags:



Share This: