[PR] Razer Announces PC Case Design Licensing Program
NZXT is the Launch Partner of the "Designed by Razer" PC Case Initiative
LOS ANGELES (E3 2014) – Razer™, the world leader in entertainment devices and software, today announced a licensing program that provides for third-party production and sale of  Razer-designed and -branded PC cases.
NZXT™, a recognized leader in PC cases, was selected as a launch partner for the "Designed by Razer" licensing program based on a shared dedication to innovation.  Next month, NZXT will kick-off this new Razer initiative with the "H440 – Designed by Razer." Under the terms of its agreement with Razer, NZXT will manufacture and distribute the H440—Designed by Razer case through its retail channels.
The Designed by Razer licensing program is open to selected case manufacturers, and it is subject to a rigorous vetting process by the award-winning Razer design and engineering team prior to approval. The new enterprise aims to take advantage of Razer's design expertise and product engineering sensibilities. Every design feature of a licensed case will be directed by Razer in collaboration with any selected partner. Interested case manufacturers can go to http://www.razerzone.com/designedbyrazer to find out more.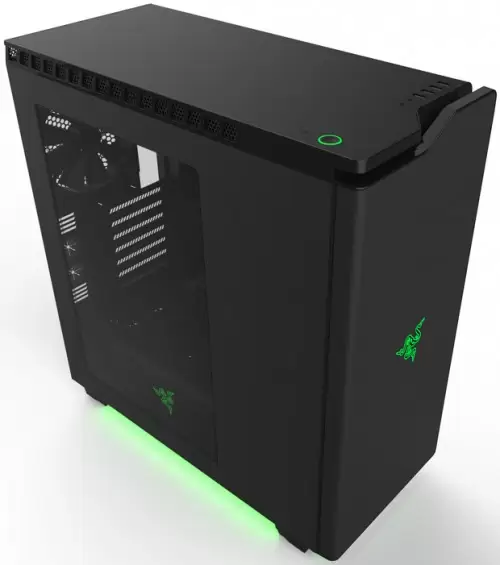 "We have some of the world's best designers and engineers working at Razer and we fully believe in advancing the industry no matter the cost, so it makes sense for us to share this knowledge with other manufacturers in our industry," says Min-Liang Tan, Razer co-founder, CEO and creative director. "It's our goal to service the needs of the hundreds of millions of gamers worldwide and a custom Razer PC case has been sought after for some time. The NZXT H440 – Designed by Razer is the first success with this program and we expect there to be many more."

The NZXT H440 – Designed by Razer features signature Razer green USB ports and green lighting that illuminates the rear ports. The distinct design contains a tinted window that shows off the illuminated Razer logo and the interior hardware. Custom green lighting also creates an underglow from the bottom of the case.

The NZXT H440 – Designed by Razer is the first licensed desktop case for Razer, but the latest in a storied line of products. The award-winning Razer Blade and Razer Blade Pro set new benchmarks for power and portability in the laptop space. The Razer Edge tablet won an unprecedented three Best of CES awards at the 2013 Consumer Electronics show, including overall "Best of Show." Things culminated at CES again this year with the fully modular Project Christine concept winning the official "Best PC" Best of CES award.

For more information about the NZXT H440 – Designed by Razer PC case, please visit http://razerzone.com/gaming-systems/h440.

Price: U.S. $149.99


Availability: NZXT.com – July


Product features: 


·         Drive Bays: External 5.25 in. : 0 Internal 3.5 in. / 2.5 in. : 6+2

·         Motherboard Support: Mini-ITX, MicroATX, ATX

·         7x Expansion Slots

·         I/O Panel LED On/Off

·         Radiator Support

·         Front Side, Bottom Front, Bottom Rear Filters Included

·         (2x) USB 3.0 port (SuperSpeed)

·         (2x) USB 2.0 port

·         (1x) Microphone port, (1x) Headphone port

·         8.66 in. / 22 cm Width x 20.08 in. / 51 cm Height x 18.71 in. / 47.5 cm Depth

·         21.5 lbs. / 9.75 kg

Tags:



Share This: