[PR] SP/ Silicon Power Received Three Recognitions from COMPUTEX d&i awards 2014
Taipei, Taiwan – June 3rd, 2014 –SP/ Silicon Power, the world's leading provider of memory storage solutions, is awarded three COMPUTEX d&i awards 2014 for its exceptional excellence in product designs. Shining in numerous international design awards including reddot, iF and IDEA, Silicon Power continuously won great recognitions by its innovative products and is proud to receive COMPUTEX d&i awards by its three outstanding products: Thunder T11 external solid state drive, Touch 825 USB flash drive and Jewel J05 & Unique 510 USB flash drive. In addition to such incredible achievement, SP is once again honored to serve as the official cooperative brand of COMPUTEX TAIPEI 2014 with its award-winning product -Touch 825 USB flash drive, also the winner of iF product design award, to be the media gift for the COMPUTEX TAIPEI Int'l Press Conference.
Organized by TAITRA (Taiwan External Trade Development Council) and iF, the most influential design institution for industrial design, COMPUTEX d&i awards is one of the most prestigious international design awards. This year, the 7th COMPUTEX d&i awards attracted 288 competitors from 125 manufacturers all over the world, which reached the highest record for entry numbers as well as the participant rate of foreign companies. Among such fierce rivalry, SP stands out by its three products with impressive technology application and remarkable product designs. And all the three winning products will be showcasing at COMPUTEX TAIPEI 2014 (Booth 10407) during June 3rd-7th.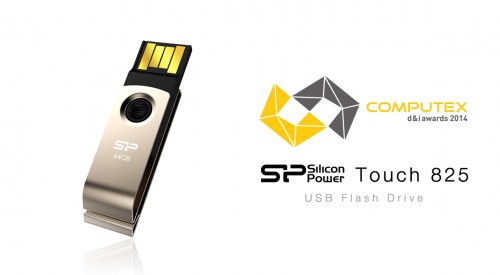 Touch 825 USB Flash Drive
Inspired by the concept of paperclips, Touch 825 USB flash drive features a bevel-shaped end with a hidden clip, making it easier to fit into documents, notebooks or folders. Moreover, Touch 825 shines with stainless steel unibody exterior and adopts a 360-degree swivel design to further protect the USB connector. Characterized by such creative and fascinating designs, Touch 825 not only won the COMPUTEX d&i awards 2014 but also acquired numerous global recognitions including iF product design award 2014, Taiwan Excellence 2014 and Red Star Design Award 2013.
Thunder T11 External Solid State Drive
Thunder T11 is the lightest and the smallest Thunderbolt™ external SSD on the market, which is half the size of ordinary storage devices and only weights 65g. Furthermore, Thunder T11 is three times the speed of USB3.0 HDD, which delivers astonished transfer rate up to read/write 380MB/340MB and offers the ideal drive for professionals on the go. Additionally, Thunder T11's Aluminum enclosure enables stylish appearance and a totally noise-free user experience. Featuring such superior product design, Thunder T11 also won the reddot design award 2014 this year.
Jewel J05 & Unique 510 USB Flash Drive

Characterized by exquisite lock-shape and vivid colors, Jewel J05 & Unique 510 shows the sweetie-style which allows users to display their fabulous and lovely look. Jewel J05 and Unique 510 apply the use of compact rubber case and COB (Chip on Board) technology, greatly reducing the size of the drive body and providing users with higher protection against data loss and corruption. The brilliant cap-less design frees users from worries about cap loss and enhances its durability and practicability.

With the brand spirit — "Memory is Personal", SP/ Silicon Power endeavors to introduce products for whom are looking for individualized, unique and personal digital storage devices.  For more information, please visit the Silicon Power website: www.silicon-power.com

Tags:



Share This: