[PR] SP/ Silicon Power Wins Great Recognition from Golden Pin Design Award 2014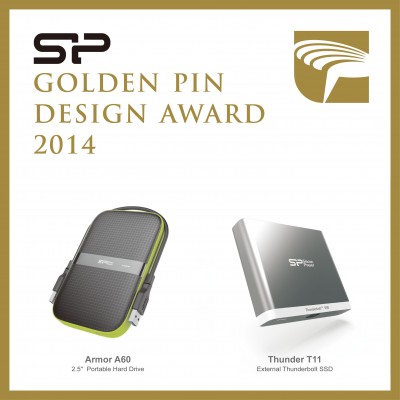 Taipei, Taiwan – December 12th, 2014 –SP/ Silicon Power, the world's leading provider of memory storage solutions, today is proud to announce that SP has won great recognition from the prestigious Golden Pin Design Award 2014 for the two exceptional products-Armor A60 portable hard drive and Thunder T11 external solid state drive. This year, SP has got great achievement in setting the remarkable award records including iF Product Design Award 2014, reddot Design Award 2014, COMPUTEX d&i awards 2014 and GOOD DESIGN AWARD 2014. With the honor of Golden Pin Design Award, SP once again proved its great success in product development and further strengthened its dominant status in the memory storage solutions industry. For SP, there is no end for perfection, and it is why SP can keep amazing the judges every year and winning over customers all over the world.
Golden Pin Design Award, founded in 1981, is organized by The Industry Development Bureau, MOEA (Ministry of Economic Affairs) and has become the longest-running and reputable design award in Taiwan. With the jury joined by international professionals and strict evaluation system, Golden Pin Design Award is well-known for its integrity and credibility. Intending to encourage more creative product designs in Chinese-speaking market, Golden Pin Design Award has successfully offered a perfect stage for designers and companies to present their brilliant works. This year, Golden Pin Design Award opened its door to non-Taiwanese participants and attracted more than 1,900 entries from Taiwan, China, Hong Kong, Macao, Singapore and Malaysia. Among such great numbers of outstanding designers, SP still won two awards for its distinguished products, Armor A60 portable hard drive and Thunder T11 external solid state drive, to show its preeminent product designs that incorporate three crucial elements-fashion designs, excellent functions and high quality.
Armor A60 Portable Hard Drive
Armor A60 USB 3.0 2.5"portable hard drive adopts the ultra-rugged rubber casing and internal suspension system, allowing perfect buffer effect for all physical impacts and promising rigid protections against crushes, dust and spraying water. Furthermore, Armor A60 is engineered with incredibly strong construction that has passed the US military MIL-STD-810G (transit drop test) and IPX4 waterproof level, making itself the toughest data guard for outdoor users. The innovative slot design is especially equipped for simple cable storing that users can easily wrap the cables around the drive. Armor A60 also exercises the special surface texture which can perform anti-slip function and keep the drive away from fingerprints and scratches.
Thunder T11 External Solid State Drive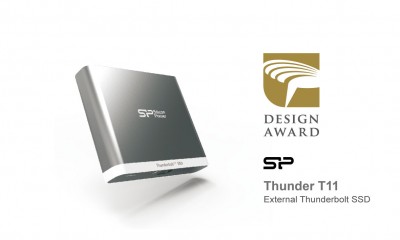 Thunder T11 is the lightest and the smallest Thunderbolt™ external SSD on the market, which is half the size of ordinary storage devices and only weights 65g. In addition, Thunder T11 is three times the speed of USB3.0 HDD, which delivers astonishing transfer rate up to read/write 340MB/280MB and offers the ideal storage solution for professionals on the go. Moreover, Thunder T11's aluminum enclosure enables stylish appearance and a totally noise-free user experience. Featuring such superior product design, Thunder T11 also won the reddot design award 2014 and COMPUTEX d&i award 2014.

Tags:



Share This: