Direct Release: What Makes AirMax 4GW a Stand-out from IP Surveillance Network Market?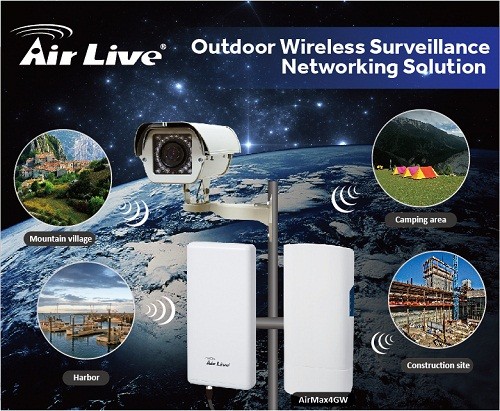 Convenience and simplicity are always the priorities for a project-based site. To have either an instant network connections or a temporary but important surveillance over a harsh environment, we are not allowed to spend too much time and cost waiting for cable deployment. In view of this AirLive is proud to expand its category with the latest AirMax 4GW, a 4G LTE outdoor gateway with WiFi, which features higher speeds and network sharing, mobility and security, and diverse managed functions.
4G LTE to connect to the Internet & WiFi to share the network
Embedded with 4G cellular module, AirMax 4GW supports LTE category 4 and is backward compatible with UMTS/ HSPA+. It is a reliable, consistent data connection between 4G and 3G networks, so users don't have to worry about its performance under either data-intensive applications or unstable network-coverage environment. In addition, high-speed performance is one of the strengths for AirMax 4GW. With peak data rate up to 150Mbps for upload and 50Mbps for download, it provides a significantly lower latency for fast, real-time connections.
With 2.4Ghz WiFi, users can go wired and make good use of the Gigabit LAN port to install either an AP to share the network or a switch to connect more IP cameras for video transmission. On the other hand, wireless connection is permitted and commonly used. Thus, AirMax 4GW is an optimal CPE with amazing speed as an outdoor hot spot, especially for places where it is hard to have fixed line, such as camping area, construction site, national park, and harbors.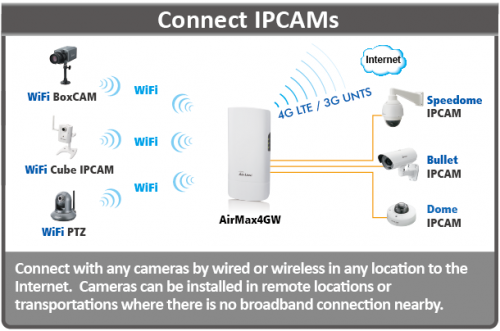 Dual SIM slots for failover & hardware VPN for data security

To ensure the network stability and mobility, AirMax 4GW is equipped with dual-SIM card slots. This user-friendly design allows users to connect selectively to two carrier networks. When the network over the primary SIM fails, the device will automatically switch to the secondary SIM card and continue working without any latency.

AirMax4GW also supports the Virtual Private Network (VPN), establishing long-distance and secured network connections for data and/or video stream transmission. It not only eliminates the need for expensive leased lines, but allows organizations to extend safe corporate network access to offshore partners, keeping the data protected all the while.

What else can AirMax 4GW provide?

Multiple managed functions help to operate this outdoor gateway remotely with ease. Users can opt for managements from TR-069, SNMP, Web UI, Telnet, as well as SMS (Short Message Service.) For example, with SMS managed function AirMax 4GW will send a current status as an alarm to the designated person, informing of a changed IP or a shifted SIM card, and it obeys as well the command such as device rebooting from certain users.

These convenient and advanced functions not only shorten the distance but also tighten up the connections, and this is what AirLive always aims to provide to customers and why AirMax 4GW can stand out from the IP surveillance network market.

Tags:



Share This: