NVIDIA Keluarkan GeForce 391.35 WHQL Game Ready Driver
NVIDIA merilis driver GeForce 391.35 WHQL. Driver ini datang menyambut peluncuran game Far Cry 5. Driver ini memberikan dukungan optimalisasi, SLI Profile dan setting GoForce Experience untuk game tersebut.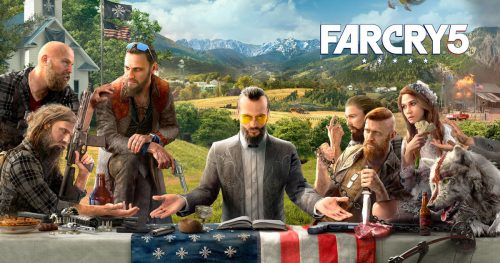 Tak dinyana Far Cry 5 memang game yang cukup ditunggu oleh penggemarnya. Tentunya NVIDIA ingin memberikan dukungan terhadap pencinta seri Far Cry yang juga menggunakan graphic card NVIDIA. Tidak hanya memastikan bahwa game tersebut akan berjalan optimal dengan menggunakan graphic card GeForce, NVIDIA juga menghadirkan profile SLI bagi game ini dan setting optimal untuk GeForce Experience. Langkah-langkah ini memastikan bahwa Far Cry 5 akan berjalan optimal dengan graphic card keluaran NVIDIA.
Bukan hanya Far Cry 5 yang mendapatkan SLI profile. 391.35 WHQL juga menghadirkan dukungan SLI profile untuk game seperti GRIP dan WRC 7.
Driver ini dapat didownload disini 
Change log untuk driver GeForce 391.35 WHQL
Game Ready
Provides the optimal gaming experience for Far Cry 5.
Security Updates
This driver adds security updates for driver components. Fixed issues are CVE-2018-6247, CVE-2018-6248, CVE-2018-6249, CVE-2018-6250, CVE-2018-6251, CVE-2018-6252, CVE-2018-6253. These CVEs are related to kernel mode, DirectX 10 and OpenGL drivers where certain operations may lead to Denial of Service or Escalation of Privileges.
Application SLI Profiles
Added or updated the following SLI profiles:
3D Vision Profiles
Added or updated the following 3D Vision profiles:
Far Cry – Not recommended
GRIP – Excellent
The Talos Principle – Excellent
Fixed Issues in this Release
GeForce 3D Profile Manager tool can't import profiles. [2076480]
[GeForce Experience]: Memory leak occurs leading to poor game performance when using NVIDIA Freestyle. [2068039]
[NVIDIA Control Panel][SLI][Diablo III]: With V-Sync on and SLI enabled, the game freezes after switching windows (ALT+TAB) a few times. [1951584]
[Notebook]: The driver may fail to initialize the GPU. [200354056]
Known Issues
[Far Cry 5]: Green flickering occurs in the game when using HDR with non-native resolution. To work around, either quit and then restart the game while in the desired resolution, or press [Alt+tab] away from and then back to the game, or press [Alt+Enter] to switch to windowed mode and then back to full-screen mode.
[NVIDIA TITAN V][G-Sync]: G-Sync displays may go blank when switching between different overclocked memory clocks multiple times. [200361272]
[SLI][GeForce GTX 780 Ti]: There is no display output when connecting the DisplayPort and two DVI monitors. [1835763]
[GeForce TITAN (Kepler-based)]: The OS fails after installing the graphics card on a Threadripper-enabled motherboard. [1973303]
[Pascal GPUs][Gears of War 4]: Blue-screen crash may occur while playing the game. [2008731][GeForce GTX 1080 Ti][Doom]: The game crashes due to the driver reverting to OpenGL 1.1 when HDR is enabled. [2049623]
Tags:



Share This: