Review Notebook AMD Ryzen: HP Envy x360 13-ag0023au
Bang & Olufsen Audio
HP Command Center
HP Command Center menyediakan empat pilihan pengaturan Thermal Profile yang dapat disesuaikan dengan skenario penggunaan. Empat Thermal Profile tersebut mencakup:
Thermal Profile #1 – Optimizes your system performance, fan, and temperature with HP CoolSense Technology
Thermal Profile #2 – Ideal for gaming or using software that requires heavy use if the CPU. When enabled, fan speed will increase to cool the device. This mode is not supported on battery power. Please plug in your AC adapter
Thermal Profile #3 – Ideal for situations where the device feels warm to the touch. When enabled, fan speed will increase and CPU performance will be decreased wo cool the device.
Thermal Profile #4 – Ideal for quiet environments. When enabled, the fan will not be turned on or will operate at minimum speed. CPU performance will also be decreased.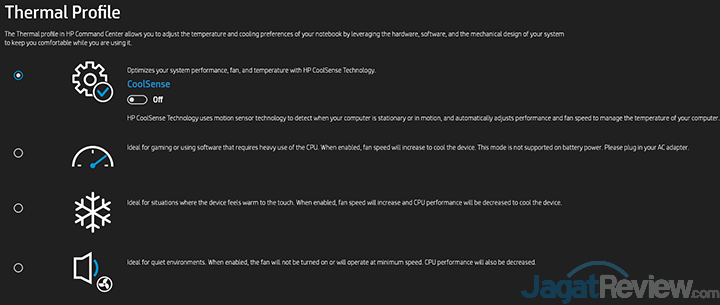 Tags:



Share This: