Direct Release: Cooler Master Launches the MasterBox MB530P
Jakarta, INDONESIA – Cooler Master launches the MasterBox MB530P. Sporting three tempered glass panels to show off addressable RGB out-of-the-box, this chassis is offered in a showroom-ready package.
There are a total of four cases that make up the series: the currently available MasterBox MB510L (carbon), MB511 (mesh), MB520 (DarkMirror), and the newly-released MB530P (tempered glass). The series satisfies a variety of build directions, with choices available for different styles. Defined by the aggressive intakes that unite the lineup, the newest addition will cater to more premium builds centered on showmanship.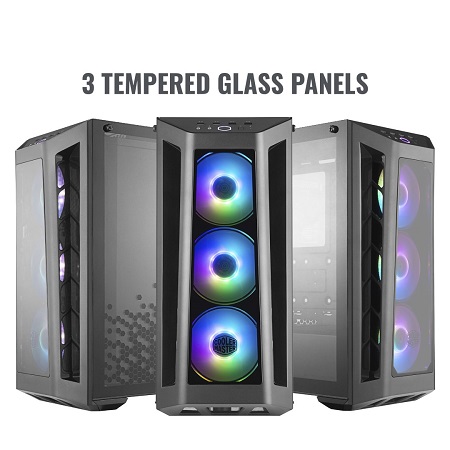 Tempered glass is employed on three panels of the chassis: both of the side panels and the front panel. The side panel in front of the motherboard displays the system configuration, whereas the side panel behind the motherboard could be used to show off cable management and custom cable sleeves. On the side panel behind the motherboard, there is also a honeycomb pattern on the bottom half of the panel in order to hide the open side of the power supply. Other features include:
3 Tempered Glass Panels – The front and side panel offer a clear view of the front fans and system configuration, while the panel behind the motherboard is patterned tempered glass to hide the open side of the PSU.
ARGB Fans – Three pre-installed 120mm addressable RGB fans behind the front panel compliments components for a comprehensive lighting system
ARGB Lighting Control – Sync the addressable RGB lighting on the power button and fans by connecting the ARGB cable from the I/O panel to the included 2 to 3 ARGB splitter. Certified compatible with: ASUS, Gigabyte, MSI, and ASRock motherboards for a comprehensive lighting system.
Support for a total of 6 fans & water cooling – Six 120mm fans and front, top and rear water cooling support ensure that you don't have to compromise on performance
Cable Cover & Routing Space – A PSU shroud, cable cover, and 18~25mm width of space behind the motherboard provide options to keep system configurations clean
Addressable RGB fans come pre-installed in the MasterBox MB530P to be shown through the tempered glass front panel with clarity. The ARGB system includes three ARGB fans, an ARGB power button, and an ARGB controller built into the I/O panel. The lighting system is paired with the aggressive ventilation on the front panel, which intakes air to feed through to the interior; additional ventilation can be found on the top panel for added thermal support. The SSD mounts, found behind the motherboard, are friction mounts. Without tools, four pegs are installed on the SSD and simply placed into the rubber holes, this will secure the SSD to keep it from moving even if the case is transported. If it is preferred to store SSDs hidden in the PSU shroud, the storage tray can accommodate an SSD and HDD simultaneously for additional storage options. Premium materials fused with racing aesthetics ensures builds will look their best inside the MasterBox MB530P.

Pricing & Availability

The MasterBox MB530P is now available in Indonesia, priced at Rp 1.777.000.

Tags:



Share This: