Review-MSI R6970 Lightning: MSI's best in Radeon Flavor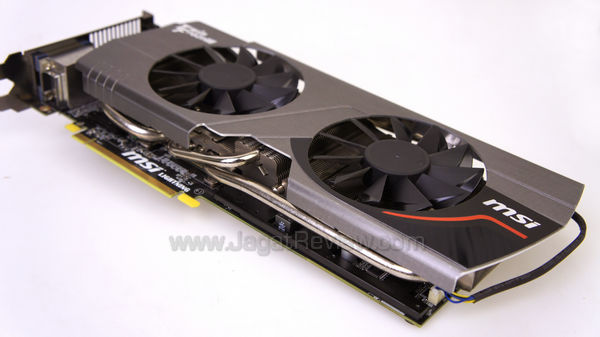 Radeon HD 6970 is currently the fastest AMD graphics chip around. With its 1536 Stream Processors and 2 GB GDDR5 memory, the Radeon HD 6970 is able to run any games you could throw at it with ease. Combine that raw power with serious overclocking capability, and you get a graphics card that is not only very fast, but could also yield even more performance when needed. That is the idea behind R6970 Lightning, a flagship graphics card product from MSI.
The Lightning series is a line of graphics cards from MSI that are squarely aimed at overclockers. They are equipped with an impressive array of overclocking features and are usually based on the best GPUs from both AMD and NVIDIA. This particular Lightning is based on AMD's Cayman XT (HD6970) GPU.
MSI R6970 LIGHTNING
Specification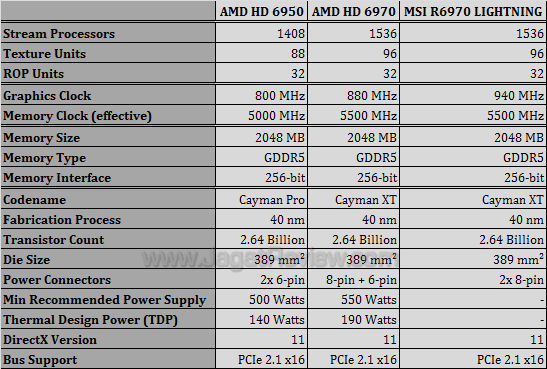 The R6970 Lighting comes pre-overclocked. Its core clock is 60 MHz higher at 940 MHz, but the memory clock remains unchanged at 5500 MHz. A 60 MHz margin seems rather small, but it's still an increase nonetheless. Of course, you can always add up more megahertz later on.
Features
As a product that belongs in the Lightning family, the R6970 hosts all sorts of features commonly implemented on this series. In addition to those, there are also some new features not found on previous Lighting variants. Some of the highlighted features are:
Military Class II Components
MSI uses high-quality components to construct this card, such as Hi-c CAP (Highly-Conductive Capacitor), Solid CAP (Solid Capacitor), and SFC (Super Ferrite Choke).
LPL (Lightning Power Layer)
A specially-designed PCB called the LPL (Lightning Power Layer) is used as the card's foundation. This PCB provides a more stable flow to the components like the GPU and memory chips and reduces "noise" (ripple) in the electric current.
Power4 Architecture is MSI's own terms used to refer to the power architecture on the R6970 Lightning. It consists of several groups of components: 18 Phase PWM Design, Independent Memory Power, Proadlizer, and Copper MOS.
This feature allows users to modify the graphics card's voltage settings via the MSI Afterburner software. Three parameters can be adjusted manually: the Core Voltage, Memory Voltage, and Aux Voltage. To support these, you can find three V-Check Points on the board. The Twin Frozr III HSF is also used on this product.
V-Check Points
Twin Frozr III