Direct Release: Casio Launch the Rubber Band G-SHOCK MR-G, Co-Develops Screws with Start-Up NejiLaw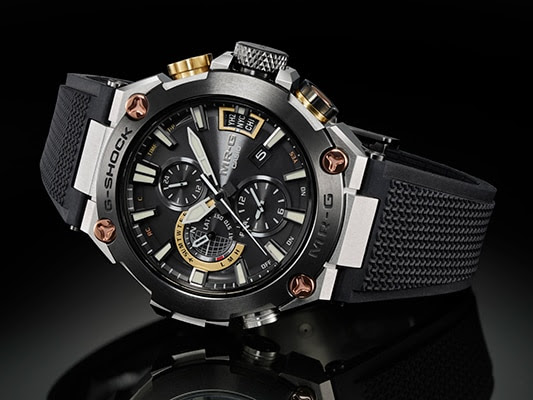 Band Engraved with Traditional Japanese Bishamon Kikko Pattern, a Symbol of Strength
Tokyo, October 18, 2018 — Casio Computer Co., Ltd. announced today the release of the MRG-G2000R, the first G-SHOCK with a Dura Soft Fluoro-Rubber Band, which delivers both high durability and a soft feel on the wrist. MR-G is the flagship series of the G-SHOCK brand of shock-resistant watches. The band also features a traditional Japanese Bishamon Kikko pattern.
The Dura Soft Fluoro-Rubber Band exudes a feeling of solidity and fits the wrist with supreme suppleness, hugging the wrist pleasantly while providing toughness to endure hard use thanks to its exceptional abrasion resistance and long-term durability. The surface of the band is textured with a traditional Japanese Bishamon Kikko pattern, which combines hexagonal shapes into groups of three. Since ancient times, this pattern has been used on the armor worn by Bishamonten, a warrior symbolizing strength in battle. The MRG-G2000R, capturing this symbol of strength, is a top-of-the-line model combining traditional Japanese aesthetics with modern technology.
The Dura Soft Fluoro-Rubber Band and the titanium case are connected with a world-first application of "L/R-Δ Loc" (pronounced "L-R Delta Lock"), which Casio developed jointly with NejiLaw, a company known for "screws that never come loose." Based on an L/R bolt* with two nuts that lock together and spin in opposite directions, L/R-Δ Loc was newly developed for watches as a revolutionary mechanism that prevents loosening due to vibration and other forces.
The clasp is machined out of titanium and, along with the bezel, is coated with diamond-like carbon (DLC) to increase abrasion resistance. All titanium parts are also subjected to a deep-layer hardening process, which makes their surfaces four to five times harder than plain titanium, for a double hardening treatment. The titanium case and back cover are also treated with titanium carbide (TIC) to improve abrasion resistance.
The MRG-G2000R is also equipped with the following features:
Easy world time and other setting changes using the MR-G Connected smartphone app.
Time adjustment using Bluetooth®, GPS satellite signals and radio wave time-calibration signals. The history of time adjustments and time zone changes can also be checked in the app.
Tough Solar high capacity solar-charging system. The solar charging level can be viewed graphically in the app.
Super Illuminator for high visibility even at night and in bad weather.
Dual Dial World Time, which displays times in two cities simultaneously.
Scratch-resistant sapphire crystal with a non-reflective coating on the inside surface that delivers excellent clarity and readability.