[English] Review – Intel Core i7 980X
Early 2010, Intel released their first six-core processor, the Core i7 980X. Previously known under the codename "Gulftown", this hexa-core processor is manufactured using the latest 32nm fabrication process. Its arrival marks yet another milestone in the history of consumer desktop computers.
The "Extreme Family"
Until shortly before the official launch, there were many rumors in the internet regarding what the Gulftown would eventually be called, like the Core i9, for example. Intel's Core i7 980X designation suggests that this processor is positioned a step above Core i7 975, which also puts it within the Extreme Edition series of processor. Extreme Edition processors are the crème de la crème, Intel's very best desktop processors. One distinctive feature of this family of processors is the unlocked multiplier. Being the best of the best also means that it will come with a hefty price tag, US$ 999, or about the same as any of Intel's previous flagship offerings, the Core i7 965 and Core i7 975.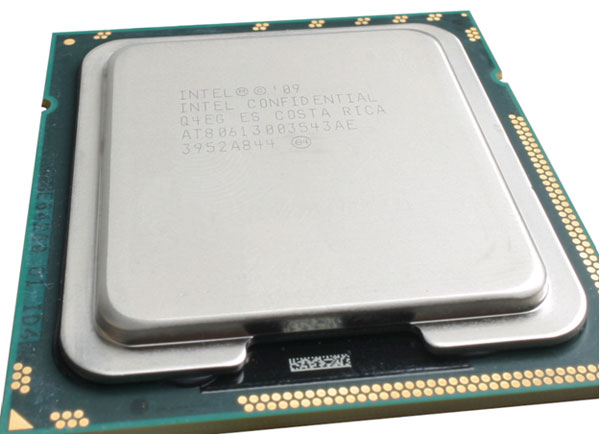 Meet the Gulftown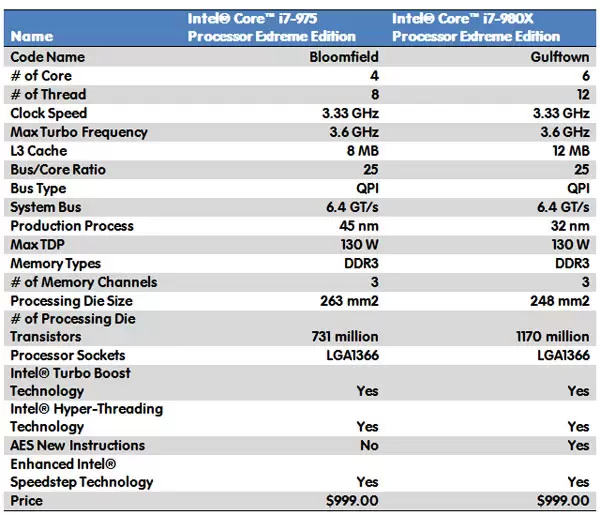 Intel uses 32-nm fabrication processes to manufacture Gulftown. Previously, this fabrication process has been employed to produce the Clarkdale family of processors for the LGA 1156 platform. Core i7 980X is the first LGA 1366 processor to be manufactured using 32 nm fabrication.

In a glimpse, the Core i7 980X looks similar to its older sibling, the Core i7 975. As seen in the specification table, the only differences between those two are the amount of processor core, L3 cache, transistor, and support for the new AES-NI instruction set in Gulftown. The new instructions, which has also been implemented in Clarkdale, will help accelerate file encryption processes.

With the additional processor cores and transistors, Intel's engineers managed to maintain a TDP of 130 watt in Core i7 980X, or about the same as Core i7 975 which is fitted with lesser amount of cores and transistors. The 32 nm fabrication process seems to be the reason. Gulftown's die size is even smaller compared to Bloomfield's.

The similarity between Core i7 980X and Core i7 975 also means that they can both be installed on the same motherboard. Core i7 980X is compatible with the existing X58 and ICH10R combo, thus negating the need to buy a new motherboard to accommodate the newer processor. A BIOS update is all that is needed.

Tags:



Share This:
Epic Games tidak hanya populer karena kualitas Unreal Engine 4-nya yang memesona, apalagi setelah keputusan untuk mendistribusikannya secara cuma-cuma kepada umum. Tangan dingin mereka juga meracik banyak game berkualitas, diantaranya
Read More »
News | February 16, 2015 | Comments

Salah satu perusahaan ternama di bidang keamanan digital, Kaspersky, mengungkapkan sebuah temuan menarik terbaru mereka. Uang dalam jumlah yang cukup besar, kurang lebih US$ 300 juta, ditemukan telah dicuri dari
Read More »
News | February 11, 2015 | Comments

Tahun 2013 lalu, Samsung meluncurkan Galaxy S4 Zoom yang merupakan smartphone dengan fitur kamera tercanggih yang pertama kali dikeluarkan oleh Samsung. Bahkan bisa dibilang S4 Zoom adalah kamera digital dengan
Read More »
News | March 18, 2015 | Comments

Besok pagi, rangkaian acara perkenalan teknologi terbaru di dunia IT di beberapa kampus ternama di Jabodetabek, Techno Update 2015, akan digelar. Univ. Budi Luhur, universitas ternama di daerah Jakarta Selatan,
Read More »
Mengkhawatirkan dan menarik di saat yang sama, inilah sensasi yang mungkin dirasakan oleh para penggemar Mortal Kombat begitu Netherrealm Studios memperkenalkan seri teranyarnya tahun lalu.